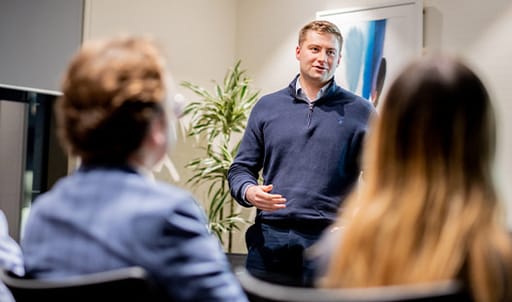 At Investec, one of our values is 'distinctive performance', which means that we thrive on energy and ambition, we're open to fresh thinking, and we believe in the power of diversity. This value manifests itself in our hiring policies, as we welcome applicants from all backgrounds, even without direct experience in finance, if they have the attitude and entrepreneurial spirit we're looking for.
We do whatever we can to educate current students to the inner-workings and career paths in financial services, particularly in schools and universities in the communities we operate in. Last month, six members of our Leeds office hosted an event for the Leeds University Business School Society, where they addressed over 25 students and provided information and advice on securing a role after graduating. Here are some of the thoughts they shared.
Financial services firms recruit for more than just financial roles
The event began with Pat Doig, Senior Investment Director, providing the audience with an overview of Investec's history and future. This came from both a global perspective of the broader group as well as a local perspective, where our Leeds office has had a presence in Yorkshire for over a century and is still one of the largest offices within Investec Wealth & Investment in terms of our headcount and assets under management.
Pat outlined our services in banking and investment management, but importantly wanted to also highlight to students that career opportunities at Investec and in financial services in general are not just in front-office areas - roles can often be found in areas such as HR, Accounts/Finance, Project management, and Administration.
Qualifying as an investment manager takes dedication and further study
Two other members of our Leeds investment management team, and recent graduates, Wesley McPherson and Matthew Walker (who himself is a Leeds University graduate), spoke about the requirements to qualify as an investment manager, which involves a lot of hard work, a number of exams and a significant number of hours of study time.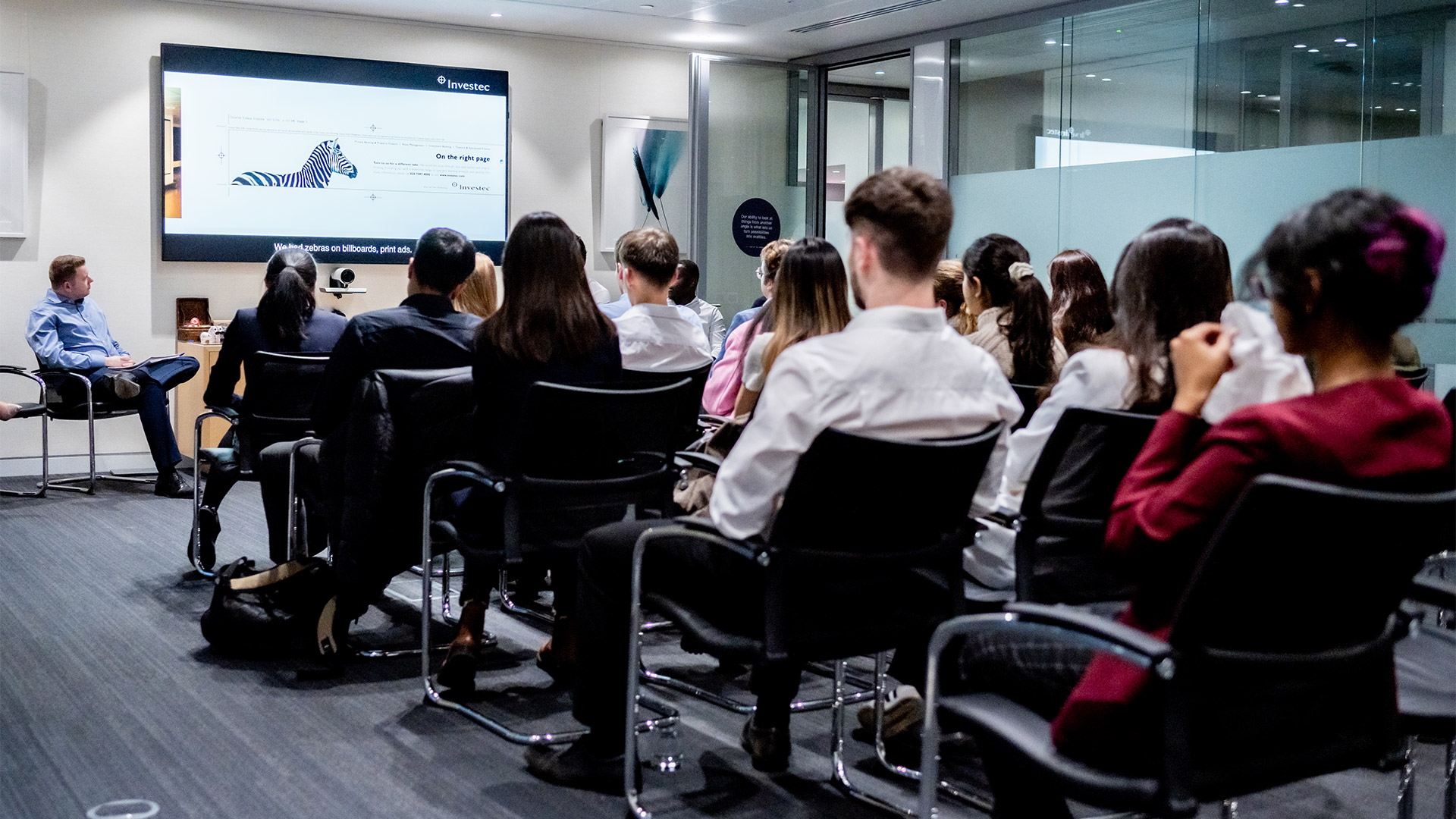 While not historically diverse, the finance industry is striving to be
Ellie Dickinson, who works in the Leeds financial planning team at Investec, also studied at Leeds University and told attendees that she discovered her passion for financial planning during her time there.
She described her job role, which in addition to the technical elements also involves forming longstanding client relationships and helping them through significant life events. Ellie also discussed how, given the current average age of those working in financial services, she felt there is a real opportunity for those leaving University.
Any can impress with their CV and interview, with the right preparation
Finally, Jacob Bennett and Paul Davison, from Investec's People and Organisation team, talked about their experiences recruiting new hires. Jacob gave his tips on writing a CV and cover letter, including personalising it to the company based on your own research, and avoiding the trap of exaggeration or overly complicated language.
Paul gave advice focussing on how to approach an interview, saying that "the importance of researching the company", "listening to the interviewers' questions", and "paying attention to your body language" would all help you stand out and succeed. He also stressed the importance of self-belief to ensure you give a good account of yourself at the interview.
It's not just about proving you're right for the company, but learning if it's right for you
Networking opportunities are, of course, another great way to break into the industry and just by attending this event, the students in the room demonstrated signs of an entrepreneurial spirit.
Events like these are also a great way for Investec to give back to the community, and for students to learn whether the finance industry is right for them. We're proud to say that many current members of our team come from local universities such as Leeds, Sheffield, and Newcastle, and we look forward to welcoming many more in the future.
Investec Wealth & Investment (UK) is a trading name of Investec Wealth & Investment Limited which is a subsidiary of Rathbones Group Plc. Investec Wealth & Investment Limited is authorised and regulated by the Financial Conduct Authority and is registered in England. Registered No. 2122340. Registered Office: 30 Gresham Street. London. EC2V 7QN.