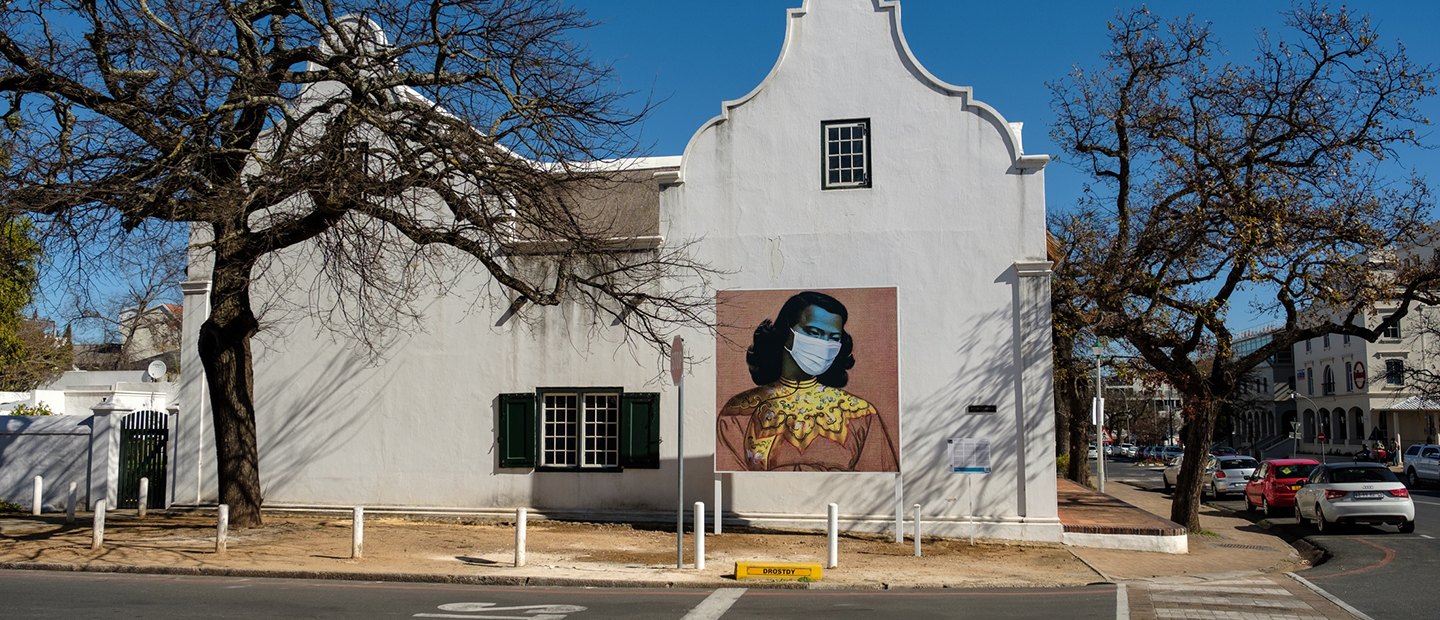 Masked portraits highlight markers of SA's 'masters'
Larger than life but hidden by a mask. Would you recognise some of SA's most famous artworks if they were masked? Coinciding with Women's Month and taking inspiration from the now ubiquitous mask, Stellenbosch hosts an art initiative, "Masked Masterpieces". 
Get Focus insights straight to your inbox
Do South Africans know who our art 'masters' are? Would they recognise works by them? To complicate things further, would they do so if the subjects' faces were obscured by masks? We will have a chance to find out when a novel public art initiative launched in Stellenbosch this month presents large scale reproductions of portraits by some of South Africa's most renowned artists.
Artworks by Maggie Laubser, Gerard Sekoto, Irma Stern, Vladimir Tretchikoff and Zanele Muholi are on display.
Uniquely, the subjects of these portraits, which will be affixed to buildings around this picturesque winelands' town, are all 'wearing' masks. Except for Muholi who is wearing a mask in real life, they have been superimposed on the reproductions, partially obscuring the faces of the subjects.  
This inevitably provokes questions about their identities. This is further amplified by the fact that in four of the portraits produced by what we might classify as modernist artists, the identities of the sitters were not intended to be revealed.
Images by photographer Stefan Els 
Refreshingly, this mask-wearing exercise is not the result of health guidelines, though the organisers wish to contribute towards further socialising the habit.
Rather, this public art project, aptly titled Masked Masterpieces, is intended as a fundraising and educational initiative designed to assist Stellenbosch university students most impacted by Covid-19.
A snapscan code located near each artwork will give members of the public the chance to donate money to a bursary fund to assist students who have struggled as a result of the university being closed. 
Promoting the appreciation of local talent
Masked Masterpieces also provides an opportunity for locals and visitors or anyone who views the artworks via social media to become familiar with some of the country's greatest artists, encouraging them to visit museums and other destinations in and around Stellenbosch where they can view the original artworks – unmasked!
Trechikoff's Chinese Girl is on view at Delaire Graff, Sekoto's The Senegal Woman (1973)  is from the Fort Hare collection but is currently on view at the Stellenbosch University Museum, Laubser's Portrait of a Coloured Girl (1930) is located at La Motte, while Irma Stern's Initiate (1935) can be viewed in the Steenberg's Tryn Restaurant.  Muholi, the only living artist in the selection, will be the subject of an exhibition at the Norval Foundation this year.
As such the artworks were selected not only due to the standing of the artists, but on whether they could be viewed in person nearby, and indeed they needed to be portraits in order to justify a 'mask'.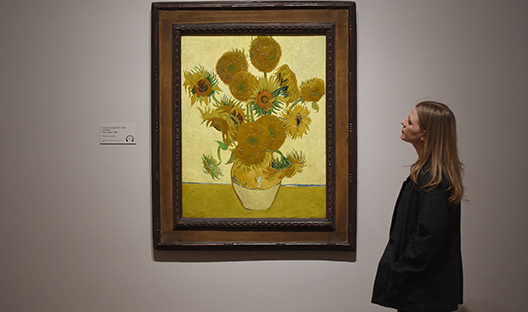 "Many South Africans are more familiar with the Mona Lisa or Van Gogh's Sunflowers than they are with our own local masters. 
This was an opportunity to take these works out of a gallery or museum setting and share them with the public.
It makes me happy to know that everyday people are walking to work and passing these images, and are able to learn a bit about our local art in their own language," says Andi Norton, the project manager of this campaign.
Image: Getty
Project draws funding from big names in the local art scene
As one of the founders of the Stellenbosch Triennale, which took place for the first time this year, she is well placed to conduct this inventive public art project. Masked Masterpieces was spearheaded by the University of Stellenbosch and funded by institutions and patrons with a vested interest in art education:
Recognisability translates into value
Masked masterpieces bring the notion of recognisability to the fore, which in a more general context is a vital component in the art market with regards to value. The more recognisable an artist's visual language is the more collectible their work is considered to be. 
In the case of individual works, desirability relies on the presence of pronounced characteristics pertaining to that artist's language. Can a mask obscure these characteristics? It seems to all depend on the degree to which each of these portraits – all of women – parade the characteristics we associate with that artist.  
The masked concept was inspired by Banksy (the British street artist famed for his wry urban art interventions), who is believed to have recently added a mask to his rendition of Vermeer's masterpiece Girl with a Pearl Earring. 
Tretchikoff's "Chinese Girl" likely the most recognisable of works on display
Tretchikoff's Chinese Girl one of the most reproduced images – not only did Tretchikoff sell signed editions of it, but this striking portrait has graced everything from posters, T-shirts, to lamps and table-mats.
As such a mask certainly can't hide its provenance, nor indeed the identity of the sitter. While Tretchikoff never named her in the title, the painting's fame compelled curiosity about her.
Through his stylised rendering, Monica Pon Su-San, who met the Russian artist while apparently toiling in her grandfather's laundromat in Cape Town,  became known to the public via numerous articles. In snapshots that ran with them, there was little resemblance to the idealised blue-tinged figure Trechikoff invented.
Perhaps that is why he chose not to name her in the title – she was a source of inspiration and her identity and real-life situation would have not coincided with his hyper-glam form of image-making.   
It is said that ordinary people were drawn to this – they wanted a glamour-tinged view into a utopian world of Tretchikoff's making. Presumably, if he had rendered Su-San as she appeared and situated her in a laundromat he would not be known to us today. 

R1,5 Million
Amount paid for Tretchikoff's Portrait of Ellen Peters
Despite the ubiquity of his imagery – and indeed because of it, Tretchikoff's original works are valuable in the secondary market, where his portraits fetch the highest sums.
At the Strauss & Co May sale this year, Portrait of Ellen Peters fetched R1,5million. As the title suggests he named his sitter in this instance – she was a famous beauty queen in the early seventies. So perhaps if the women enjoyed a position he was willing to name them.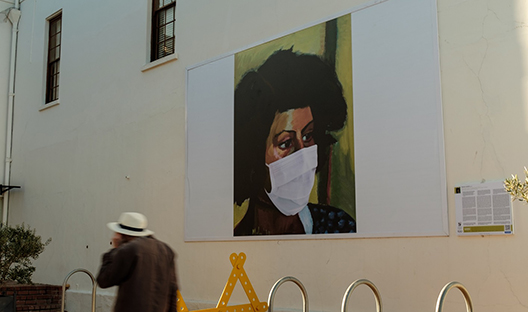 Stern the primitivist
The portraits by Irma Stern and Maggie Laubser that feature in Masked Masterpieces, "The Initiate" and "Portrait of a Coloured girl" respectively, were produced in the 1930s and reflect the attitudes of those times with regards to whom the artists chose as subjects and how they rendered them.
A primitivist at heart, Stern was influenced by that European compulsion to isolate and celebrate African culture 'untouched' or tainted by Western civilisation.
Like Trechikoff she couldn't have the sitter's real-life situation interfering with this fantasy. Will the 'masked' Initiate (which is originally a work on paper) be recognised as a Stern? 
Image: Stefan Els
Sekoto's work might be trickier to recognise
Those familiar with Gerard Sekoto's art might not immediately attribute the masked version of The Senegal Woman (1973) to him, due to the fact that he is not known for portraiture.
South Africans are more familiar with his depictions of daily life in the thirties and forties rendered in warm yellow tones. Of course, if you did attend the Black Aesthetic exhibition at the Standard Bank Gallery in Joburg last year, where it hung among the works of Sekoto's contemporaries you might recognise this portrait.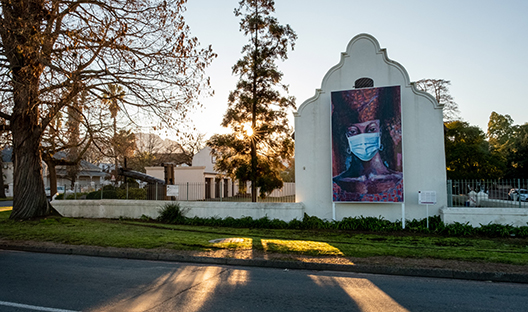 The blue tones are the giveaway feature here – he tended to use them when capturing subjects outside of his native South Africa, when he left the country in the late forties.  
Paris scenes and in particular the works he produced relating to his time in Senegal from 1966 to 1967 are defined by blue tones. Sekoto rarely named his sitters or even the details of the landscapes or urban scenes he depicted; he appeared more interested in capturing universal notions or concentrating on the nature of expression itself.
In recalling what it was like sitting for a portrait by Sekoto, the Moroccan anti‐apartheid activist and journalist Abdou Berrada said:
"He held his paint brush the way one holds a blossom; arm outstretched. His feet danced, his body shook and his stare was intense." 
Recognition of his art came late in his life, too late – with a retrospective at the Joburg Art Gallery in 1989 – in the same year he was awarded the Chevalier des Arts et Lettres. 
Image: Stefan Els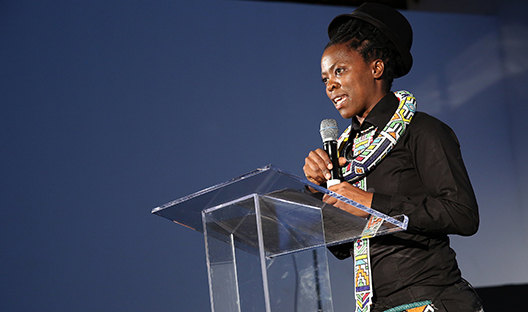 LGBTQI subject matter gains prominence
In contrast, Zanele Muholi's subject-matter – portraits of members of the LGBTQI community  - almost immediately generated interest in her photographic practice with group exhibitions in Europe in the late noughties.
In Muholi's portraits of this community, the artist presented the sitters' first and last names as well as the location where the image was shot. This approach is shaped by the chosen medium, photography – which has roots in documenting reality truthfully.  The subject's existence, resistance to prejudice, and claiming their sexuality and place in the world, only had meaning if they were identified. 
Image: Getty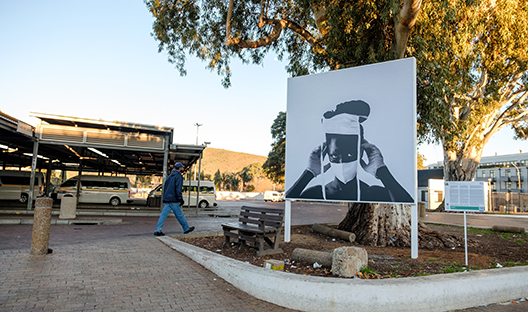 Muholi series of self-portraits
The portrait by Muholi in Masked Masterpieces, is of the artist. From around 2014, Muholi embarked on a number of self-portraits as part of an ongoing series dubbed the Somnyama Ngonyama (meaning 'Hail, the Dark Lioness').
Aphelile IV Durban, 2020, is an extension of it, in which the artist utilises different accessories to deliver on and challenge the kind of exoticism that Stern and Tretchikoff sought to summon through their paintings.
In presenting these fictionalised versions of a female sitter (the artist doesn't identify as female any longer), Muholi invents titles and names, alluding to the places, histories, people, or conditions referenced in the works. In this way choosing to suppress the 'sitter's' identity is empowering. A fitting counterpoint to the other portraits in the Masked Masterpieces. 
Image: Stefan Els
SA artist exhibited all around the world
This isn't the only reason Muholi has been included; having participated in Documenta, Venice Biennales, and countless museum shows around the world, including a retrospective coming up at the Tate Modern, London in November, Muholi is one of South Africa's most recognised contemporary artists.
Muholi's enduring signature has to be the artist's face, popularised via the Somnyama Ngonyama series. Obscuring the artist's face with a mask certainly suppresses the 'signature', though playing with accessories that conceal Muholi's real identity is part of the game the artist plays with the viewer.