The annual meeting World Economic Forum (WEF) is underway in the Swiss resort of Davos. Heads of state from a mix of G20 and G7 countries, along with 200 cabinet ministers and 1,500 business leaders have all converged on this snowy town in the Swiss Alps as the event returns to a scale not seen since the outbreak of Covid-19. The most pressing issues facing the world today will be up for discussion as 2,700 invited speakers engage with the theme, "Cooperation in a fragmented world".   Investec Bank South Africa CEO Richard Wainwright and Investec Bank UK CEO Ruth Leas are at on the ground in Davos and will be chatting to Tim Cohen about their insights and observations for the duration of the conference.
Listen to the latest episode
Davos Debrief ep3: SA works to woo investors
As the annual World Economic Forum meetings come to an end, for the South African delegation it was clear that in order to get investors, the country needs to get back on a growth path. Ruth Leas, CEO of Investec Bank UK, shared our key takeaways from the event with Business Maverick's Tim Cohen.
Davos Debrief ep2: Rebalancing globalisation
Opportunities abound for emerging markets as developed market companies and countries reassess supply chains in a bid to become more resilient. Speaking at the World Economic Forum meeting in Davos, Investec SA CEO Richard Wainwright says South Africa needs to grab this opportunity with both hands as this global rebalancing is a once-off event.
Davos Debrief ep1: Polycrisis or polytransformation?
Move over "stakeholder capitalism". "Polycrisis" is the new buzzword at this year's World Economic Forum in Davos, as global risks converge: from economic contraction and rising inflation to supply chain pressures and the Ukraine war. Tim Cohen, Editor of Business Maverick, speaks to Richard Wainwright, CEO of Investec Bank South Africa, and Ruth Leas, CEO of Investec Bank UK, on how world leaders are finding common ground on these critical challenges.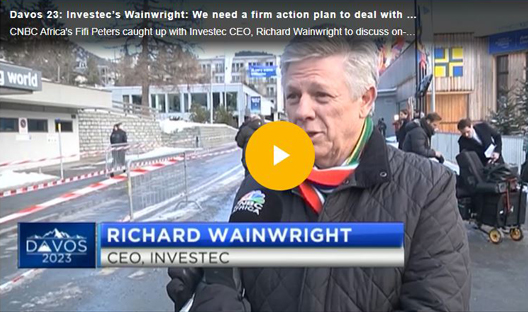 Davos 23: Investec's Wainwright: We need a firm action plan to deal with energy crisis
CNBC Africa's Fifi Peters caught up with Investec CEO, Richard Wainwright to discuss on-going political tensions between Ukraine and Russia and the risks this may pose as a big player in South Africa's finance and banking sector.

Deal with SA's problems and the money will come
Investec Bank CEO Richard Wainwright gives an update on South Africa's reception from the meeting in Switzerland
Get Focus insights straight to your inbox