If you experience buffering, please pause the video and allow a good amount of data to download, close unnecessary tabs and check your wi-fi connection.
What did you think of this webcast?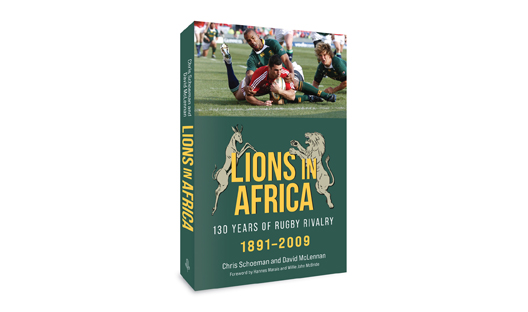 Get a signed copy of Lions in Africa
'Lions in Africa' is available online and at most good book stores nationwide. If you'd like a copy signed by the authors, Chris Schoeman and David McLennan, pop into David's bookshop, Select Books, at 56 Surrey Street, Harfield Village (Claremont, Cape Town). Reserve a signed copy by emailing shop@selectbooks.co.za. Tel 021 424 6955. Courier nationwide is also available.
Join Jenny Crwys-Williams in celebrating great rugby achievements as she interviews Chris Schoeman and David McLennan, the authors of Lions in Africa: 130 years of rugby rivalry.
The webcast includes special guests: John Robbie – who was part of the 1980 British and Irish Lions squad; Hannes Marais who captained the Springboks during the 1974 tour, and Bryan Habana, former Springbok player who played in the 2009 tour. 
In 1891 the first rugby football team from the British Isles embarked on a tour of South Africa. This tour began a tradition that survived the financial insecurities of the pioneer years, two World Wars, sports boycotts, and the birth of the professional era.
This book covers the tours from when matches were played on dusty fields and rugby players were transported in carts over poor roads in the Karoo, in coaches that broke down and on slow trains that, on occasion, caught fire.
Tours between the World Wars when South Africa dominated the rugby landscape across the world. It follows the famous clashes of 1955 when, for the first time a crowd in excess of 90 000 attended a rugby match. It deals with the all-conquering 1974 Lions led by the legendary Willie John McBride.
Finally it focuses on the two Lions tours that have visited these shores in 1997 and 2009 following the advent of full democracy and re-admittance to world rugby. To be a Lion is to reach the pinnacle of rugby achievement in the British Isles. To tour South Africa, where rugby tours originated, is the crowning glory of one's career.
To face the Lions has always been, and will always remain, one of the greatest honours for any player who dons the Green and Gold of the Springboks. This carefully researched book is the first ever published to focus on all the matches played by the Lions in the 130 years of contests in southern Africa and recounts famous victories, agonizing defeats and nail-biting draws! A welcome addition to any rugby fan's bookshelf.
Watch other webcasts from the Investec Literary Society