Importers from the Far East are enjoying the continued decline in freight rates. This should be most welcome at a time when the rand remains weak, and businesses need to ensure they contain costs to remain competitive. Shipping lines are seemingly coming under more pressure to improve their vessel utilisation, especially in trades where there is excess capacity, such as the Far East trade. We expect rates to continue decreasing throughout March as shipping lines endeavour to attract volumes. The scenario is however different in the US and European trades – demand is more consistent and shipping lines have a stronger volume pipeline.
We will continue to work very closely with all our partners and service providers, to ensure that all your shipments are delivered as efficiently as possible.
The impact of the following key factors needs to be continually assessed and considered:
Further freight rate reductions
Carrier and port landside increases
Far East capacity availability
Repositioning of non-operating reefers (NORs)
Most shipping lines continue to report a reduction in their year-on-year volumes carried which comes as no surprise considering the global economic pressures. At the same time, shipping lines are having to re-focus on how where they deploy their capacity, especially the new ship builds that need to be placed into operation. We are also seeing alliance changes between carriers. The tides have certainly turned, and importers are no longer price takers. We can expect carriers to consider alternative revenue streams to help compensate for the softening freight rates. Shipping lines are trying to offer additional landside and logistics services. Shipping lines have also not escaped the inflationary and increasing operational cost pressures and we can expect service charges to be increased.
Capacity:
Getting capacity on the Far East trade has been easier since it's uncommon for vessels to be fully booked in advance. We have also experienced sufficient capacity on the India trade and most notably for 20ft bookings. The capacity situations from Europe and the US are different. Vessels tend to be fully booked in advance and spot capacity is not as freely available.
Despite the challenging environment, we will endeavour to provide solutions to keep your cargo moving. With our expanded global network, we have access to additional capacity and alternative routings, which strengthens our service offering to our clients.
Sailing schedules:

Carriers experienced an increase in delays recently, which has been driven by factors such as berthing and departure delays caused by severe weather conditions in parts of the world, including South Africa. Schedules from Europe were also impacted by the port strikes in France.
Freight rates:

Our rates remain stable on the US and European trades. We continue to pass on the rate reductions on the Far East and Middle East trades. Freight rates on the Far East trade have dipped below the $2000/40ft level from main ports. Freight levels are below the European rate levels again. Shipping lines will start repositioning reefer containers back into the South African market for the upcoming citrus season. We can offer non-operating reefers (NORs) from the Far East.
Shipping lines, transporters and Transnet will be passing through annual rate increases from 1 April 2023. We will issue guidance on the increases in due course once all rates have been finalized.
SCFI (Shanghai Container Freight Index):
The below graph demonstrates the freight rate movement per TEU ex-China to South Africa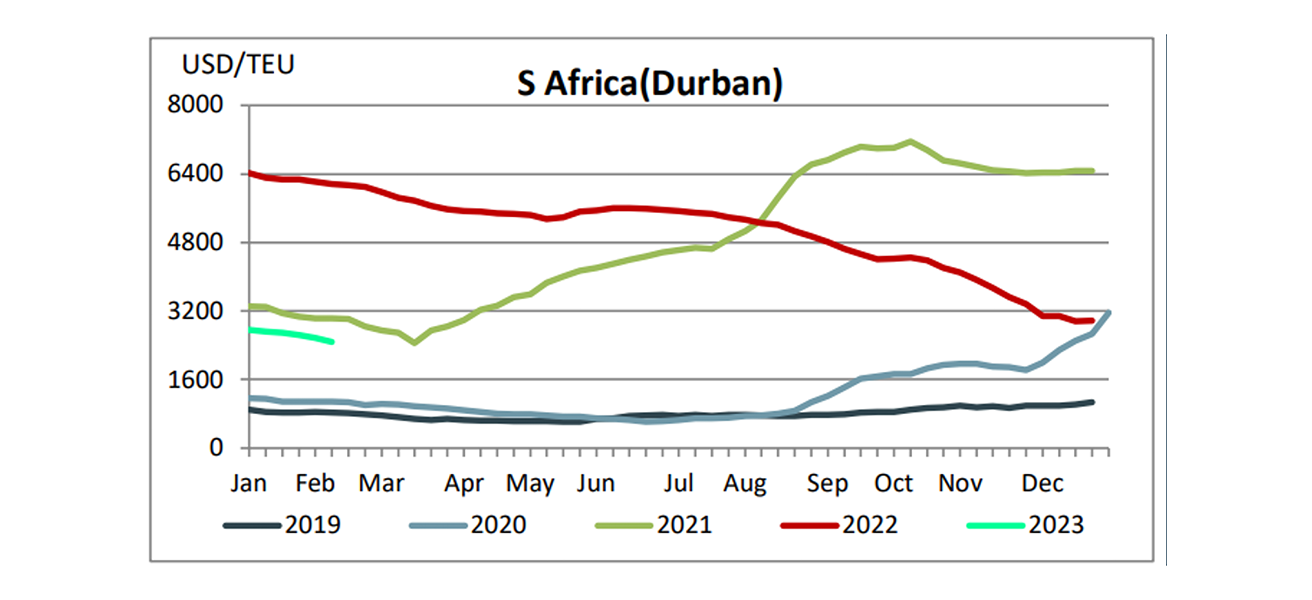 Due to our long-standing strategic relationships throughout our global network, we continue to secure very competitive pricing relative to market.
As expected, the market remains stable, despite the recent temporary fuel crisis at Cape Town International airport. Thankfully there are no major disruptions to report, and our cargo has been moving smoothly.          
Capacity:

There is currently adequate capacity in the market to cover demand. We are consistently securing space throughout our international network.
Transit times:
Service levels are being maintained and shipments for the most part are moving timeously.
We encourage you to provide your required arrival dates in advance for us to offer you optimal routings and rates to meet your requirements.
Freight rates:
Rates remain range bound across the various trades. We have been securing very competitive spot rates as well. The rising fuel price will negate some of the rate reductions. Carriers are in the process of negotiating space agreements from 1 April and the expectation is for base rates to reduce further.
With our expanded network we are well-positioned to offer a variety of options to meet our clients' airfreight requirements.
Get Focus insights straight to your inbox
Comprehensive offerings to support your business growth  
Our working capital finance is designed to boost and free up cash for optimising or growing your business. We offer a number of tailored financing solutions to suit your business needs.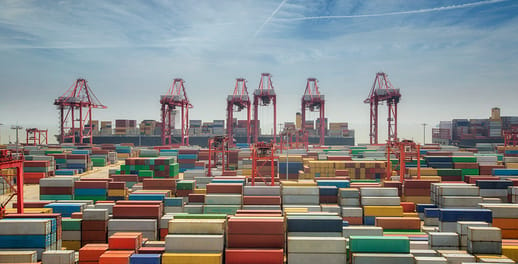 Trade Finance
We provide financing for the purchase of stock and services on terms that closely align with your working capital cycle.  For importers, our fully integrated solution provides a single point of contact for the end-to-end management of your imports, including order tracking, the hedging of foreign exchange risk, the physical supply of product, and the provision of a consolidated landed cost per item on delivery.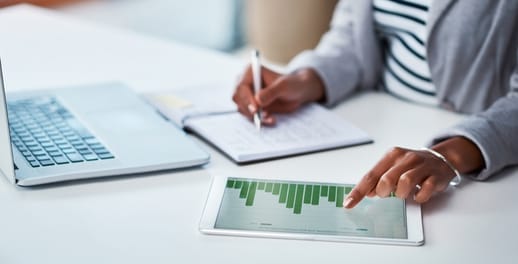 Debtor Finance
Funding the needs of your business by leveraging your balance sheet (debtors, stock, and other assets) to provide you niche asset-based lending or longer-term growth funding to assist you in growing your business and creating shareholder value.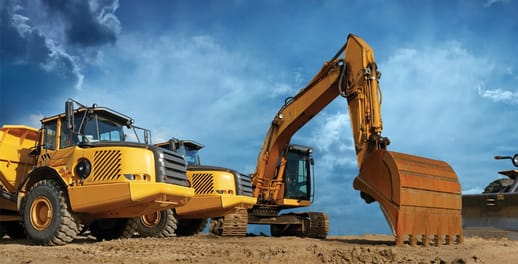 Asset Finance
Niche funding for the purchase of the productive assets and other capital requirements needed to grow your business.  We alleviate the requirement for the upfront capital investment in these assets.
Read previous Logistics Updates from Investec