No sooner had Shanghai started to ease lockdown restrictions this month, than strike action in Germany and South Korea kicked off threatening to destabilise strained global supply chains.
Inflationary pressures, elevated energy costs and rising interest rates across the globe are driving up supply chain costs and infuriating trade and logistics workers who are striking to make their demands heard.
In the first industrial action at German ports in decades, workers at the Port of Hamburg, Europe's third-largest container port, went on strike over wage demands and were soon followed by workers in four other German ports. With wage negotiations breaking down over the weekend, ports are braced for protracted congestion and disruption.
Containers are also piling up in South Korean ports following an onoing strike by unionised truck drivers who are protesting against soaring fuel prices and demanding minimum pay guarantees.
We look at the impact of these bottlenecks on global trade.
Sea freight market update
Demand for capacity has started to increase from China after the extended lockdowns in China, specifically in Shanghai. Many orders have been delayed because of the production delays and restrictive inland cargo movements caused by strict lockdown regulations. The ongoing truck driver strike in South Korea has also disrupted port operations and having a detrimental impact on industrial and manufacturing operations.
Fears of further strikes by port workers in Germany are adding new stresses to existing supply chain problems. A slowdown in port operations and existing trucking and rail constraints is menacing. These factors are creating additional bottlenecks and preventing cargo moving timeously. Port congestion has resulted in shipping lines either having to omit scheduled port calls or feeder shipments to alternative ports for mother vessel connections. This all transpires into extended lead times and additional costs.
Capacity
Port congestion continues to hinder capacity as vessel operations are disrupted resulting in capacity either being tied up outside ports or vessel schedules being delayed and erratic. We anticipate capacity to remain under pressure due to continued disruptions across all trades as well as demand traditionally starts increasing as we approach Q3. Some shipping lines are fully booked between 4 to 6 weeks in advance.
Carrier acceptance of hazardous cargo remains challenging, and some carriers will decline acceptance of hazardous shipments. Shipping lines are generally prioritizing non-hazardous shipments and its common for shipping lines to roll hazardous bookings. Shipping lines are aware of hazardous cargo being mis-declared and severe financial penalties are being imposed for mis-declarations.
We encourage bookings to be made well in advance of the required shipment dates and factor in longer lead times.
Despite the challenging environment, we have, in general, managed to consistently secure space through our extensive global network. With our expanded global network, we have gained access to additional capacity which strengthens our service offering to our clients.
Equipment imbalance
There has been an increase in shipping lines reporting temporary equipment shortages across most trades. We anticipate that there will be more frequent cases of equipment shortages as trucking and port disruptions impede shipping lines' ability to reposition equipment timeously to meet demand. Non-operating reefers (NOR) are good alternative option from main Far East ports, assuming cargo is suitable to be loaded in NOR's.
Sailing schedules
Schedules across all trades into South Africa continue to be unstable. Departure and arrival delays, port omissions and rotational changes remain a common occurrence. Constant changes to schedules are a daily thing. 
Freight rates
The welcomed freight rate reductions on the Far East trade are a thing of the past unfortunately. As previously reported, rates were expected to start increasing once China emerged from lockdowns and that is precisely what has started to occur. Rates have started edging up again from May levels and we anticipate further increases through June and Q3. The rising fuel prices have also contributed to upward rate adjustments across all trades and additional surcharges increases are also being passed on by shipping lines for the USA and Europe trade routes.
SCFI (Shanghai Container Freight Index)
The below graph demonstrates the freight rate movement per TEU ex-China to South Africa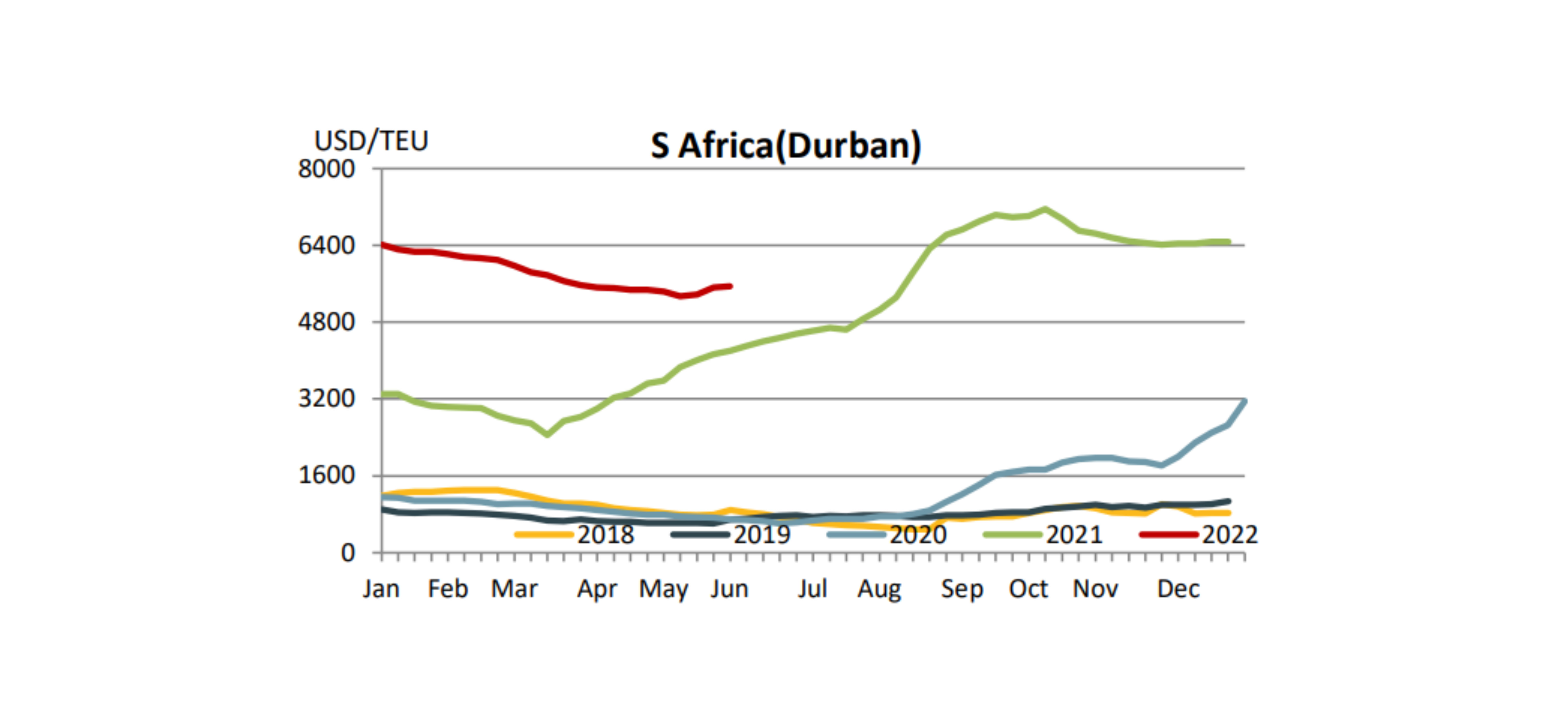 Air freight market update
In comparison to the sea freight market, air freight has been relatively stable with a couple of exceptions. We anticipate demand to grow across all trades as we approach Q3. Challenges with trucking services in areas such as China, USA and parts of Europe have delayed collections and added to the total lead times being increased. 
Capacity
We have generally managed to secure capacity for airfreight orders. Demand is likely to increase in the coming weeks as manufacturing in China ramps up and importers convert sea freight orders to airfreight because of sea freight constraints.
Our airfreight network enables us to continue offering flexible solutions that meet our clients' import requirements.
Transit times
Trucking shortages and handling delays have resulted in extended lead times. Transit times for hazardous cargo are longer compared to non-hazardous due to the lack of available carrier options.
We encourage you to provide your required arrival dates in advance for us to offer you optimal routings and rates to meet your requirements.
Freight rates
Airlines continue to pass on the increases in fuel price. We did see a general softening in freight rates over the past few weeks, but we anticipate rates to start increasing again as demand increases. It is still common market practice to offer spot rates with a very short validity. Collection and handling charges continue to increase which will also contribute to total freight rates increasing.
With our expanded network we are well positioned to offer a variety of options to meet our clients airfreight requirements.
Get Focus insights straight to your inbox
Comprehensive offerings to support your business growth  
Our working capital finance is designed to boost and free up cash for optimising or growing your business. We offer a number of tailored financing solutions to suit your business needs.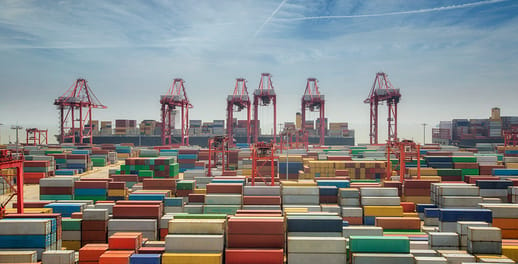 Trade Finance
We provide financing for the purchase of stock and services on terms that closely align with your working capital cycle.  For importers, our fully integrated solution provides a single point of contact for the end-to-end management of your imports, including order tracking, the hedging of foreign exchange risk, the physical supply of product, and the provision of a consolidated landed cost per item on delivery.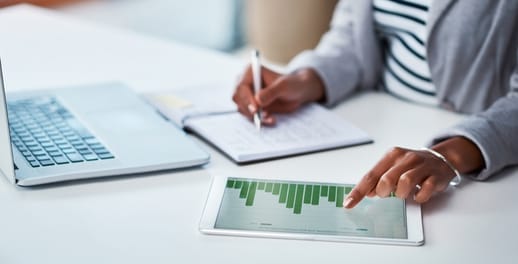 Debtor Finance
Funding the needs of your business by leveraging your balance sheet (debtors, stock, and other assets) to provide you niche asset-based lending or longer-term growth funding to assist you in growing your business and creating shareholder value.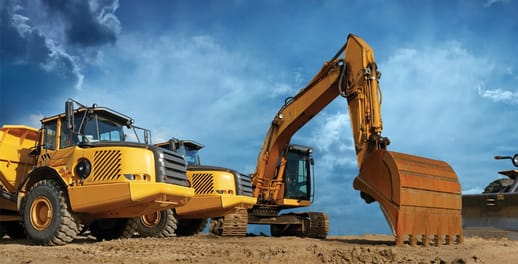 Asset Finance
Niche funding for the purchase of the productive assets and other capital requirements needed to grow your business.  We alleviate the requirement for the upfront capital investment in these assets.