Receive Focus insights straight to your inbox
The South African economy has been sluggish in recent months with growth forecasts decreasing due to local politics as well as international influences. One silver lining in these trying times is the wildlife economy that is growing and bringing some much-needed skills development, job creation and cash injection into rural communities.
R139 bn
Tourism contribution to SA GDP, 2018
How Investec and its partners are empowering rual communities in Mpumalanga
Opportunity in economic biodiversity
According to the South African National Biodiversity Institute (SANBI), South Africa is the third most biologically diverse country in the world – topping the list behind Indonesia and Brazil. It's this biodiversity that's at the centre of a growing wildlife economy. 

The Department of Environmental Affairs  has identified the main focus areas of wildlife economy to be centred on "the socio-economic benefits of eco-tourism, co-managed conservation areas and ancillary services to protected areas."

It defines the wild economy as: "The economy that drives rural development and prosperity through the sustainable use of wildlife assets, the socio-economic benefits of ecotourism, co-managed conservation areas and related ancillary services to protected areas including the processing of such resources into secondary products that are consumed and traded domestically and internationally."
8288
Africa rhino poached in the last decade
Although the industry is blooming, it is facing serious challenges. Poachers are threatening the Big 5 and, according to Save the Rhino, killing over 8,000 rhinos in the last decade despite the government and the private sector intensifying their efforts to fight the scourge of rhino poaching.
To sustain sector growth and to protect South Africa's biodiversity, it requires a collective effort from government, private sector and communities. An example of one such collaboration is the work Investec is doing with local stakeholders to empower communities in Mpumalanga.
"Investec aims to build a more inclusive wildlife tourism economy which incorporates previously excluded communities into the value chain by educating, training and creating new enterprises and employment opportunities for local participants," said Tanya dos Santos, head of Group Sustainability at Investec and Investec Rhino Lifeline.

The communities Investec has identified in Mpumalanga are based in remote villages that are surrounded by an abundance of natural resources and many game parks that attract millions of local and international visitors every year.
With breath-taking natural resources, the big five and biodiversity at its best, the opportunity to uplift local communities is significant. What's needed are partnerships that  ensure that communities are active participants in the economy of wildlife by focusing on the key areas of education, skills development, job opportunities and infrastructure development.
The Good Work Foundation - Africa's first digital learning campus model for rural communities
Investing in digital learning for rural communities
Investment in education is a critical focus for any economic growth strategy. With the advent of the fourth industrial revolution, digital education has taken centre stage.
However, as urban school learners are more exposed to opportunities of digital education – rural learners are often left behind in a rapidly changing world.

Through the Good Work Foundation (GWF), in partnership with Investec, rural youth in the Hazyview area, in Mpumalanga, have been introduced to digital learning and English.

"The model that GWF has created is that we take young adults from school into the world of work, into enterprises we have created through career academies that are relevant for the economy around here. The profits generated from those enterprises feed back into the open learning or the children's programme which then re-energises the whole district of education in the area," said Kate Groch, GWF founder & CEO.

The GWF Open Learning Academy reaches over 5500 scholars per week from 20 schools. A further 440 youth are enrolled annually in adult learning and career training academies.

The foundation works with Stanford University to provide cloud-based learning and to deliver world-class education. Through these courses, learners are able to be absorbed easily into the wildlife economy fulfilling various roles that are key to the functioning of the ecosystem.

Addressing the problems of youth unemployment in rural areas
The results of the Quarterly Labour Force Survey (QLFS) for the fourth quarter of 2019 indicate that the official unemployment rate is 29,1%. The youth of South Africa is the worst affected with the survey finding that of the 20,4 million young people aged 15-34 years, 40,1% were not in employment, education or training.
In rural Mpumalanga, Investec's partnership with the Youth Employment Service (YES) has seen over 100 youth being employed in projects run by the Sabi Sands Pfunanani Trust.

Creating jobs through the Youth Employment Service
Some Investec interns are graduates of the GWF and have been placed in administration, information technology, human resources as well as engineering and conservation services roles.

GWF interns start work already empowered with critical skills such as digital access which is crucial for a thriving tourism sector.

"Tourism is a big opportunity in terms of jobs in the conservation sector.  So, it's really about getting our neighbouring communities into that economy and bringing them into the ecosystem and unlocking those benefits for them," said Loma Powrie, Sabi Sands Pfunanani Trust CEO.
"It's not just about education and moving people into a job because of what we experienced with some of the candidates is that nobody in their family had worked before so work-readiness training is also very important," said Powrie.
Care for Wild Rhino Sanctuary - creating jobs in the local community
The YES internship extends to the protection of our rhino, which could be extinct in years to come due to increased poaching. 
In the last decade, according to Save the Rhino, nearly 8,000 rhinos have been killed for their horns in Southern Africa.

It's a race against time for Investec Rhino Lifeline partner - Care for Wild Rhino Sanctuary - as it works to protect, rescue, treat, rehabilitate and release rhinos back into the wild.
The organisation has employed about 230 Investec interns to work on preserving the rhino and the legacy of the Big 5.
"There are K9 units of dog handlers and a mounted unit that can keep an eye on our rhino. Then you have your rhino monitors that sit a short distance from the rhinos just watching them and keeping them safe. We also have reaction teams," said Petronel Nieuwoudt, Care for Wild Rhino Sanctuary founder.

Provision of basic services in rural communities
While these rural communities are being uplifted through education and job opportunities, they still lack some basic services.
Through a partnership with Innovation Africa and the Entrepreneurship Development Trust (EDT) that was set up by Investec, several communities have benefitted from water infrastructure development.

Partnering with Innovation Africa to provide clean water to the Bushbuckridge community
By the end of 2018, eight villages in the Bushbuckridge community had access to clean running water from water towers where solar panels power pumps that extract clean water from bore holes. The water is then piped to centrally-located taps throughout the village.

"On a daily basis, we pump at least 20,000 litres which is distributed to at least 8,000 people in a village. So, it means in total the people we are impacting now is between 50,000 and 70,000," says Abraham Ngobeni, Regional Director for Innovation Africa.

"Our model ensures that the village takes ownership of the project," says Ngobeni who explains that local residents are employed in the construction and maintenance of the project and skills are transferred to them to build their work experience and help their future employment prospects.

A sustainable solution will grow the economy of the wild. "The Good Work Foundation provides that opportunity to the young person. Simply put, education but much more specifically put, digital access to digital learning and digital literacy which prepares that young person for a digital future which is very compatible to the economy of wildlife," says Dave Varty, Good Work Foundation chairman.
"All reservations and travel all done online. There are many components of a digital world which allow a young person to become self-empowered."

It is through collaboration and a collective effort that communities in rural areas surrounded by natural capital will be empowered and become part of one of the most important industries in South Africa. 

About the author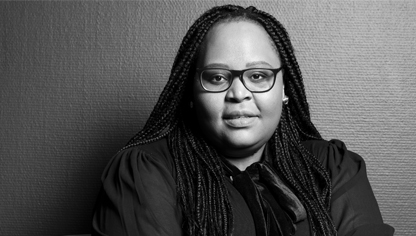 Lenyaro Sello
Digital content specialist
Lenyaro is a key member of Investec's Global Content team, based in Johannesburg, who focuses on relevant and topical issues for internal and external audiences including clients. She is a well-travelled multi-skilled multimedia journalist who previously held roles within eNews Channel Africa (eNCA) and Eyewitness News (EWN).
More insights on sustainability