Get Focus insights straight to your inbox
It's often been said that the global lockdown in the face of the Covid-19 pandemic helped to accelerate a decade of digital adaption into just a few months. It also changed people's perceptions of the infrastructure needed to support a different way of living and doing business – from the bricks and mortar of shopping centres and offices to the connectivity and data requirements for going about one's business remotely.
In 2022 as we start to think about a return to a normal way of life (notwithstanding the uncertainties about the Omicron variant), we nonetheless have to accept that we will never completely return to what was regarded as normal two years ago. Many individuals and businesses, having had a taste of working and shopping from home, are unlikely to go back completely to doing things as they did before.
This shift however implies a major investment in the type of infrastructure that's going to be needed to support this new way of life. This includes investment in data centres, which are key to securing the rapid interchange of data that underpins this new way of working.
140,000m2
Data centre space currently hosted in Africa
Presently, however, Africa lags the major global centres when it comes to data centre capacity. According to Knight Frank, a leading global real estate consultancy, Africa currently hosts 140,000m2 of data centre space, equal to that of Switzerland. Or, in power usage terms, live IT power at the main data centre hubs in Africa, Johannesburg and Nairobi, stands at 59.4MW and 19.04MW, respectively. This compares with the leading data hubs such as Dublin (795.8MW) and London (728.25MW).

Fast-growing populations, rising income levels, and a greater willingness to embrace digital platforms should drive demand for data usage, but in turn will require large-scale investment in infrastructure such as cloud and new data centres, as Africa looks to narrow the gap.
In South Africa, there has been meaningful investment in data centres in recent years. More recently, however, in response to the needs of the larger data users – think of the large cloud computing providers, social media giants, and search engines – to build the capacity that they need. 
Sends me into hyperscale
This year has seen the first moves in South Africa into building the sort of capacity these large data users will need, in what are called hyperscale data centres. As the name suggests, hyperscale data centres differ from regular data centres in their size and scale, which allows them to apply custom engineering to deliver significantly better performance for mega data users.
In October, Vantage Data Centers, one of the world's leading specialists in hyperscale data centres, announced a US$1bn investment into South Africa, with the first one being a hyperscale data centre campus in Midrand, making it the largest such facility in Africa once fully developed.
Construction of the 80MW campus – which will more than double Johannesburg's current IT load capacity – has already begun and will be built in three phases. The first, with 16MW capacity, will be followed by 32MW each in two successive phases. The campus will include three facilities once fully developed
R1.125bn
Debt facility provided
The initial debt facility of R1.125bn, and R450m accordion, for the first phase of the first data centre on the campus, is being provided by Investec Bank, alongside another South African bank, in one of the most important examples of foreign direct investment (FDI) in South Africa in recent years. The funding is alongside equity capital that's been raised by Vantage from its shareholders.
"This is an incredibly exciting investment into digital infrastructure in South Africa," says Robert Gecelter of Investec Bank's Corporate Leverage Finance (CLF) team, "Vantage is a fast-growing  internationally renowned data centre specialist and their significant investment into the South African data centre space is notable, having expanded from their US base into Canada, Europe, Asia Pacific and now into the Far East and South Africa." 
"We are delighted to have been selected as one of Vantage's two South African Mandated Lead Arranging banks and lenders," adds Gecelter.
Joubert Roux, also of the CLF team, explains the importance of hyperscale data centres in the development and expansion of the digital universe:
"Hyperscale data centres are the heartbeat of the digital world. They provide the processing power and storage space that make our scrolling, streaming and online shopping possible."
More than that, they empower digital entrepreneurship, access to education, and the sharing of ideas which has a proven impact on poverty alleviation and the upliftment of citizens."
The Midrand campus, which will cover 60,000m2, represents Vantage's first investment into Africa after it started its expansion beyond the US in 2019.
Christophe Strauven, London-based Treasurer of Vantage, explains that the group was founded in the US in 2010 and focused on that market over the following years. With the introduction of Digital Bridge as a key shareholder in 2017, Vantage later started its expansion outside of the US.
Vantage acquired 4Degrees Colocation in Canada, and Etix Everywhere (Luxembourg) and Next Generation Data (Wales) thereafter," says Strauven.
"In addition to these operations, Vantage has a number of greenfield campuses around Europe, and the decision to invest in Africa was taken earlier in 2021."
Tom Breslin, SA director of Vantage, notes that from taking the decision to invest in South Africa in early 2021, Vantage was able to move quickly in finding a location (through Attacq at Waterfall in Midrand) and start construction.
"This tells you how much potential we believe there is in the South African and African markets for the large-scale data users," adds Breslin.
About the author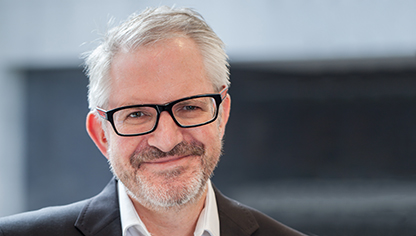 Patrick Lawlor
Editor
Patrick writes and edits content for Investec Wealth & Investment, and Corporate and Institutional Banking, including editing the Daily View, Monthly View, and One Magazine - an online publication for Investec's Wealth clients. Patrick was a financial journalist for many years for publications such as Financial Mail, Finweek, and Business Report. He holds a BA and a PDM (Bus.Admin.) both from Wits University.