Receive Focus insights straight to your inbox
There's a core within every one of us. It's informed by our experiences as individuals, our culture, gender, race, family, interests, and many other factors.
Intersectionality is the intersection of these layers and how they shape our identity and ultimately our authentic self.
In the second instalment of Investec's Women in Tech series that is focused on attracting, retaining and empowering females in the sector, intersectionality took centre stage.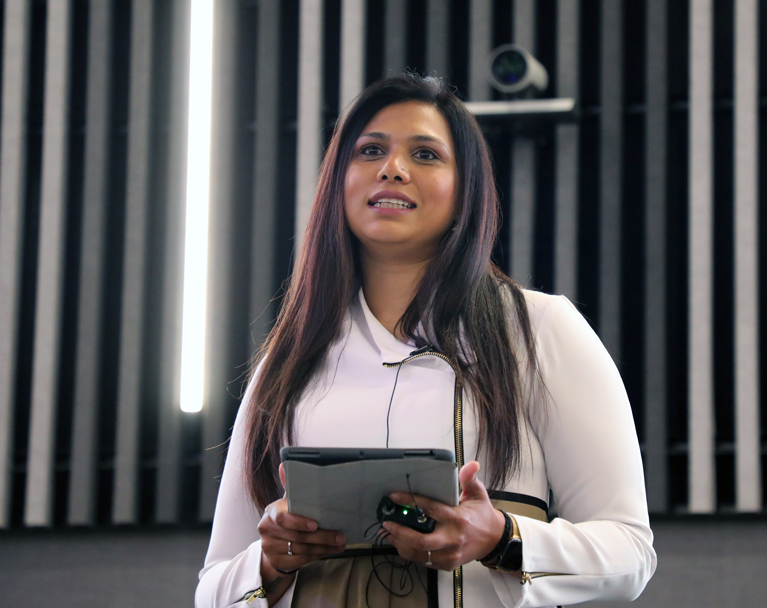 Shabhana Thaver,

Chief Information Officer of Investec Specialist Bank.
This theme brings a deeper lens to owning your identity, which was built on the foundation of embracing your intersectionality to ensure diversity, equity and inclusion.
And, Thaver explained, it is imperative for the tech sector, just like many others, to consider differences in diversity, equity, and inclusion in everything it does, and help women embrace their intersectionality and identity to bring their best selves to the workplace.
Joining Thaver in the conversation was Zandile Mkhwanazi, CEO of GirlCode – an educational institution that engages young women in tech, facilitates their skills advancement and advances their entry into the tech industry.
Watch episode one of Women in Tech: Microsoft SA CEO Lillian Barnard on achieving gender parity in tech
Addressing systemic challenges
Mkhwanazi says that societal expectations are central to changes: "First and foremost, we need to address the systemic cultural views within society that suggest women should be shy and meek, and shouldn't be outspoken.
"These beliefs have become engrained in women, so it is really important to start changing that narrative. We need to start teaching women, especially the girl child, about leadership and confidence through mentorship, along with coaching and education that imparts business and technical skills."
Empowering women with these soft and technical skills is particularly relevant in the ICT sector, where some progress has been made but more can still be done.
While South Africa has slowly seen increased numbers of women in tech roles, there are systemic issues that the industry can address to boost female representation.
It is a reality that Mkwanazi faced when working at a technology company at the age of 23, which ultimately influenced her decision to launch GirlCode.
"At the time, my identity was centred around being a black female in the tech space, because I was generally the only one wherever I went. That informed my identity and crystallised what I wanted to do and change about the sector."
Following a discussion with her manager about why the company wasn't hiring more women, Mkwanazi realised that the issue wasn't a lack of desire to hire females, but that women were not applying.
"I believed that we could do more as a company to attract women, so I decided we should look at how we attract women to the sector by doing something different, which is why I created GirlCode."
Women in Tech
Global numbers
0
Countries have achieved full gender parity in the tech sector.
68.2%
Sub-Saharan Africa has the sixth highest parity in tech.
29.2%
of STEM workers are women.
17.2%
of senior STEM roles are held by women.
12.4%
of C-suite tech roles are women.
30%
of AI roles are women.
Source: Global Gender Gap Report 2023, World Economic Forum.
Expanded identity
While her identity has evolved since then, as Mkhwanazi has become a wife, a mother, an entrepreneur, and a business leader responsible for her employees, at her core she remains passionate about seeing social justice for women.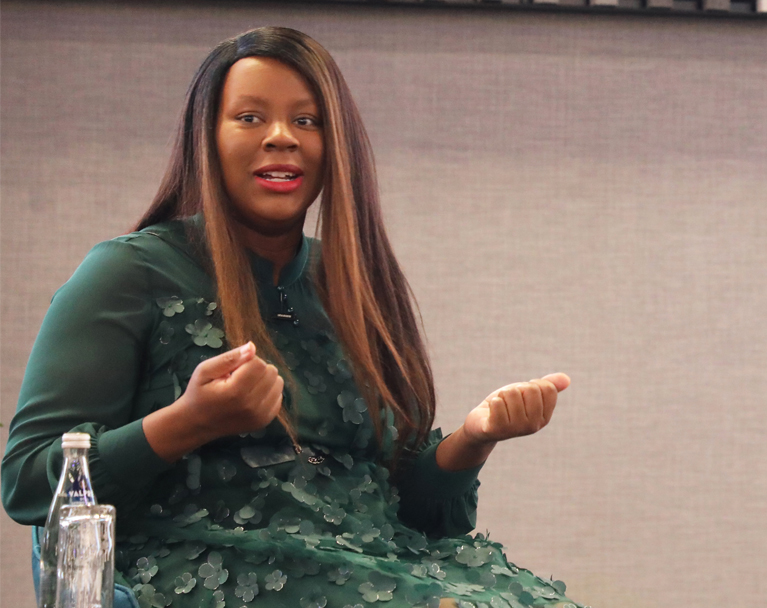 Zandile Mkhwanazi,

CEO of GirlCode.
I want women to excel in whatever spaces they find themselves. Empowering women is my purpose and the reason why I am here. I want to ensure that young girls and women have their seats at the table
Investec has partnered with GirlCode on a learnership programme where interns will get commercial experience within the company's digital and tech teams. One of the interns Lurtia Khoza, joined Thaver and Mkwanazi on stage and echoes these sentiments: "We need to teach young women how to take up space and become great leaders, not just in the tech space but in the broader business world."
As a woman trying to unlock opportunities in the tech sector as a software developer, Khoza admits that her journey, albeit interesting, has been difficult.

"It has been a roller coaster ride, but with the help of organisations like GirlCode, I managed to get an opportunity in the industry."

And driving inclusivity through intersectionality sits at the heart of GirlCode's raison d'etre because diversity in the workplace can create a sense of belonging.

Beyond the gender equality gap

Mkhwanazi's vision extends beyond merely closing the gender equality gap. "I am trying to create a world where you don't need organisations like GirlCode as everybody gets an equal opportunity."
Mkhwanazi quoted a sobering estimate recently shared by the World Economic Forum, predicting that it will take 131 years to achieve gender equality in the workplace if diversity initiatives continue at the same snail's pace.
"That's too long. I want to live to see a world where people get opportunities for who they are, not because of their background, race, or gender. And I think that's possible, but we need to be brave enough to start driving that change at a grassroots level."
Offering a female perspective
Achieving this vision offers additional benefits beyond gender and race equality, as diversity in the workplace improves performance. According to McKinsey's Diversity Wins: How inclusion matters  report, companies with gender diversity particularly on the executive level are likely to achieve higher profitability. In addition, the more diverse a company is, the higher the likelihood of it outperforming competitors.
"There are also dangers in not having diversity among those developing technology, especially technologies that infiltrate our lives," elaborated Mkhwanazi.
"I don't want men exclusively building technologies that impact my life. I also want women in the room to offer perspective on how we do and see things."
Receive Focus insights straight to your inbox
Get more insights on Women in Tech