External air pollution is a big challenge in the City of London, as well as other cities. At Investec, we believe in the importance of corporates like us to take responsibility for reducing their environmental impact.
It's easy to think the problem is too huge to tackle, beyond our help, or even that it doesn't impact us. But with about 40,000 premature deaths from poor external air quality each year in the UK, we can't afford not to do our bit. 
Investec was the first corporate in the UK to run internal education campaigns about air pollution.  The aim was to educate our colleagues to help them protect themselves from air pollution, and to reduce their contribution to the issue. When Teresa [O'Brien, joint head of corporate responsibility] asked me to help with one of these campaigns, I was thrilled to take part. My colleagues Maurice [Hochschild, from our corporate bank] and Noel [Sumner, head of compliance] also joined in.
38.5%
Average reduction in Dave's exposure* by walking a lower pollution route
39.3%
Average reduction in Noel's exposure* by cycling a lower pollution route
30%
Fuel efficiency boost of Maurice's car by keeping maintenance up to date and changing driving behaviours
* King's College used black carbon to measure air pollution – it's a component of fine particulate matter which causes many health issues, as well as climate change.
I helped by carrying an air quality monitor with me on my journey into the office. One day I walked my usual way, and the next day I took a low-pollution route. Noel cycled in taking his usual route and a cleaner version, and Maurice tracked his car emissions while driving normally and then using more fuel-efficient behaviours. King's College helped us with the air quality monitors.
I was shocked to see the poor quality of air around in the City, but impressed at how walking just a little out of the way reduced my exposure to it in a material way – by 38.5% in fact! Noel's exposure was cut by 39.3% and Maurice's car became 30% more fuel-efficient when he changed simple driving behaviours.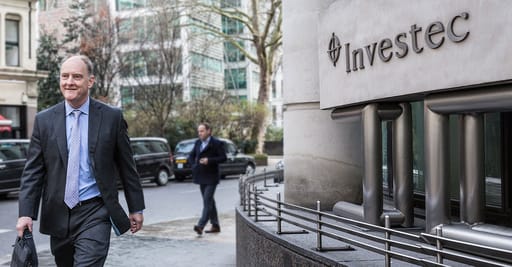 It was great to see that the campaign helped our people at Investec to be aware of air pollution – our people made more than 3,200 pledges to change the ways they walk, cycle and drive, so to protect themselves and not to be part of the problem.
Poor air quality can be reduced by all of us acting together, doing simple things. Let's walk the 10 minutes instead of hailing a diesel cab.  Put plastics in the plastics recycling bin so they don't end up being burned, releasing dioxins into the air. Our actions can affect the health of friends and family who are dear to us, so just thinking a bit about the impact of what we do in our day-to-day lives can go a long way.
Investec was shortlisted in the Sustainable Cities Awards 2017 in the Health and Wellbeing category for our action on air quality. 
Corporate responsibility at Investec