Great Britain (GB) were the underdogs heading into the Rio 2016 Olympic women's field hockey final. Their opponents, the Netherlands, hadn't lost a match at the Games in 12 years, taking home the gold in Beijing 2008 and London 2012.
Despite the Netherlands having the upper hand during most of the match, the GB squad remained resilient in the face of adversity and tied the score 3-3 in regulation time. A dramatic penalty shoot-out followed, with GB securing a 2-0 victory after goalkeeper Maddie Hinch produced a string of incredible saves.
This gold medal-winning performance was no solo effort, however. The team consistently exceeded expectations throughout the tournament, remaining undefeated on their way to the final.
What were the secrets of GB's success? And how has the team continued to stay at the top of their game in the years since?
1. The importance of mental strength
Alex Danson, Giselle Ansley, Hollie Pearne-Webb and goalkeeper Maddie Hinch are all veterans of the Rio squad and continue to play for GB today.  They are ideally placed to discuss what has propelled the team to the pinnacle of the sport in recent years.
"For me, success is in your preparation, in your training," Alex explains. "We don't miss training, we don't miss gym sessions, we don't shy away from hard work. They are the details that will make a team great."
Maddie echoes these sentiments. Notably, neither player mentions physical attributes, natural talent or skill when outlining their secrets to success; the right mindset and team spirit are the factors they believe create champions.  
"It is just hard work, grit and determination. As long as we stick together as a group, trust in what we're doing and know that everyone will be ready when the moment comes to deliver, that's the key," she says.
Achieving this level of team chemistry is easier said than done. How do the squad form a cohesive unit when the players have their own unique personalities and are at different ages and stages of their career?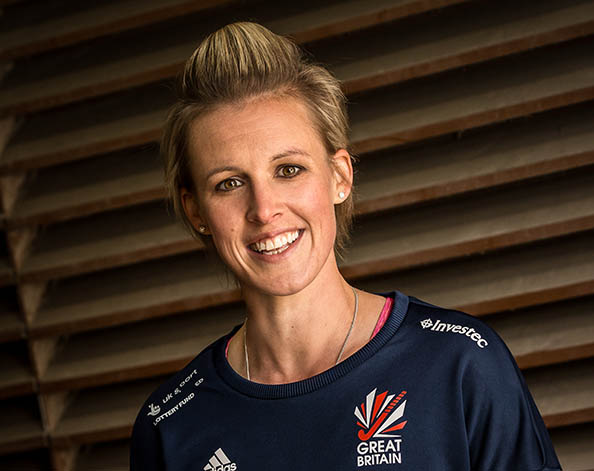 Alex Danson reflects on the team's mental approach to big tournaments
Every day, we set a very clear vision to be the difference, to create history and to inspire the future, and we live by that, day in, day out.
2. Creating the right tone at the top
As with business, the culture at the top has a major influence on the broader performance and mental attitude of the entire squad.
GB Hockey has focused on a number of key themes for upcoming tournaments and the more experienced players are expected to embed these messages into the team ethos for the younger stars rising through the ranks.
First, the squad has tried to develop a 'winning after winning' mentality in an effort to prevent players from becoming complacent with their Olympic success. GB coaches also emphasise the need to concentrate on the small margins that separate success from failure at the highest levels.
"It's the small 1% that you can find in any performance on and off the pitch that sets you apart from the competition. Those little points of difference are why you end up winning and they don't," Giselle explains.
The so-called 'no brats' policy is another core strategy for the squad. Players are expected to leave their egos at the door and realise they won't always get what they want, despite playing for the national side. 
"We talk about being humble as one of our things since winning at Rio, not just taking it for granted and thinking that we're the absolute bee's knees," Giselle adds.
3. Essential training and support
The GB team has access to some of the best training facilities in the country to help them achieve and maintain peak physical and mental fitness.
The Bisham Abbey National Sports Centre in Berkshire has a sophisticated video analysis suite, a cutting-edge physiotherapy medical unit, a full-size hockey pitch, a state-of-the-art gym and other world-class features.
Many of Bisham Abbey's facilities are focused on physical and strategic improvements, but Hollie highlighted the value of having a sports psychologist on-site to give the squad an added mental edge. 
"We do a lot of work with psychologists, both individually and as a squad. The work we did with them on our culture in the last cycle leading into Rio was fundamental in why we were so successful," she says.
Hollie also feels that the importance of being full-time athletes cannot be overstated. This enables the players to get to know one another and develop deeper connections on the pitch. The team also spend a significant amount of time strategising together.
"We have video analysis of opponents, but all our own training sessions are also on video. We can constantly analyse ourselves in terms of how we can get better as individuals and improve our connections as a team."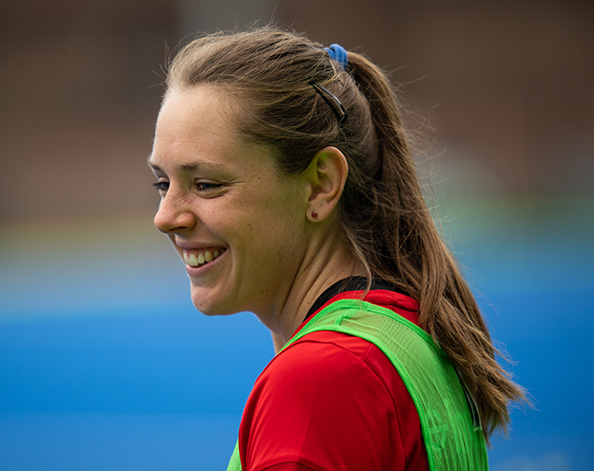 Giselle Ansley on why the small margins between teams are important
It's the small 1% that you can find in any performance on and off the pitch that sets you apart from the competition.
Is cultivating a 'no brats' policy difficult in such a competitive sport In an Olympic cycle, for example, approximately 30 players will train for the squad, but only 16 will be chosen to represent their country at the tournament.
Giselle admits it's tough to maintain camaraderie when players are being assessed every day and are competing against each other for a spot in the team.
"If you think like that, you'd probably crumble. The way we go about it is that we're trying to make sure the team - and it's always about the team - are as good and as successful they possibly can be," she says.
"If you can think about it as a team and your role within the team then, ultimately, that's where you get your biggest satisfaction from."
Hollie agrees. Fostering an environment where players can realise their own potential, while still putting the squad first, was vital to success in Rio and will continue to influence their performance at Tokyo 2020 and beyond.
"The role of culture in a successful team is fundamental. Massive. Absolutely huge," she says. "We created a culture where we were so supportive of one another, but at the same time, we were challenging and pushing each other to be the best we possibly could be."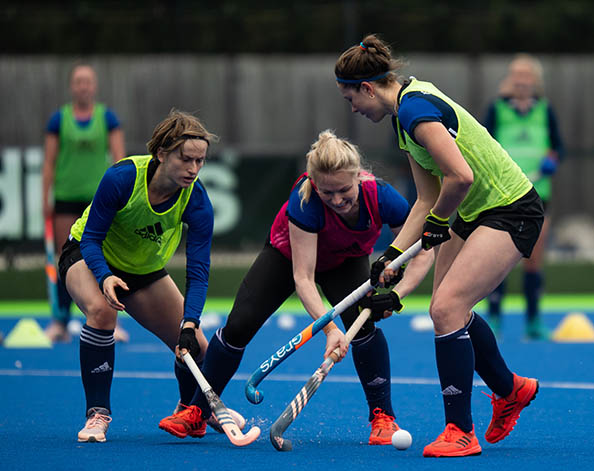 Hollie Pearne-Webb (centre) discusses one of the secrets of success for the GB squad
The role of culture in a successful team is fundamental. Massive. Absolutely huge.
5. Maintaining personal ambitions
The primary focus may be on building a successful team, but that doesn't mean players put their own career aspirations to one side.
Achieving the perfect balance between personal ambition and doing what's best for the squad is an unavoidable part of hockey. Maddie says her competitive nature and commitment to always striving for improvement has become increasingly important.  
"I'm now at a point in my career where I've achieved everything I've ever wanted. But now it's all about staying there, and that's the real challenge," she explains.
"I've got to keep pushing on, keep getting better and better. At the same time, I'm getting older every day and it gets a little bit harder. But I quite enjoy that pressure."
Giselle has a similar outlook. After getting a taste of standing on the podium at Rio, she knew there were many factors that led to the team's success, but now it's about trying to repeat the process and do it better.
"There were so many things that I still wanted to achieve after Rio - to win the Commonwealth Games and the World Cup. There were still massive incentives for us," she says.
Alex perhaps sums it up best. For her, what makes the team special is they are 31 women who are personally driven and dedicated, but who come together for a common goal.
"Every day, we set a very clear vision to be the difference, to create history and to inspire the future, and we live by that, day in, day out."
Investec is the principal partner of the England and Great Britain women's hockey teams, and the title sponsor of the Investec Women's Hockey League and women's knockout competitions.

Winners act fast, but think faster
Other insights from Investec