The Covid-19 crisis has highlighted the crucial role of businesses in supporting society. Where Government finds itself under pressure, businesses have the opportunity to step in and help communities thrive - even against a tumultuous global backdrop.
At Investec, we are grateful to be connected to countless business leaders who are already doing important work to support the initiatives and communities around them. Via our clients, our partners and our colleagues, we hear stories every day about entrepreneurs who are taking a proactive approach to solving social problems.
Kristina Blahnik, CEO of luxury footwear brand Manolo Blahnik, and David Pollock, founder of Greene and Co and philanthropist behind Behind Every Kick, are two business leaders with inspiring stories to tell, with a particular focus on mental wellbeing.
Over two separate conversations we spoke to Kristina and David to discuss the mental health impact of the pandemic, and why businesses have a growing role to play in supporting the mental wellbeing of their communities.
Watch the discussion and find out more about the work that Manolo Blahnik is doing to support mental wellbeing, and to learn more about Kristina's personal journey.
Adapting to change
For Kristina, Covid-19 has catalysed a new approach to Manolo Blahnik's work with the UK-based charity Mental Health Foundation, one of the organisation's many charity partners, with which it has a longstanding relationship.
"We've seen the impact of isolation on mental wellbeing," Kristina explains. "We pivoted everything in our business towards communicating about mental health and where to find resources - at the initial outbreak even our landing page was dedicated to the Mental Health Foundation and the Smile Initiative."
Introduced early on in the pandemic, the Smile Initiative is a programme developed by Manolo Blahnik to encourage creativity during lockdown. The initiative allows people to download a selection of Manolo Blahnik's original sketches, stripped back and designed to be coloured in by hand. Kristina tells us that the programme has reached over 41 million people on social media, with the website page generating over 1.5 million clicks. The Smile activity continues with Manolo's favourite books and films to enjoy during the pandemic period.
"We have this wonderful asset of thousands of drawings, and we wanted to create something to share just to give a moment of solace and calm in amongst all this noise," Kristina says. "If we made someone smile, I've done my job," she adds.
David Pollock, entrepreneur and founder of Behind Every Kick - a youth charity that empowers young people through sport - shares similar views regarding the necessity of adapting during the crisis.
"During the pandemic we've been doing a lot of one-to-ones online with the kids," David says. "The biggest is adapting to change," he continues. "Especially for those doing their GCSEs currently; it's about how they manage under that pressure and the extra stress that comes with home-schooling."
David is keen, though, to seek opportunities amidst the crisis. "What we're trying to do is grow Behind Every Kick as quickly as we can. And therefore what we've taken out of the pandemic is if we can deliver great quality sessions online, it means that we can roll-out to a much larger database of people."
Watch the discussion with David Pollock, entrepreneur and founder of Behind Every Kick, to discover how his youth charity empowers young people through sport.
Values first

Reflecting on her own journey, Kristina's commitment to working with mental health charities stems from a value-led approach.
"Many years ago I was at the stage where I was asking, 'where do I even start trying to make a difference?'" says Kristina, "you can actually almost paralyse yourself into not doing anything at all."
"You almost need to draw into yourself and your values - both as an individual and as a business community - to refine what fills you with purpose," she continues.
David shares a similar experience. "I had an interest in how you can overcome things, a real interest in sport, and an interest in wanting to do something with purpose - and so it was a question of bringing it all together," he explains. "By amalgamating that I ended up with Behind Every Kick."
The process of finding and committing to long-standing charity relationships doesn't happen overnight, however. Kristina comments: "The Mental Health Foundation is really close to our hearts and the journey to find them was a long one; we talked to a lot of people."
For Manolo Blahnik, Kristina explains, everything the business does - particularly when it comes to charity work - is about longevity. "Everything that we do as a business is about a 500-year plan, which may seem rather abstract, but my personal view is that if you plan for something that may have an impact in 500 years, you're doing something that has longevity beyond yourself."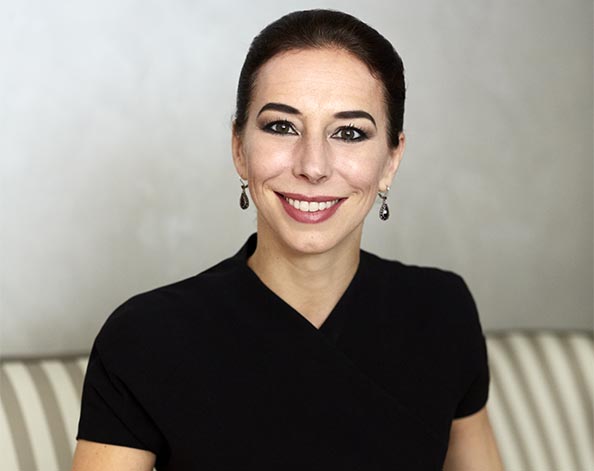 Kristina Blahnik, CEO of Manolo Blahnik
You need to draw into yourself and your values - both as an individual and as a business community - to refine what fills you with purpose.
How can other businesses follow suit?

For Kristina, the matter of other businesses taking similar steps is not a question of 'if,' but 'when."' "It's not something that should be done in a moment of crisis," she says. "It should be done consistently."
Prior to founding Behind Every Kick, David ran a chain of estate agents, Union Developments. For him, building charitable work into the business's culture was crucial. "The culture of the company was very much focused on charity work as well as making money."
"The culture of the business has to reflect the people within that business, otherwise the culture fails," David adds. "Having people who would look beyond just their pay packet."
As for Kristina and David's advice to other entrepreneurs or business leaders wanting to explore ways that they can give back to society?
"Start from inside yourself," says Kristina. "Because if people don't sense it's coming from a genuine, sincere place of commitment, then they won't get behind it."
David shares a similar perspective - "it's not just about writing a cheque" he says.
He notes, too, the importance of entrepreneurs playing to their strengths. "If someone is already an entrepreneur, they have something equally as powerful as a cheque to give and that's their knowledge," David adds. "There's no point in you spending all of your time doing something that isn't using your abilities."
A moment for reflection

At Investec, one of our most deeply-held values is that we strive to live in society, not off it - and having the opportunity to hear from individuals who are taking a pioneering approach to supporting their communities provides both inspiration and practical learnings.
By sharing the stories of progressive business leaders like Kristina and David, we hope we can spark ideas for other entrepreneurs to plan a way forward, too.