How do you keep children safe in the online world? This was the urgent question that father-of-four and serial entrepreneur Richard Pursey sought to answer back in 2013, when he co-founded digital safeguarding assistant SafeToNet.

SafeToNet's pioneering software helps children to become responsible and safe digital citizens by filtering out harmful content in real-time, including within live-video streams where the technology prevents both the consumption and production of sexually explicit material.
SafeToNet licenses its safeguarding technology to device manufacturers, telecommunications companies and video platforms, which embed it into their own products and solutions. The company's long-term vision is that one day phones, tablets, gaming platforms and IoT devices will be safe for children to use from the moment they're out of the box. 

A combination of circumstances led to the foundation of SafeToNet, nine years ago. Pursey had become aware of the unpleasant content that existed on certain internet platforms. He had also come to the uncomfortable realisation that he had no idea what his own children were viewing on their devices.
At that time, Pursey had successfully started and sold four technology companies before becoming a private investor. But he also volunteered to drive terminally ill children to hospital for cancer treatment if their own parents couldn't take them. On one occasion, when he was driving a chatty 13-year-old boy, he looked over to see that his young passenger was crying while holding his phone in his hand.
"His so-called friends were ridiculing him because he'd lost his hair due to the chemo," Pursey recalls. "He was being bullied." Tragically, the boy died two weeks later.
Increasingly concerned about internet safety risks, Pursey scoured the technology marketplace, looking for solutions that would protect children online. While he found parental control products that prevented children from looking at harmful websites, he found nothing to protect them when they used popular social media and messaging apps. "The world simply didn't realise how much harm was online," Pursey explains.
With determination to address this pressing issue, he co-founded the business with his wife, Sharon, two of children (Georgie and Jack), and Ted Hailey, who is the company's CFO.
It mattered deeply to Pursey that his wife was involved in the business from the outset. "I've learned the hard way that when you start up a business, certainly a high-octane business like ours, you work all the hours," he says. "And, if you're not careful, you can destroy your personal life. So, it was really important to me that Sharon and I were up for this together."
He also wanted input from his son and daughter, then young adults, who could offer valuable insights into how children use apps. To further incorporate a youthful perspective, SafeToNet set up a Youth Advisory Board and created a 'young CEO' who was just a teenager at the time. Pursey, meanwhile, was the 'old CEO' (although today he's the company's executive chairman). Since its foundation, SafeToNet has taken advice and guidance from over 2,000 children.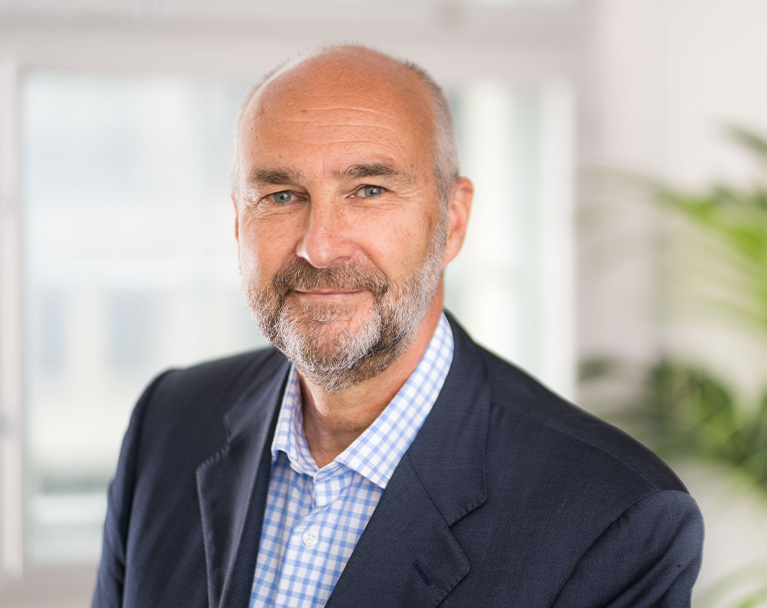 Richard Pursey,

Co-founder of SafeToNet
When this business doesn't have a reason to exist anymore, our work is done.
Forging a path to a safer world
While the business had a great market opportunity, it has had to overcome some significant legal and technological obstacles to grow and succeed. A particular challenge has been building technology that complies with privacy laws. "We learned pretty quickly that it's absolutely vital in the safeguarding landscape to respect a child's right to privacy," says Pursey. "You can't tell their parents what they're doing wrong." Legislation also prevents the company from intercepting messages.
Another challenge related to training algorithms (the set of instructions that computers follow to complete a task). Algorithms need to be trained to recognise harmful content, but it's difficult to do this without having access to that content, which may be illegal and include child sexual abuse material.
For a while, SafeToNet operated its own social network called 'AvaNatta', where people could interact with each other on the network using short video clips. The data from this network provided valuable insights into how people engage with each other online. To train its algorithms to detect illegal activity, the company works with organisations like the Internet Watch Foundation, which are sanctioned by authorities to hold illegal data and can train algorithms on its behalf. 

A further technological challenge related to devices. Earlier versions of smartphones were not powerful enough to process SafeToNet's algorithms in real time without running down their batteries and destroying the user experience. Fortunately, smartphone technology has improved over time while SafeToNet has innovated to develop more efficient algorithms.   
Pursey admits it's been a journey to get to where the company is today – a global business, with fast-growing revenues, that is negotiating contracts with large telecommunications companies and video platforms.
"We never expected for one minute that it would take this long to get to where we've got to," he says. "And that's because we naively thought, who wouldn't want to safeguard children? Who wouldn't want this technology? We didn't realise how long it would take for some of the largest companies in the world to say yes to technology like ours."
Pursey credits the company making it this far down to its "incredibly supportive shareholders". In total, SafeToNet has raised more than £30 million in funding over the years and is about to start its next fundraising round. Rather than sourcing funding from institutional investors, who are likely to expect high returns in a short space of time, it has instead pursued "patient capital" from people that understand the problem of online harms. These are typically private investors – often parents and grandparents – who share its mission of making children safer. 
In fact, it was a shareholder who suggested that SafeToNet enter the The Spectator's Economic Innovator of the Year Awards 2022. The company was the overall winner of the awards.
Going forward, SafeToNet plans to keep growing while continuing to use its voice in the industry to influence legislators, policymakers and regulators. It actively campaigns for legislation to make the online world a safer place for children. Notably, when Oliver Dowden, then Digital Secretary, announced the UK's Online Safety Bill in 2021, he did so from SafeToNet's London offices.
Today SafeToNet is safeguarding children in more than 130 countries around the world – a statistic that Pursey is justifiably proud of. "The only metrics that matter for our business are the volume of children we can safeguard and the positive impact we are having," he says. "While we know that revenue is often a by-product of a successful business, we can see a day when smart devices and the applications that run on them are safe by design, due to technology like ours. When that finally happens, our business will no longer have a reason to exist – and our work will be done."

If you'd like to speak to us about your personal finances or your business, please get in touch today.
More business growth insights from Investec