At a time when luxury brands are innovating in the face of significant challenges, a like-minded network can provide opportunities and advice for entrepreneurs. With this in mind, Investec is delighted to be sponsoring the second-annual Walpole Power List 2020. By championing the people steering the luxury sector to success – in spite of a global pandemic – the Power List recognises the 50 most influential people in British luxury, across nine categories including 'Game Changer,' 'Rising Star,' and 'Custodian.'
Luxury watch brand Bremont was recognised in the 'Game Changers' category in 2019. In this interview, the brand's co-founder Giles English says the network can be an "incredible support", including in "brutal" times. 

Overcoming adversity and the beginning of Bremont
Giles and his brother Nick – fellow co-founder of Bremont – are no strangers to overcoming adversity. In 1995, Giles witnessed his father and brother suffer a terrible plane crash, in which his father died and Nick broke over 25 bones.
Soon after the crash, Giles left his corporate finance job and, with his brother, began working to restore and maintain historic aircraft in a business originally set-up by their father. "It was a pivotal moment for Nick and I," says Giles. "We set off this journey of working together and doing something we loved."
"It was a pivotal moment for Nick and I," says Giles. "We set off this journey of working together and doing something we loved."
Before long, realising that they worked well together, the two began to formulate a plan to follow one of their other passions: mechanical watches. "We knew watches and felt there was a gap in the luxury market," Giles says. "There was no British luxury watch company, and so in 2002 we set up Bremont."

Building a game-changing luxury brand
Asked about being recognised as a disruptor in the sector, Giles is frank. "You can't appeal to everyone," he says. "You have to be yourself and hope that there's enough people out there who like you. When you're a small brand you can afford to put more character into your brand - you're not too afraid to upset people!"
Giles believes another point of differentiation for Bremont is the company's commitment to being a truly ' homegrown' brand. "Years ago we made the hard decision to have everything manufactured here in the UK, and every year we invest to make sure this happens."
Despite the challenge of sourcing and manufacturing Bremont's watches entirely in the UK, Giles strongly believes that the commitment is worth the investment.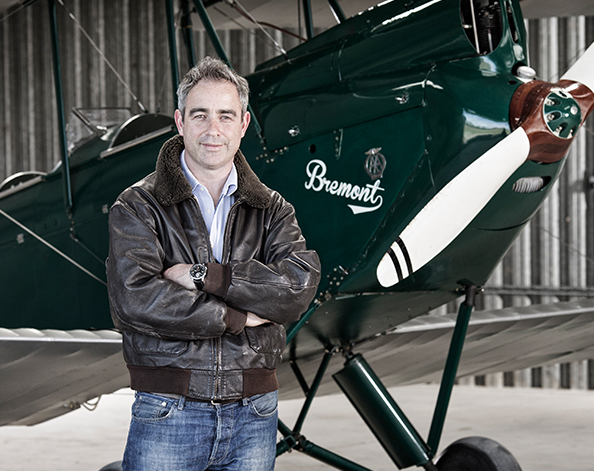 Giles English, co-founder of Bremont
Being British is our natural differentiator, and we've always played on that. In the past this has meant collaborating with other British brands with a clear story to tell, like Rolls Royce and Jaguar.
"It can be lonely being in business"
Today, Bremont's watches are sold all over the world, through both high-end jewellers and Bremont's own boutiques.
But despite his company's path to success and global recognition, Giles notes that it hasn't been easy. "It's a hard task building a global brand," he says. "It can be lonely being in business, so being part of a network like Walpole can be an incredible support."
"It can be lonely being in business, so being part of a network like Walpole can be an incredible support."
There's also the benefit – through Walpole – having access to partners such as Investec. "It's all about extending our network, knowledge, and reach," Giles adds.
He notes, too, that it's far from just a one-way street, "Through the Walpole network we've helped brands of tomorrow. I'm regularly being approached by other, smaller brands who need advice or mentoring, and it's a pleasure to be able to give that."
"The pandemic has really accelerated the importance of collaboration and networking," he says. "Right now, being able to share information amongst peers and like-minded people is a huge help."
As for how else the pandemic has impacted Bremont's business?  "It's been brutal, to be honest," admits Giles. "We've had to work hard – really hard."
And yet despite the challenges faced, Bremont's 2020 story is one of adaptation: "like most businesses, we've transformed what we do," he says. "Parts of our businesses - such as the wholesale cruise market - have completely disappeared, at least for now. So we're having to be very creative."
For Bremont, e-commerce has been part of the solution – despite the company's traditional reliance, like many luxury brands, on building face-to-face relationships. "Online has become key," Giles explains. "And as a small business we're lucky because we're agile: we can change quickly. For example, we've just launched a full white-glove concierge service in London, New York, and Hong Kong, delivering watches to your doorstep."
A focus on future success
When it comes to the future, it's clear to see the resilience that has brought Giles and his business to where they are today.
"I think when we come out of the pandemic, we'll all be better businesses," he says. "For entrepreneurs, you can't just shut up shop. You have to be open to looking at your business and identifying areas to change - and being able to react quickly to implement those changes."
Giles' mindset is one that is embodied across the Walpole membership – and it's also a mindset that is consistent with many of our clients at Investec. "It's just one of the reasons I'm proud to represent Investec within the Walpole community," says Eileen Redmond-Macken of Investec's Entrepreneurs private client team.
Read more business insights