The UK
Parliament sits again on Tuesday after its summer recess, following news of its prorogation from 9-12 Sep until 14 October, when the Queen's  speech will be held. In brief, a few points: 
i) a recess for party conferences usually takes place around then anyway, but the break under prorogation will last a week or so longer.
ii) this is deliberate in order to squeeze parliamentary time to limit MPs' ability to force a further extension to the 31 October Brexit date.
iii) a no confidence vote is not impossible next week, but it is not our central case. It is difficult to see a 'unity government' being formed, which after a successful vote would probably be necessary to prevent Boris Johnson from setting an election date.
iv) we still see the risk of a no deal Brexit at close to 40%, though events next week will undoubtedly help to shape this view. Of course we will be on the lookout for news of any progress in UK/EU talks to alter the Irish backstop which will essentially determine whether the UK leaves the EU with or without a deal. 
"We still see the risk of a no deal Brexit at close to 40%, though events next week will undoubtedly help to shape this view."
The spending review
New Chancellor Sajid Javid holds a Spending Review on Wednesday. Its range has been curtailed to one year from the usual three due to uncertainties over Brexit. Also (of course) there will be no decisions on taxation.
These will be made in the Budget, presumably towards the end of the year. Such narrow scope will enable the government to enjoy a PR win by pledging more cash for health, education and the police without threatening the fiscal rules, although we note that data so far this year show that borrowing is now increasing by £1½bn per month.
On the BoE side, the MPC will appear at the Treasury Committee on Tuesday, after which Mark Caney will give evidence on Brexit.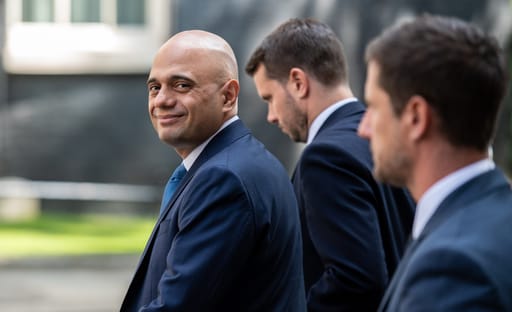 New chancellor, Sajid Javid, will be holding a Spending Review on Wednesday 4 September. 
Global outlook
Markets will be sensitive to trade news from the US and China. A new round of tariffs is due to kick in on Sunday 1 September.
Our understanding is that the US will levy an additional tariff of 5% (points) on $112bn of Chinese imports to 15%, while China will push up equivalent levies from 10% to 15% on a proportion of $75bn of goods from the US.
At the time of writing there did not appear to be material progress towards organising a new round of face to face meetings between senior officials between Washington and Beijing. But it is not impossible that this situation shifts next week.
Official and Caixin PMI surveys will provide indications of the pressure faced by the Chinese economy, particularly relevant given the soft round of official data for July. If the surveys are on the soft side, it might encourage the People's Bank of China to allow the CNY to slip further against the greenback.
Markets are less sensitive to equivalent US indicators, given the more closed nature of the American economy. But attention will be turned to August's jobs data on Friday, the final employment number ahead of the 18 September FOMC meeting.
We suspect the figures could be boosted by Census hiring and our call is for a 190k gain in payrolls. We also see the (U3) unemployment rate edging down again to 3.6%. As well as the usual run of ISM and ADP data earlier in the week, the Fed's Beige Book will be published on Wednesday evening, giving the Fed an impression of conditions in the economy 'on the ground'.     

Back in the Eurozone
We will be on the lookout for hints from ECB members ahead of the 12 Sep Governing Council meeting, before its 'quiet period' begins later in the week. German manufacturing orders and industrial production are due on Thursday and Friday.
Our assessment is that production has now adjusted downwards to reflect order books and may have troughed. If this is not the case, there is a real risk that the economy has entered a recession. In Italy, we should learn of the key ministerial appointments from the new 5*/PD government, though still under PM Giuseppe Conte.
And we note that Land elections take place on Sunday in the German states of Brandenburg and Saxony.  
Read more from our economists