International relocation can be stressful. As can exiting a business. When a South African entrepreneur wanted to spend more time in the UK with his family, he knew that there would be a number of hurdles to navigate.
First, he needed to find a new home. Then, the right schools for his sons. He also needed a new car and to transfer an investment portfolio overseas. Aware that these lifestyle transitions could have tax and cash flow implications, he turned to Investec – a specialist bank and wealth manager that has offices in both South Africa and the UK.
David Silcock, a Private Banker in the International team based in London, explains: "Anyone can imagine that moving was a huge undertaking for the family. They were trying to negotiate the sale of their business; the sale of their South African home; the purchase of a UK home; finding new schools; managing tax affairs and organising visas, flights and the moving of furniture. We knew that we could help with some of these considerations in a fast and efficient manner."
Private banking is a personalised service which helps individuals to achieve their financial goals. "At Investec we build deep relationships with our clients and we can support them holistically with transactional banking; mortgages; foreign exchange and with wealth management through Investec Wealth and Investment. We specialise in working with individuals with a complex income structure, including UK-based clients from South Africa. This experience enables us to provide potential solutions," says David.
As well as providing financial support, David was also able to introduce this entrepreneur to experts in the Investec network in the UK, who assisted with the property search, school applications and tax advice, ahead of the new chapter. Here are some steps that helped make relocation possible.
1. Set up a UK bank account
"As a first step, the client asked us to set up UK transactional banking," says David. In this case, this included a UK bank account and a Currency Access Account which can hold up to 15 currencies without incurring a holding charge. The client was able to view balances and operate his UK and SA Investec accounts in one place online. His UK debit cards were also delivered to him before his departure, in order to ensure that they were available for when the family arrived in the UK.
2. Find a property and consider a bespoke mortgage
Simultaneously, David was able to assess the client's complex income and asset structures to estimate the potential mortgage that could be achieved. "This helped us to determine total affordability. We may be able to consider discretionary or deferred income, dividend payments and investments, including those in foreign currency such as Rand with a haircut," he says.
The client was also connected with an Investec mortgage advisor who understood his borrowing needs and provided suitable mortgage product advice to support his plans. We then introduced the client to a buying agent in the wider Investec network who could support the property search. With a budget in mind, this agent was able to understand the family's needs and help them secure a six-bedroom home in leafy Surrey.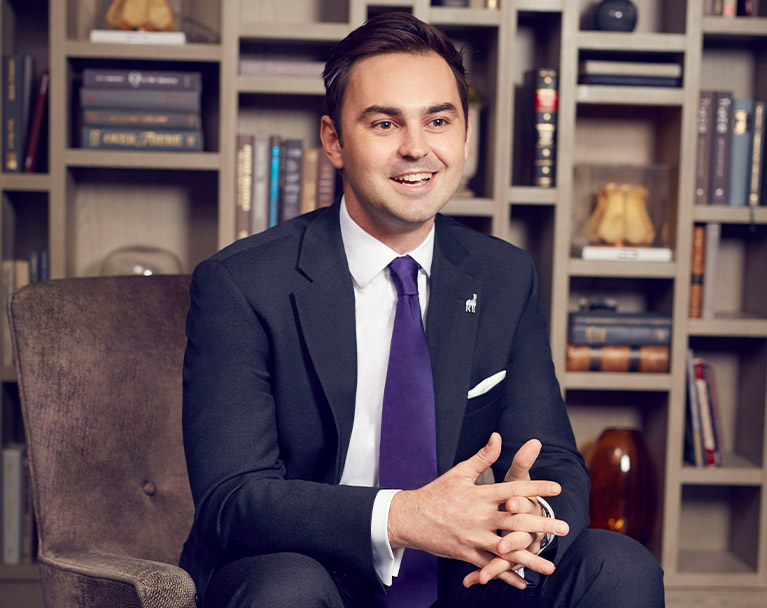 David Silcock,

Private Banker, Investec
At Investec we build deep relationships with our clients and we can support them holistically.
To raise a deposit for a new family home and provide UK cash flow, the client was able to exchange some currency into Sterling with support from Investec Private Client Foreign Exchange Dealer Greig Tonks. "We work with a number of clients who have income in more than one currency and we look to act as their eyes and ears in the markets," he says. "We act on their instruction to monitor their exposure and execute trades that aim to capture positive movements in the rate. Where appropriate, we can also look to set up forward contracts to secure a rate for future funds."

4. Transfer savings and investments
For UK resident non-domiciled individuals who maintain personal and business interests outside the UK, offshore bank accounts can be set up alongside UK bank accounts. "An offshore bank account enables non-UK income and assets to be received and held outside of the UK, which helps to simplify a client's tax affairs." explains James Torode, a Relationship Manager at Investec Bank in the Channel Islands. It is also possible to automatically segregate offshore capital and income for the client.
"We can offer various cash management solutions to enable clients to earn interest on their offshore funds and also provide multi-currency debit cards for accessing those funds while overseas," says James.
We recommend that any client relocating speaks to an independent tax advisor to fully consider their needs depending on their individual circumstances.
5. Explore wealth management advice through Investec Wealth and Investment
Many clients who are moving overseas have questions about the transfer of their wealth or how to finance their next step. "Wealth management consists of financial planning and investment management and in this case, we connected the client with a tax advisor to begin exploring the complexities and opportunities arising from the sale of their business," says Catherine Kirchmann, Divisional Director for Investec Wealth & Investment. "When we are brought into discussions early, we can support effective long-term planning and help to protect and grow wealth."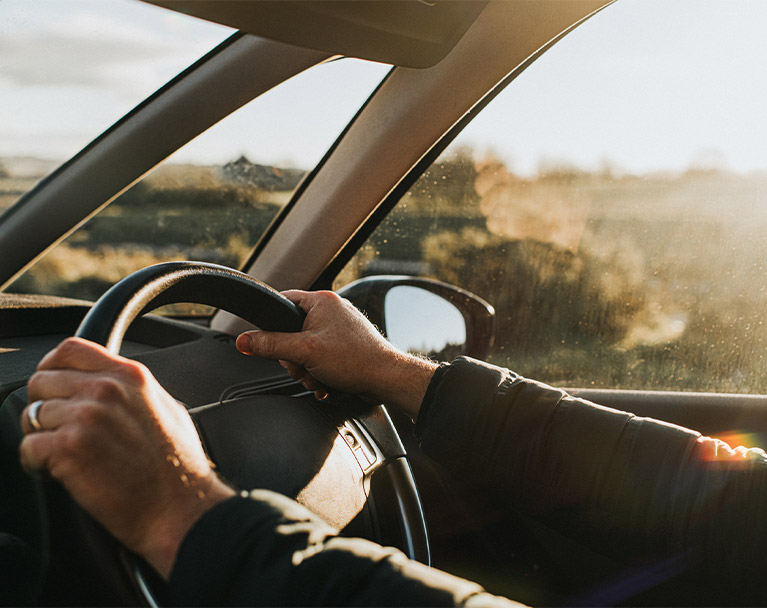 John Hughes,

Managing Director, Mann Island Finance
We know a lot of our clients are time-poor, or simply want access to a vehicle at short notice, so we work efficiently and support the process from end-to-end.
When moving to the UK, many clients want a new car, but finding the right vehicle and making the purchase can take time. Investec subsidiary Mann Island Finance is able to help with the process, including when a client has limited UK credit history. "When a client has seen their dream car, or simply needs instant access to a vehicle, we can help clients to secure finance," says Managing Director John Hughes. "We know a lot of our clients are time-poor, or simply want access to a vehicle at short notice, so we work efficiently and support the process from end-to-end. From the initial enquiry, through to sourcing a car, getting a quote and organising delivery, we ensure clients are updated every step of the way and they can receive their vehicle at a time convenient to them."

7. Connect with the bank's network for advice on children's education
Understandably, choosing the right schools for children was a priority for this client. With limited knowledge of the UK education system, he and his wife were looking for advice on the application process. "We're often able to introduce clients to UK experts in different fields, which can be useful for time-poor or international clients in particular," adds David.
Since the initial conversation about relocation, the family are now settled and enjoying their time in the UK.
Private Banker David is thrilled with the outcome. "It is great be able to help any client with their ambitions," he says. "We like getting to know our clients and are able to draw on specialists across Investec to achieve a common goal."
For more information about how we can help you with your private banking needs, please get in touch today.
This article is for general information purposes only. The opinions featured are not to be considered as the opinions of Investec Bank plc and do not constitute financial or other advice. It is advisable to contact a professional advisor if you need financial advice. Your use of and reliance on any of this content is entirely at your own risk.
When considering a UK regulated mortgage contract, please note your property may be repossessed if you do not keep up repayments on your mortgage. Investec residential mortgages are only available for residential properties in England or Wales and are primarily available to UK residents and subject to eligibility.
You can only book an FX Forward which is for an underlying personal or commercial spending purpose.
With Investment, capital is at risk.
Investec works with a number of trusted advisors through its client network. Investec does not recommend or endorse any network member or service. Clients will need to assess the suitability of a network member's services for their own needs and conduct their own due diligence. Members of Investec's network may have their own eligibility criteria, service fees and terms and conditions that Investec does not provide. Engagement with a network member is at a client's own risk and Investec does not accept any liability or responsibility directly or indirectly for any losses that may be incurred. Investec does not earn or pay any fees through the network.
Minimum eligibility criteria and terms and conditions apply. Separate terms and conditions apply to products and services provided by each Investec entity.
Investec Bank Plc is part of the Investec Group. Other regulatory information can be found below.
Other insights from Investec:
Mann Island Finance is a trading style of MI Vehicle Finance Limited, which is authorised and regulated by the Financial Conduct Authority (FCA) for credit-related regulated activities. Registered office: Reading International Business Park, Reading, RG2 6AA. Registered in England. Company registration no. 05643927. Part of the Investec group of companies. Business or high-net-worth customers may not be protected under the Consumer Credit Act 1974 or FCA rules.
Investec Bank (Channel Islands) Limited is registered under company number 5845 and is licensed in Guernsey by the Guernsey Financial Services Commission for banking and investment business. Registered Address: Glategny Court, Glategny Esplanade, St Peter Port, Guernsey, GY1 1WR. The Jersey Branch of Investec Bank (Channel Islands) Limited is regulated by the Jersey Financial Services Commission to carry on deposit taking business. Registered address: 4th Floor, Liberation House, Castle Street, St Helier, Jersey, JE2 3BT. The Isle of Man Representative Office of Investec Bank (Channel Islands) Limited is regulated by the Isle of Man Financial Services Authority. Business address: Second Floor, The Old Courthouse, Athol Street, Douglas, Isle of Man, IM1 1LD. Investec Bank (Channel Islands) Limited does not provide tax or legal advice and investors should consult their own independent tax or legal advisors before making a decision to proceed. Investec Bank (Channel Islands) Limited is a participant in both the Guernsey and Jersey Banking Deposit Compensation Schemes. These Schemes offer protection for "qualifying deposits/eligible deposits" up to £50,000, subject to certain limitations. The maximum total amount of compensation is capped at £100,000,000 in any 5-year period. Full details are available on request or alternatively on the Guernsey Scheme's website www.dcs.gg or on the Jersey States website which will also highlight the banking groups covered. Deposits made with the Bank, whether in Guernsey or Jersey, are not covered by the Financial Services Compensation Scheme under the Financial Services & Markets Act 2000 of the UK.