But being an entrepreneur isn't a job; you never really retire. Roy certainly didn't. Roy wanted to 'give back' and, from the experience of trying to capture his father's stories, he created the first LifeBook private autobiography.
Roy sat down with us to talk about his journey scaling two companies, mentoring and how business ideas can come from unlikely places.
My background is in re-engineering businesses and creating new markets. That journey started when I was 25 – starting my own airline catering supply company. We began as two partners and scaled the business quickly, making use of the technology available at the time.
We were the first supplier to have the electronic catalogue and order-processing system e-cops. This was pre-internet, so we sent it to clients on floppy disks and bought each of our 80 clients computers to dial us up, so they could access the catalogue and place their orders.
As we built that company, I often described it as having rubber walls and rubber wheels. In the early days, it felt like we were getting knocked back by conditions in the airline industry that were outside our control, so we had to keep re-engineering the business as we grew.
Once I exited the business, I thought that was the end of my entrepreneurial journey. But there were two things going on in my personal life which changed that. My father was almost blind and was also battling depression.
My wife and I were helping out with a homeless charity and we were seeing that the root cause for much homelessness is often mental health. So I started sending my personal assistant of 20 years (Kathy) to talk to my father every day to make sure he had some companionship and that his stories were recorded.
From those interviews, we started to create a book. It got to about 35 pages before he passed away and it was only once he had passed away that I actually read the stories he had told. There were so many stories that I had never heard, and I wished I'd asked him about them while I'd had the chance, but it was too late.
That experience got me thinking. There must be hundreds of thousands of elder adults around the world who have these stories, but don't have any way of telling them. That's why LifeBook got started.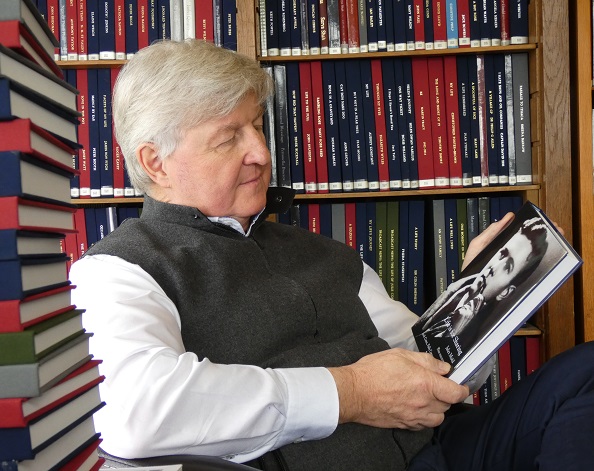 Roy Moëd
We're not just building a company, we're creating a new private autobiography sector.
LifeBook customers don't see it, but there's a huge logistics exercise that goes into each book. One of our early breakthroughs to help us scale the business was to uncouple the interview from the ghostwriter. The interviewer is a human who always meets face to face with the author and records their stories and the ghostwriter turns that audio into the manuscript.
We needed a flexible production process so we could scale the business globally while keeping costs down. We wanted to make sure that, whether it's an interview in Birmingham here in the UK or Birmingham, Alabama, the process and quality is the same. Everything we do uses the experience in airline logistics to manage our cost base and ensure we can grow.
It can be tough selling people a product they've never seen or heard of before. We're not just building a company, we're creating a new category, a private autobiography sector. Our challenge is to get from 'the best kept secret' to communicating to a market that, yes, you can have your own private autobiography and, yes, it is all right. We're also expanding to offer 'corporate histories' which are really about a business's founders, the journey they've been on and how they've grown their company. Those are intensely personal for the founders and their families.
It's lonely starting a business. It's one of the reasons I'm now so involved in mentorship. When I see what mentoring achieves today, I wish I had had a mentor. I started mentoring not long after we sold the airline catering business, working with the company that had acquired us. They were turning over £3bn to our £100m, so it was a surprise when they asked me to help mentor their board!
Every mentor has their own style. I don't think you can separate what's going on in someone's personal life from their work. When I first meet people, I like to go out for dinnerwith them and not talk about business at all, but just get to know them as people. It's hard in the beginning, but it lets you understand what is really going on in their lives. Then the next day, we go into an office and talk about their work life.
I think we all need people who we can talk to about what it's like to run a business. Mentoring works both ways – there's always something you can learn from other people. It isn't really about advising, it's about helping people to make their own decisions.
Read more from Investec Private Bank