Set amid 10 acres of gardens, the historic Saxon Hotel in Johannesburg's leafy Sandhurst neighbourhood is where Mandela stayed as he worked on his autobiography, The Long Walk to Freedom. At that time, the property was the residence of current owner and Compare the Market founder Douw Steyn, himself a close friend of Mandela.
Opened as a hotel in 2001, the Saxon maintains the sense of serenity that provided Mandela with the quiet needed to complete his memoirs. The hotel is light and spacious, with 53 rooms and suites in a contemporary African style. Gourmands can try the cuisine at the Grei restaurant, formerly the Luke Dale Roberts X the Saxon. Grei loosely translates as "a society of people" in Portuguese, and head chef Candice Philip aims to deliver "succulent and textural" dishes "with herbaceous and natural themes".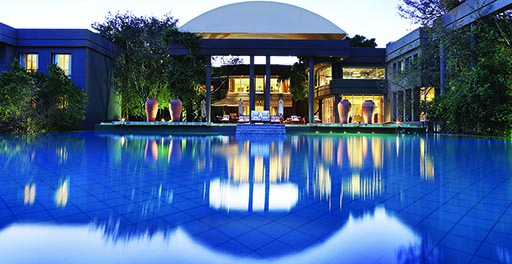 Nelson Mandela stayed at the Saxon Hotel while he worked on his autobiography, The Long Walk to Freedom
Post-presidency, Mandela was invited by Steyn to take refuge on his estate within the Shambala Private Game Reserve. It was here he entertained dignitaries and friends, but mostly rested and recuperated with third wife, Graça. Mandela's former private secretary, Zelda la Grange, wrote in her book Good Morning, Mr Mandela: "Shambala not only created the perfect setting for him to write, but also provided much-needed peace and quiet time."
Largely unchanged since those days, the Nelson Mandela Villa (as it is now known) has been open to the public since 2015. Fully operational, with six bedrooms, butler service, private chef and wi-fi, it includes amenities such as an indoor heated pool overlooking a waterhole, a vast outdoor deck and a presidential suite. An authentically African feel prevails throughout, from the circular kraal (main area) enclosure to the thatched roof, leadwood tree pillars and carved Rhodesian teak door frames. The Nelson Mandela Platinum Suite has also been revamped.
The Shambala safari reserve itself is as tranquil as it is vast. About 200km north (three hours' drive or a short hop by helicopter) of Johannesburg, it's an unspoiled 30,000-acre expanse which lives up to its name – 'Shambala' being a Tibetan word meaning 'Paradise on Earth'.
Douw Steyn is passionate about animal conservation and had always dreamed of owning a game reserve. So 25 years ago he began buying farmland under the Waterberg mountains in the Limpopo Province, on land formerly used for grazing and growing watermelons. Over the next decade he gradually restored it to bushveld, introducing 40 types of mammals, including the so-called 'Big Five' (lion, leopard, elephant, rhino and buffalo), and creating the luxurious Zulu Camp.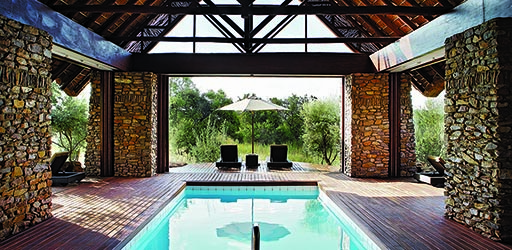 The Shambala safari reserve, with a heated pool overlooking a waterhole, has been open to the public since 2015
Originally created for Steyn's family, Zulu Camp, as befits its name, is built in traditional style: the kraal overlooks the river and is surrounded by trees festooned with weaver bird nests, while accommodation is in eight thatched luxury chalets a couple of minutes' walk away. These suites are a break from the modern world: no TV, no wi-fi (there's a spot at the bar if you really need it).
There's no restaurant menu – the chef asks for your likes and dislikes and creates meals tailored to guests' preferences. And while the rooms are peaceful, they're hardly silent; nature's soundtrack is musical and hypnotic – birdsong, baboons barking from the opposite riverbank and the croaky chatter of unseen frogs.
A spa overlooking the river offers African-inspired treatments, and sessions are finished off with the Shambala rain stick, which mimics the sound of rain falling and is used to soothe babies in African cultures.
The star attraction, of course, is the wildlife, about which guests can gain a deeper knowledge by spending time alongside Shambala's researchers. In line with Shambala's anti-rhino poaching initiative, the elephant herd stems from a group of orphans Steyn rescued from a culling programme in Zimbabwe. Elsewhere, zebras wander, giraffes peer at you as you drive by and regal male lions yawn and stretch as they wake.
This year sees the safari property launch a number of new wildlife-based activities – including a tour through the constellations, courtesy of Shambala's resident astronomer. Or perhaps you'd prefer a sunset cruise on a man-made lake?
The Steyn Dam was built in 2001 after Steyn decided to dam the Frikkie-se-loop river. After permission was obtained from the governments of Botswana, Zimbabwe and Mozambique, the resulting man-made lake is the largest in southern Africa. Today it's home to hippos and crocodiles, a watering hole for the reserve's residents and a place to fish before watching the sun turn the sky a dramatic orange.
This three-hour expedition tour involves fishing for bass alongside an expert guide who knows all the prime fishing spots and which indigenous plants can help catch fish. And yet amid the game drives, guided bush walks, mountain-bike riding and bush picnics, the serene atmosphere is more conducive to rumination than activity.
As Mandela himself once put it: "The peace, tranquillity and natural harmony of Shambala serves to remind us of our own striving for reconciliation and togetherness."
Read more from Investec Private Bank