His 30 years on the clock have included working for BMW, running a national programme for the Police Federation, military and Bar Council, and 15 years at Hexagon Classics – where he first met Jonathan Franklin, founder of Rare Car Finance, which specialises in bespoke classic, supercar and luxury car finance.
Now Rare Car Finance's sales director, Liddon tells us how a car collection can be an emotional as well as a physical investment, and why the market is fundamentally about a shared passion that goes far beyond the bottom line.
I was born in Charing Cross Hospital, so I'm a proper Londoner – although I was brought up in Wales. I moved back to London to live at the end of the Northern Line when I was 19.
My dad had a passion for building Austin 7s, and he's still building them at the age of 84. He's had numerous cars, though – BMW B9 Alpinas and MGs – and as a 5-year-old I used to carry the car parts for him into the garage.
He taught me to treat people the way you want to be treated. Looking after our customers and longevity of relationships is really important to us. It doesn't matter who someone is: if their passion is cars, you're on the same level once you start talking about them.
Our office is designed around discretion; we are based within concierge car storage company Moss Automotive in St Albans, with whom we also have a partnership agreement. Through this we can provide a one-stop shop for all solutions; we're able to store, finance and even sell cars if clients require us to, through our Rare Car Club arm.
I could be quoting a LaFerrari hybrid supercar one minute, and a 1993 Porsche 964 Turbo the next. But we also deal with 'everyday' cars too – SUV runarounds for example – and finance anything from £25,000 to £20m.
Refinance is a growing area, but a lot of people don't know about it. If you have an unencumbered classic car, you can release equity from it to buy something else. Having a large panel of lenders means I can complement all kinds of enquiries, and we are experts inproviding finance solutions for specialist vehicles. Some of the individuals we deal with have complex finances and can't lay their hands on cash immediately, so we can use assets to fund the car they want to buy, for example. Or perhaps someone might be based in Jersey, so I'll need to work with an offshore bank.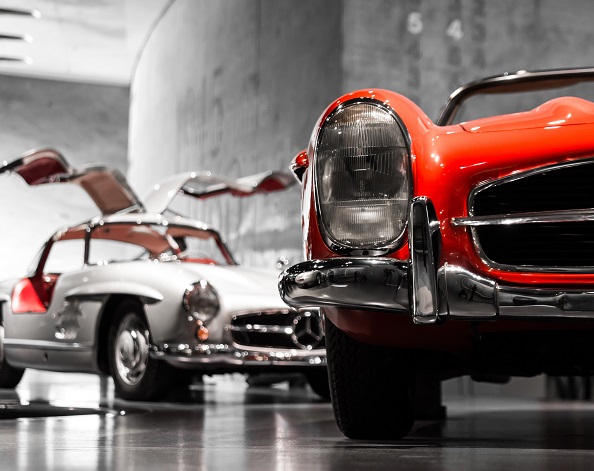 Gerard Liddon
I was financing a Porsche 964 Turbo recently and asked the buyer: 'Why this particular car?' He replied that it was because he'd wanted it 20 years ago and was now in a financial position to buy it – we deal with that a lot.
The biggest challenge is getting lenders to understand the car as an asset. Sometimes they just don't understand how to underwrite it, particularly in the current market and with all the ongoing uncertainty.
Classic cars don't really have trends; it's down to the individual. I've just turned 50, so the cars on my posters when I was a kid don't relate to those of someone 10 years younger than me. Personally, I'd have a Porsche, a Ferrari and some older BMWs in my portfolio. Collecting is not about the most expensive cars. Someone might have been into VW Beetles when they were young and have one in their collection, even if their next car is a famous Aston Martin – that's nice to see. I was talking to a customer recently who has a Ferrari F40 and a Ford Capri and he loves to drive both.
Predominantly, people hold on to their cars – although we see investors who will buy a car as an asset and want to fund it rather than have their money tied up in it. For most people, though, a classic car or supercar is an investment you can drive and enjoy while it's appreciating. It depends on the price of the asset, though – some cars get retired because the value is so great you wouldn't take it on the road.
Cars are about freedom; you can just get in and drive to the south of France on a Friday afternoon if you want to. Of course that's before you get married and have kids… but even so, they always have that romance. For many people, they're also about key moments in their lives. I was financing a Porsche 964 Turbo recently and asked the buyer: "Why this particular car?" He replied that it was because he'd wanted it 20 years ago and was now in a financial position to buy it – we deal with that a lot.
Passion should lead you if you're going to buy a rare car. If you're looking at pure investment, that's a different set of rules, of course. Sometimes I deal with investors who never touch or see the car. But for car enthusiasts, it's always about asking yourself what you would love to drive.
Investec Bank plc is on Rare Car Finance's panel of lenders.
Read more on how we're redefining success
See more from Investec Private Bank