The role gut bacteria plays in overall health has come to the fore in recent years: how it might affect our mood and immune system, and its links to heart disease, arthritis and bowel cancer. With stressed, time-poor individuals starting to swap sugary snacks for probiotics and fermented foods, the digestive health products market is set to be worth $53bn by 2026, according to Acumen Research and Consulting.
Purearth founders Angelina Riccio and Tenna Anette were ahead of the game, starting up as a home business in 2012, initially producing cold-pressed juices for friends and family.
Angelina, who ran her own successful modelling agency, and Tenna, who went on a detox retreat in Bali to counter the "burnout" and "afternoon sugary snacking" of working in 24/7 events management, are now energised torchbearers for the benefits of cleansing juices.
In the beginning, they travelled to farmers' markets in Tenna's Smart car, juiced eight hours a day and tackled admin in the evening. As word spread through Facebook and the positive reviews started rolling in, they moved in together to keep costs down and acquire a larger kitchen to fulfil orders. It wasn't long before commercial growth opportunities spurred a need for expansion.
Purearth now produces the UK's first dairy-free water kefir, has four full-time office staff and three people in the kitchen preparing daily orders, and has completed two rounds of investment.
We talk to the duo about their journey so far, what they've learned and what's to come for their business.
When did you first move into the mainstream market?
Tenna: Around 2013, we were approached by Gail's bakery, which moved us from a home business to commercial business with a commercial kitchen. We were one of the first cold-pressed juices in the country and I think one of the first to have a commercial juicer and commercial cold-press machine.
Angelina: Once we got the commercial kitchen space we thought it was time to stop living together! That's when we started to develop our kefir drink – launched around 2014-15 – into a hero product to scale the business. We used to incorporate thisdrink as part of the cleanse programmes because it helps people who have just completed a juice cleanse transition back to solid food for digestion.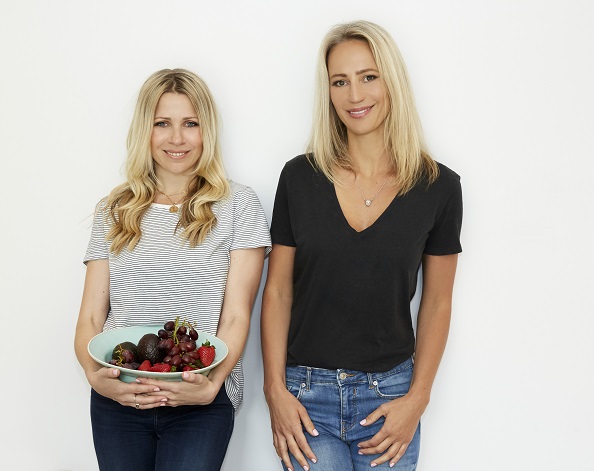 Tenna Anette
We work hard to keep the business credible: we don't cut corners and everything is organic.
How have your roles changed?
Tenna: When we started, we didn't have overheads. We bought ingredients from farmers' markets, did our own deliveries and worked seven days a week. At first we both worked on everything, but now we've found our roles – Angelina concentrates on the marketing and customer relationships; I do the boring stuff.
Angelina: Innovation isn't boring!
Tenna: Innovations aren't boring, but then you have to get a stamp of approval for the product, yearly audits, accreditation... We've been running for seven years and we had to teach ourselves all of these things because we couldn't afford an expensive consultant.
Angelina: We didn't pay ourselves. Many entrepreneurs fail because they don't realise the sacrifices needed to keep the business going. We hit milestones, remained passionate and saw future success.
Tenna: Everything went back into the business, from machinery to getting a bookkeeper.
How has investment benefited you?
Tenna: We're now surrounded with experts who know what they're doing in business – and that means we can have much more fun again. We work hard to keep the business credible: we don't cut corners and everything is organic. When other companies opted for plastic packaging, we stuck with glass and use a third-party bottling company. It wasn't always easy sticking to our core values, especially when dealing with distributors and chains, but it is very satisfying.
Angelina: It's becoming more mainstream, which is great for us, but we still have to educate people on our dairy-free kefir through marketing, sales, sampling and brand awareness. As for scalability, our number-one focus is to turn up the volume on kefir. It's an exciting area, because gut health is such a big area now. People are realising the connection between the gut and the brain, and how it can affect anxiety, depression and mood. Your serotonin is produced in your gut, so if your gut is in good condition and working properly, it can affect your overall well-being.
Don't run before you can walk. Build the foundations and keep your values as you grow. 
How's turnover looking?
Tenna: We're aiming for £500,000 this year (October). We've grown 50% year-on-year. We anticipate making a loss for another two years and breaking even in 2021-22. We're investing in more people, including a salesperson, and that is already paying off. This year we are focusing on growth.
Angelina: We now have a very experienced board, which brings advice and added value. Board meetings really help us to make the strategic decisions that will move the business forward.
Tenna: Having more money doesn't mean we can spend it all, but we can have the opportunity to scale much quicker, accelerate growth and capitalise on the market opportunity. We're in the right place at the right time.

What next for the business?
Angelina: Increasing our sales and growing.
Tenna: While still educating around the product and getting samples out there. We go to festivals, and we've an opportunity to be in the Whole Foods shop window in October.
Angelina: We've now got the budget to invest in these sort of things – we couldn't have done that before. We'd like to be more mainstream and for people to regularly have a Purearth bottle in their fridge. We want to become a household name, but we appreciate kefir is still niche.
Tenna: We may need some new investment in April 2020. Our dream is to work with the NHS. It's an exciting time to be in the health and well-being sector.
What advice would you give to other entrepreneurs?
Angelina: Don't run before you can walk. Build the foundations and keep your values as you grow. And be flexible – if something doesn't work, move on.
Tenna: And, of course, go with your gut.
Read how we're redefining success
Read more from Investec Private Bank