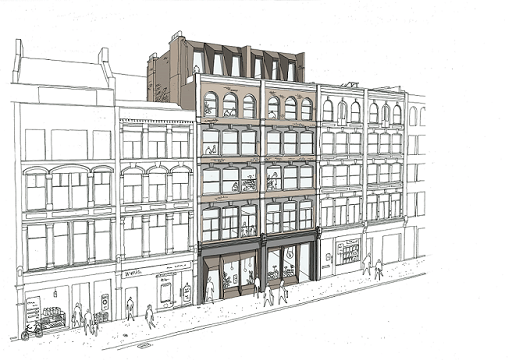 Investec Structured Property Finance ("Investec") announces that it has agreed to provide a long standing London-focused private client Atlas Property with senior debt facility for the acquisition and speculative redevelopment of Signet House, an office building in the heart of Zone 1 Farringdon, Central London. 

Demonstrating both its ability to collaborate with clients across the capital stack and the strength of the relationship with the borrower, Investec will contribute equity to the speculative scheme. 

The 2 year development loan will support the borrower's strategy of acquiring assets with significant value opportunity through planning, development and long-term asset management. This is the fourth time Investec has supported the borrower, increasing its group exposure to £33m. 

Signet House is situated on Farringdon Road, less than 100 metres from Farringdon Overground, Underground and the new Crossrail stations, in one of the capital's fastest growing sub markets[1].
Planning is in place to deliver 14,282 sq ft of Grade A warehouse style office space with floor plates ranging from 1,200 sq ft to 2,900 sq ft, suitable for a range of small to medium size companies and ideal for fintech, media and design-led creative sectors. 

Stephen Martin, at Investec Structured Property Finance, commented: "We continue to back clients with a track record of delivering value through successful developments /refurbishment opportunities, whilst our ability to provide both debt and equity is a stand out feature of our proposition.

"Despite ongoing market uncertainty, the occupier market in London has remained robust, driven by demand from the likes of tech and creative businesses for whom London remains the pre-eminent global city for collaboration and talent. The redeveloped building, in a highly prized location, will be a beneficiary of this status quo which we expect to continue for the foreseeable future."

Frixos Kaimakamis, from Atlas Property, commented: "We are delighted to further cement our relationship with Investec through the acquisition of Signet House. The provision of equity adds a further dimension to our investment strategy and is a recognition of our excellent track record in delivering market-beating returns."

Having operated in the City Fringe market for over ten years, we know it well and are confident it is resilient to the current political climate. This joint venture is a reflection of our belief and a vote of confidence in the market. We look forward to working together to deliver an outstanding office scheme.
[1] Carter Jonas