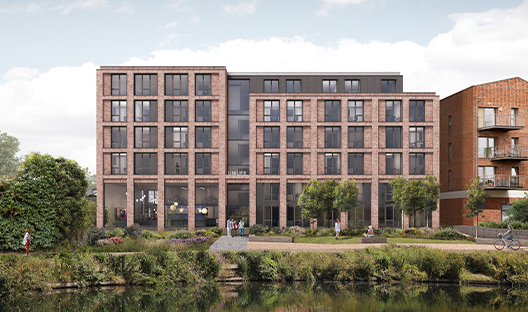 The loan will enable Stelling to build out the modular property off-site using their dedicated, state-of-the-art factory near Winchester. Stelling is a Modern Method of Construction (MMC) specialist with previous projects in Winchester, Southampton and Portsmouth. The modular construction method allows Stelling to maintain control throughout the build process as well as accelerating the development programme. Investec's facility also includes an investment tail so Stelling can retain the property once stabilised.
Riverside House, which will be operated by Unilife and is expected to be completed in time for the 2022/23 academic year, includes a cinema room; games area; communal kitchen and dining area; quiet study space; and stylish living accommodation. The property is located in the heart of Guildford, overlooking the River Wey and within walking distance of the University of Surrey.
Ian Burdett & Stuart Scott at Investec, commented:
"Despite the disruption students have faced during the Covid-19 pandemic, the current academic year is set to see a record number of 18-year-olds from the UK starting in higher education, making demand for tailored student accommodation in under-supplied markets incredibly robust. This is our first transaction with Stelling, who specialise in utilising innovative and sustainable building techniques to deliver an appealing product quickly and efficiently, and we look forward to working with them again in the future."
Antonio Lopez & Rutger Duetsch at Stelling, commented:
"Students in Guildford have, in the past, faced problems finding good quality, purpose built student accommodation near the University. Riverside House provides a high-quality environment for students in a city centre location, within five minutes' walk to the University. We are delighted to be partnering with Investec on our latest modular project."
UCAS figures from July showed that this year there were more applicants than in any previous year, with a corresponding rise in offers from universities expected to result in a record number of students starting university or college at the beginning of the 2021/22 academic year. As of 30 June 2021, the final date to apply to up to five courses simultaneously, a total of 682,010 applicants (+4% on 2020) made 2,955,990 applications (+6%), resulting in 1,998,690 offers (+3%) made by universities and colleges.