Get Focus insights straight to your inbox
Honorable ministers, distinguished guests, ladies and gentlemen, welcome to the 38th edition of African Mining Indaba, held here in the shadow of Table Mountain in Cape Town, the Mother City. We are delighted so many could join us this year and are pleased to confirm the highest ever delegate attendance at just over 25,000. We have someone from nearly every country on earth in the stadium today.  
My brief this morning is to introduce proceedings by reviewing the last ten years in the mining sector. It's worth looking back at the last decade because it is without doubt the most exciting and successful period the mining sector has ever experienced. Aggregate production from the sector has risen at 4% compound annual rates, yet that has lagged demand growth, and with persistently strong cash flows and balance sheets, the market has rewarded us with a fourfold increase in market value over that time.   
Our success over the years depends so much on the world's recognition of the vital role that mining has played in laying the foundations for the modern world today.
Tesla wouldn't be the largest company in the world if it hadn't been for our lithium and nickel mines. Artificial intelligence, augmented reality, 4D gaming, smart connected cities, none of these would have advanced the way they have without the critical minerals mined by us.
And although the energy transition, framed by the 2015 Paris Accord, has not met early targets, our industry has provided the platform for its immense success regardless. 
We have done everything we can to help the world achieve the global decarbonization targets set more than a decade ago. The central requirement of these targets at the time was a significant increase in the supply of critical minerals and metals, and although it proved impossible to meet demand for some commodities, such as copper, tin and nickel, we were very good at building capacity in green commodities such as lithium, graphite and vanadium. Where we couldn't produce the necessary commodities, because of difficult geology or a simple lack of resources, we have been central to the development of the novel recycling technologies of today, which have helped filled the gap. 
Start your wealth journey with us
Partner with Investec's team of investment experts to make smart choices to preserve and grow your wealth.
Indeed, technology changes in the industry have been nothing short of staggering. Over the last decade, deep level, water-, energy- and labour-intensive mines have been replaced by modern facilities where the only labour sits in remote control centres often far from the mine site itself, where explosive setting and mining is performed by trackless AI and big data algorithms, and where autonomous electric and hydrogen fuel cell trucks transport ore to waterless, biotech-based processing facilities where the power is almost all renewable.
Today's modern mines look very little like those of old, and most importantly they operate with a lighter environmental footprint and are more sustainable, especially with respect to SDG12 (efficient and circular use of natural resources).
Our efforts in downstream decarbonisation should also be called out, especially in the steel production process, where research collaborations with our customers have successfully allowed us to produce green steel from hydrogen and direct reduced iron on a commercial scale. 
With mining set up as a more sustainable industry, we've also been able to attract a much larger share of young graduates. During the late 2020s, there was a significant increase in the number of students pursuing technical mining-related degrees such as geology, geo-sustainability, earth sciences, ore chemistry and mining engineering. The young professionals will guide our industry forward in the decade to come, and I'm confident they will do so in a manner that will continue to underpin our new-found reputation.  
I think we can also be very proud of the progress made in securing the trust of host communities and governments alike. This was a serious problem a decade ago, when distrust, suspicion and ulterior motive predominated. Nowadays, shared value is a given, with communities playing a key role at all mine sites, participating in operating decisions, planning, procurement, logistics and ancillary services, as governed by the 2027 Global Mine Communities Accord. We also boast much stronger relations with host governments than has ever been the case, driven by booming trade surpluses, more acceptable royalty regimes, better access to resources, and the collective sense that we have made the world a better place together. You could say that our license to operate has never been more watertight.
I must stress, however, that it has not been easy getting to where we are today. We had to negotiate the deep global recession of 2024, but while it induced a deep and painful shakeout, we were still able to support aggregate production levels and avoid too many hard and unpopular decisions. 
The 2023 finalization of a global tax on carbon was also a significant challenge. The ACP (Administered Carbon Price) rose to $200/t by 2025 and to $300/t by 2030, but we were able to navigate that by a strong collective effort to decarbonizing our asset portfolios through innovations made to the way mines are built and managed. With respect to this, the guidelines and recommendations of the International Council and Mining and Metals (ICMM) and the Responsible Mining Initiative (RMI) should be recognized and held up here. 
Traceability of metals (MINT19) has become more important than ever, merely because the customers want to know the origin of the materials making up the products they buy. As an industry, we have had to understand and embrace the complexities of crypto transactions and blockchain registration of material.
Fortunately, it's all been quite efficient and transparent, but it has ushered in a new era of uncertainty for our rather traditional industry. 
Finally, the political dynamic has been a real challenge, especially insofar as the rather dramatic changes in political hegemony is concerned. First, an increasingly isolated China stepped willingly into the vacuum left by western foreign policy, accelerating its already-significant operating presence in most commodity rich countries and securing long term commodity contracts, often at any price, with producers elsewhere. Western primacy has been challenged by the expansion of this influence around the world, prompting a massive reset in trade agreements. Second, the plurilateral trade order that emerged post the 2022 Russian invasion of Ukraine reset commodity supply chains in ways mining companies found hard to predict and prepare for, and many traditional markets for our products evaporated, literally overnight in some cases. Commodity markets have become more regional, with heightened emphasis on just-in-case inventory policy, versus more traditional just-in-time policies. In this difficult environment, our industry has had to work harder and harder over the years to ensure the availability, affordability, security and sustainability of commodities supply, and I'm pleased to say it's mostly been a success. 
I am proud to be opening this event this year with such a positive review of our industry's achievements in the face of so many challenges. As I look at the dynamics today, I am quietly confident we'll see more of the same over the next decade.
I wish you well this week, friends and colleagues. Enjoy the conference.
In case you missed our coverage of Mining Indaba 2023...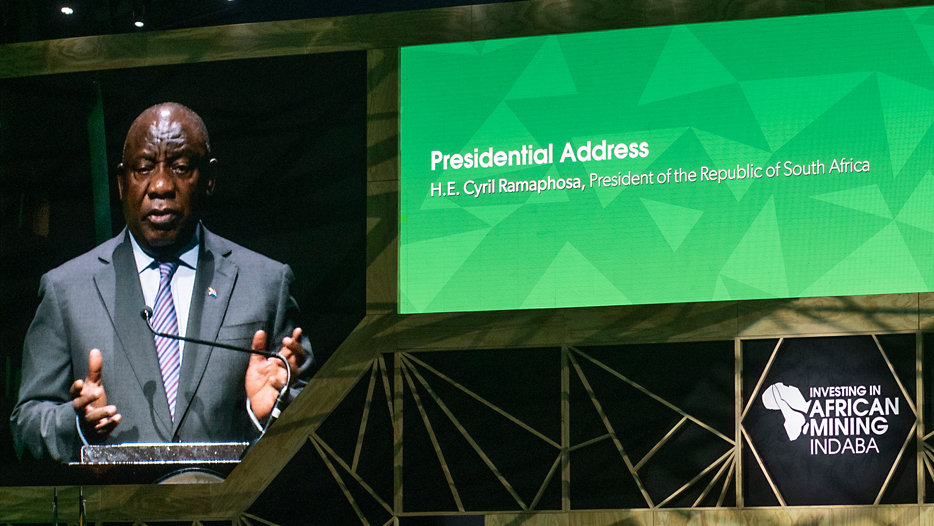 Minerals of the future: an untapped goldmine for SA?
The 2023 Investing in Africa Mining Indaba left pundits optimistic about the opportunity the energy transition offers Africa mining in general, especially if the region can get mineral beneficiation right.
Get more economic insights from Investec Focus