It's hard to think of a global industry that's been harder hit by the Covid-19 pandemic than the aviation industry. The global lockdown in March last year effectively grounded all passenger flights, placing extreme strain on airlines and other industry operators.
As restrictions are rolled back in Europe and the US and some semblance of normality returns, so the global aviation industry has started its recovery. However the rebound has been uneven across geographies and it lags other industries when it comes to returning to pre-Covid levels. Vaccines are not rolling out at the same pace around the world, while the emergence of new variants of the virus remain a concern for travellers and governments alike.
As a result, many countries still restrict travel in and out of their borders, or from certain regions deemed high risk. The rise of the Delta variant has already seen countries reimpose restrictions and the risk remains of short-term, localised shutdowns in the future.
Notwithstanding this environment, there are some promising trends emerging. Passenger traffic continues to improve in countries with advanced vaccination programmes, with those improvements seen first on domestic routes and then regional routes. International traffic still lags however, due to restrictions on certain destinations.
Passenger traffic continues to improve in countries with advanced vaccination programmes, with those improvements seen first on domestic routes and then regional routes.
However, as countries have started rolling back restrictions to passengers who are fully vaccinated, we have seen a surge of bookings due to pent-up demand and the reintroduction by global airlines of many cancelled routes.
The picture for air cargo is also promising. The pick-up in economic activity, thanks to accommodative government and central bank policies, means that demand for goods remains high. In the face of supply chain disruptions, particularly with the reduction in belly cargo capacity on passenger flights (the result of lower passenger air traffic volumes), this has been an opportunity for dedicated airborne freight to benefit. In addition, e-commerce continues to grow and should support air freight for years to come.
Many airlines continue to operate "passenger-freighters" to meet demand for transport of air cargo. According to the latest data from IATA, cargo tonne kilometres were 8.6% above 2019 levels in July, while load factors are currently well above pre-pandemic levels and have consistently been above 2019 levels throughout the pandemic. Cargo load factors hit record highs in July 2021, compared to July of any other prior year on record.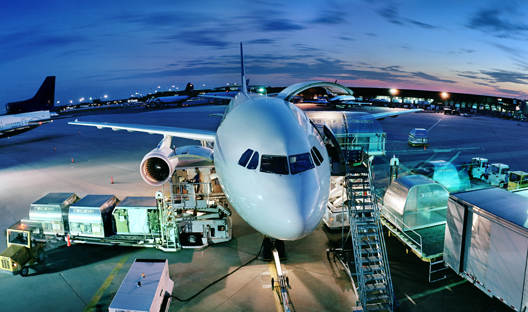 Read our latest Logistcs Update
In the latest Investec Logistics Update, Denys Hobson looks at soaring air freight rates and the impact of China's 'zero tolerance' Covid-19 policy on air freight capacity.
Other parts of the aviation sector are also on the road to recovery. In the corporate jet space, travel demand is still below pre-Covid levels, but business aviation has performed well in comparison with commercial aviation. Social distancing on board a private aircraft is easier to manage, while the sector has also benefited from the reduction in commercial options. Manufacturers and brokers of used corporate jet aircraft are reporting firmer sales figures, with a drop in inventory levels and an increase in lead times to availability for new aircraft. 
Africa's vaccine rate remains an obstacle
While the picture in Europe and the US is showing positive signs to the upside, with only 7.5 doses per 100 people having been administered in Africa, many developed countries are reticent to open up travel to and from the continent, which means that the local and business tourism sectors have been particularly hard hit.
Many Southern, Eastern and some North African countries are on red lists for the UK and parts of the EU, although increasingly more EU states, China and the US have started to open travel to and from Africa for fully vaccinated passengers. This bodes well for improvements to inbound arrivals, but outbound travel will continue to be affected by the low vaccination rates. 
Despite these global constraints, local and regional travel is picking up. Intra-African regional travel remains relatively open, with lighter restrictions usually consisting of only the requirement to present a negative PCR test at each end. Unfortunately, this additional cost, when added to the already elevated costs of intra-African travel, may be a deterrent for many passengers.
As more people are vaccinated, this will hopefully minimise the impact of future waves, though this will depend on the effectiveness of the current vaccines on new variants of the virus.
Travel trends tend to follow the pattern of lockdowns, as data from South Africa shows. Flight activity dropped significantly during periods of hard lockdowns and then recovered thereafter. 
69%
of 2019 levels for domestic flights in SA
According to the latest data published by the African Airlines Association (AFRAA), in August air passenger traffic in Africa was 46.8% of August 2019 levels, while capacity was at 54.6% of August 2019 levels.
Domestic traffic accounted for 58.9% of passenger traffic in August and continues to lead the recovery. Despite the limitations on international traffic, African airlines such as EgyptAir, Ethiopian Airlines, Royal Air Maroc and RwandAir are now operating to about 90% of their pre-Covid intercontinental destinations, albeit at reduced capacity and frequency.
In South Africa, domestic aircraft movements peaked at 69% of 2019 levels in April 2021 following the end of South Africa's second wave, and have since fluctuated, depending on the level of lockdown restrictions. During the second wave, this dropped to 46% of 2019 levels in February. They again dropped to 35% of 2019 levels in July 2021 at the peak of the third wave but have begun their rebound as the third wave eases.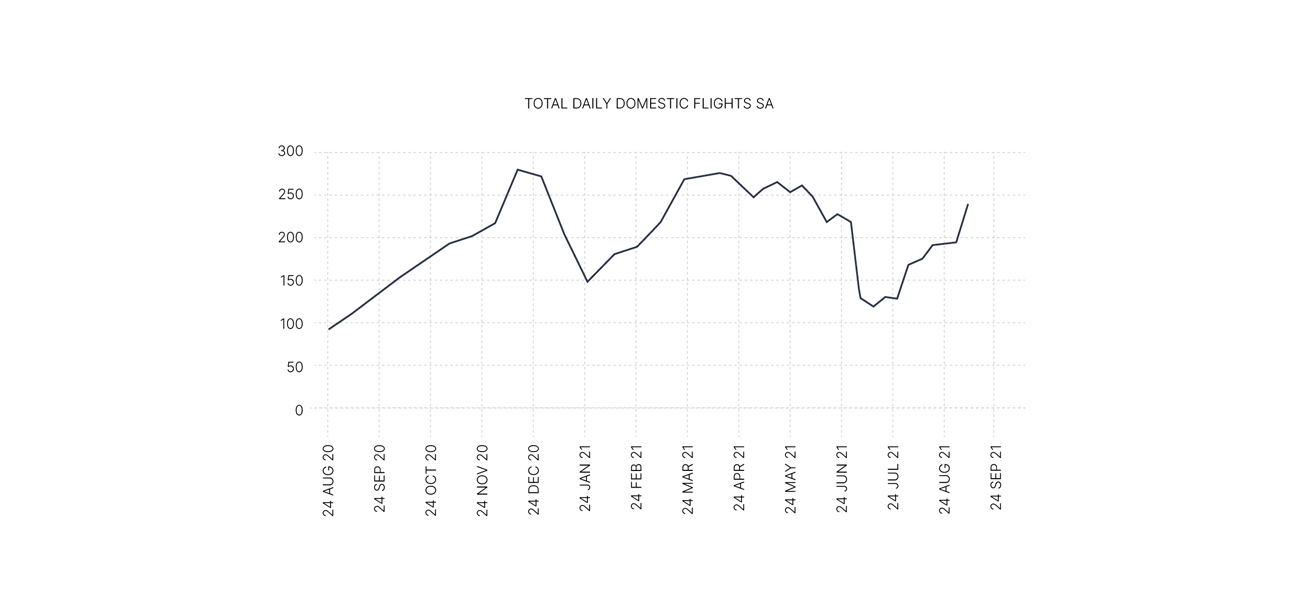 Regional and international flights, while muted, remain less susceptible to domestic Covid waves and restrictions. The continuous trend of recovery is a reflection of the ongoing improving signs in cross-border travel.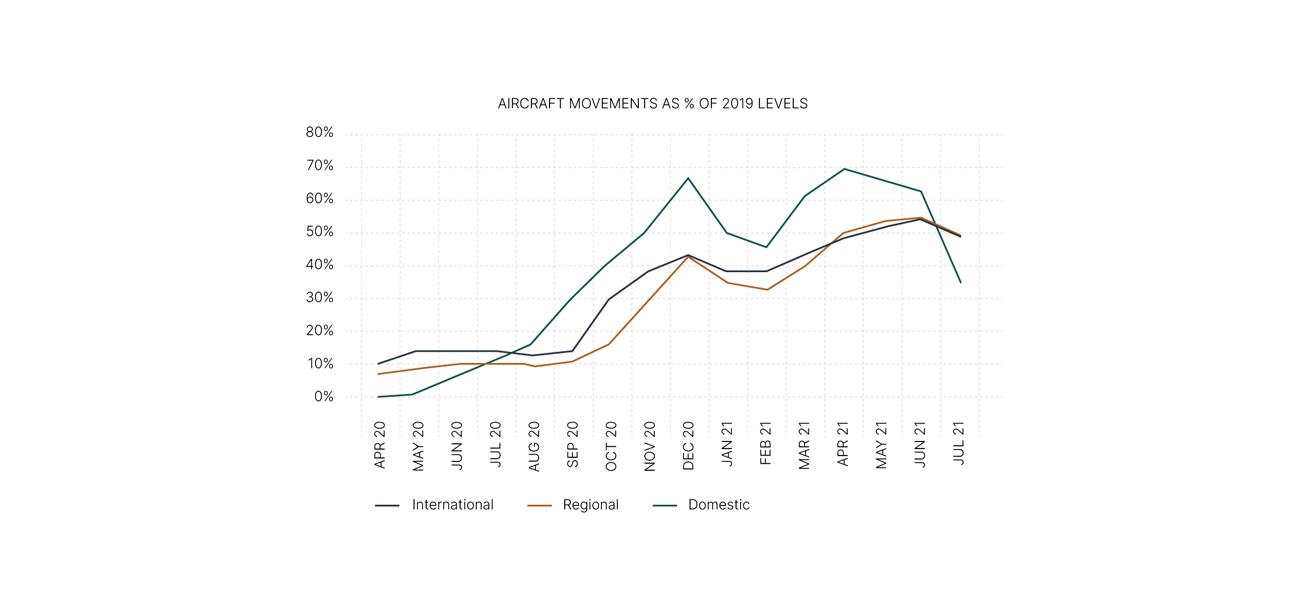 The region has seen some airline casualties of the pandemic, but others have bucked the trend: new start-up airlines have sprung up or been announced in, among others, Algeria, Zambia, Nigeria, Ghana and Egypt. Many airlines have adapted their business models, concentrating on new or under-served regional routes. Others, such as Ethiopian Airlines and Kenya Airways have pivoted towards extended cargo operations using dedicated and freighter aircraft.
As Africa recovers, so demand for financing aircraft will also rise. However the continent will continue to have to deal with the perceptions of high risk that were there before the pandemic. Access to a multitude of financing sources, such as: export credit agency finance, development finance institution-supported finance, commercial finance and operating leases will be crucial in mitigating these risks and supporting an industry that's an important linchpin for economic growth and development across the continent.
Progress may initially be slow compared to Europe and the USA, in line with vaccine rollouts and the reticence of developed countries to lift restrictions. However, over the longer term, factors such as improving income levels, investment in infrastructure, the growth of sectors such as mining, as well as the recovery of tourism and the willingness and desire for business to be conducted face-to-face, should all contribute to lifting the aviation sector in Africa.
Get more insights from Focus