When John Sandys was a child living near Morden in south London, he used to be amazed at how extremely busy the roads suddenly became once a year. This mysterious event which brought masses of people together and filled buses with working people as well as gentlemen in top hats fascinated him. Then, as a seven-year-old in 1970, his older brothers took him to see the Epsom Derby. He hasn't missed the event ever since.
In 2009, John and his friend Pat Larkin decided to recreate a historic walk from London to Epsom that racegoers had done for more than a hundred years. The Derby Walk is held a few weeks before the actual Investec Derby to avoid crowds and enable access to the racecourse for exclusive photo opportunities. What started with a handful of Derby enthusiasts steadily grew into a group of about 60. The tradition has raised more than £100,000 for different charitable causes so far.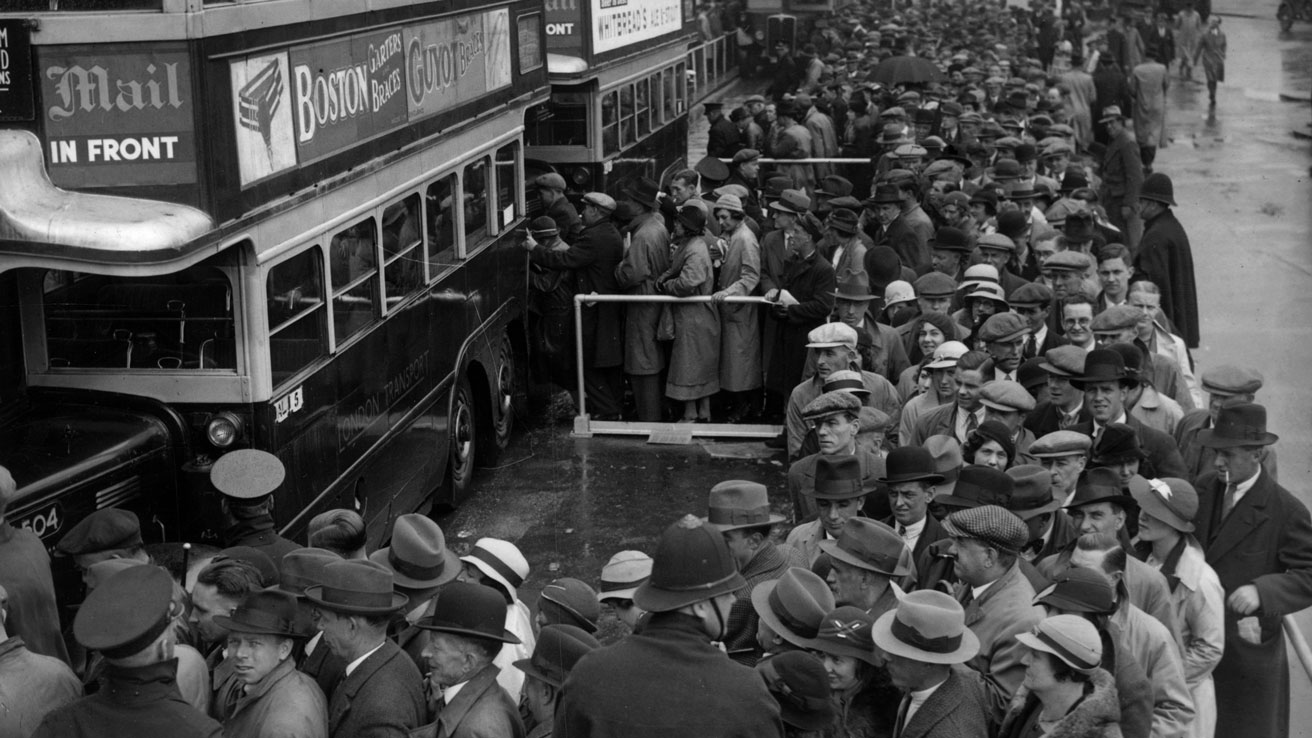 Crowds at Morden wait to board buses for the Epsom Derby in 1935
The tradition to walk (and take any means of transport available) from London to Epsom on Derby Day started more than 200 years ago. By the 19th century, it was known as 'the exodus', with crowds exceeding 750,000 people in 1895. Historically, the 15-mile walk used to start at Elephant and Castle but John and Pat made their Derby Walk 21 miles long by starting it in Knightsbridge, near the former offices of horse auctioneers Tattersalls. "It's an opportunity to enjoy some famous London sights such as Buckingham Palace and Westminster before heading to the original route", says John.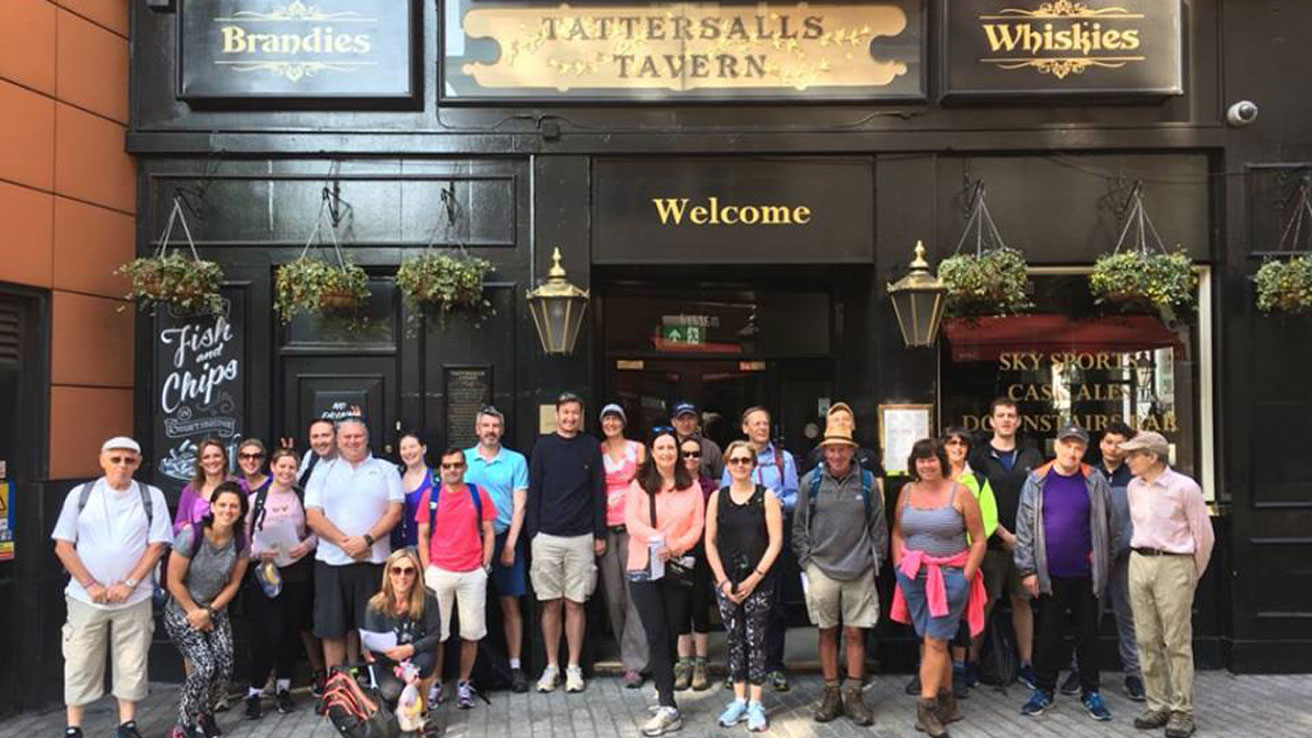 2018 Derby walkers ready to set off in front of Tattersalls Tavern
In the first year of its re-enactment, only five people took part. The group enjoyed it so much that they decided to make it a yearly event. "It's addictive", says John, "the sense of satisfaction at the end of the walk, when you finish the climb along Chalk Lane with all its history, and then you see the racecourse… it's unlike anything else I've ever experienced."
As time has gone on, Derby enthusiasts from around the world have joined in to experience the walk and raise funds for different charities, with the organisers' support. "One day I had [famous Northern Irish jockey] Sir Tony McCoy on the phone asking me to help set up his fundraising page. I couldn't believe it!", laughs John.
The record fundraiser of the walk is Julia Budd, chair of Epsom Downs Racecourse. Julia took part in the 2018 walk with several colleagues, raising nearly £30,000 for two charities – the Motor Neurone Disease Association, in memory of her predecessor chairman, Anthony Cane, and Racing Welfare, which supports the workforce of British racing, 'our unsung heroes' in her words.
The organisers now limit participation to about 60 people to keep it a more intimate experience, but plan to expand it by creating 'the Derby Dash', a much shorter (eight-mile) walk from Morden to the racecourse, so people with reduced mobility can join the rest of the group for the final part of the walk.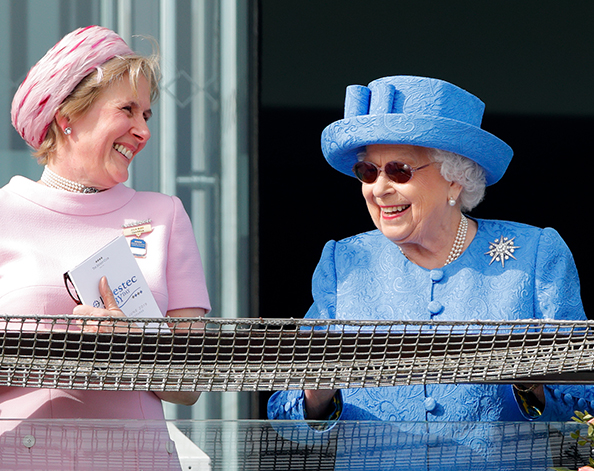 Julia Budd, chairman of the Epsom Downs racecourse, pictured with Queen Elizabeth II at the 2019 Investec Derby
I wanted to have a sense of the journey that many thousands walked in previous centuries for their annual pilgrimage to Epsom Downs for Derby Day. The excitement, fulfilment and relief as the racecourse hove into view will stay in my memory for a very long time.
Because of the Covid-19 pandemic, the main races of the 2020 Investec Derby will still take place this year, but spectators cannot attend. With social distancing rules in place, the organisers decided to postpone the walk until it's safer to do so.
For John, it was devastating to miss the races at Epsom this year. "Every year at the end of the racing season I take a good look at the racecourse and think 'see you next year in April'. Missing the Investec Spring Meeting was heart-breaking". On the day when the Investec Derby would have taken place in early June, John drove to the racecourse just to look at it, empty. 
Like many people dealing with setbacks related to the coronavirus pandemic, John finds support in his family and close friends. His son and daughter, who are in their 20s, are also huge Derby fans. "We rarely have conversations that don't involve the Derby in some way – there are so many memories". His 50th birthday was Derby-themed, with each guest wearing the silk of a previous Derby winner. Despite the situation, John is pleased that the race is happening, even though he won't be there for the first time in 50 years: "The Derby is such an historical occasion. It kept going through two world wars to maintain people's morale, and it still does."
No finishing line in sight
Going forward, John and Pat have no plans to give up on the Derby Walk, and are already planning safety measures for 2021. "I'm not sure I'd survive the build-up to the Derby without it", says John, such is his anticipation for the first Saturday in June. They also plan to involve local schoolchildren, even if they just join the very end of the walk in Chalk Lane to learn the history of the former prime minister and horse owner Lord Rosebery who lived there at the Durdans, and the importance of horseracing for their community in Surrey.
Despite the setbacks, John also sees opportunities to use the walk for the greater good. Firstly, he points out that now more than ever it's important to stay fit and happy. Also, he says, with so many charities doing vital work in many areas of a pandemic-hit society, his community of Derby walkers is raring to get together again to raise funds for the causes close to their heart. "This is just another way for us to help", he concludes.