Global indices recovered over the course of April as macro economic data continues to show signs of resilience.


UK Consumer confidence rose to its highest level since February 2022 in April. This follows data released by the ONS which indicated the UK labour market continues to be at a low unemployment rate (3.8% in the period from December 2022 to February 2023) and private sector wages, excluding bonuses, grew by 6.6% in the same period.


UK ECM activity remained broadly in-line with March as deal value only declined by 3%.


UK public M&A activity gathered significant pace in April as thirteen new deals were announced, of which seven included a private equity offeror.


Investec is pleased to act as sole financial adviser and broker to DechraPharmaceuticals plc with regards to the possible offer from EQT.

April's key market drivers
UK inflation decreased from 10.4% (Y/Y) in February  to 10.1% (Y/Y) in March
UK Composite PMI increased from 52.2 in March to 53.9 in April
UK public sector net borrowing stood at £21.5bn in March, c.100% of UK GDP
UK consumer confidence rose from -36 in March to -30 in April, reaching the highest level since February 2022
Eurozone's Composite PMI index rose to an 11 month high of 54.4, rising 0.7pts on the month
The Eurozone marginally avoided a recession after growing by 0.1% (Q/Q) in Q1 2023
The US economy grew by 1.1% (Q/Q) n Q1, a significant deceleration relative to Q4 22 where the growth rate was 2.6% (Q/Q)
US inflation decreased from 6.0% (Y/Y) in February to 5.0% (Y/Y) in March
Global equity market performance & equity market volatility

Source: Bloomberg, FactSet, Macrobond
 
Inflation slows down across key geographies

Source: Bloomberg, FactSet, Macrobond
UK interest rate projections show signs of stabilising in the near-term

Source: Bloomberg, FactSet, Macrobond

Sector performance drivers and outlook commentary
Mobile Telecoms was the best performing sector in April aided but the strong performances of Vodaphone and Gamma Communications. Vodaphone's share price rallied after e& entered negotiations with the group to enact changes to the board. On the other hand, Gamma Communications' share price gathered pace following the release of its FY22 results
Pharmaceuticals & Biotech gained considerable ground in April following the potential take private of DechraPharmaceuticals plc by EQT
Tech Hardware and Equipment declined in April amid higher than expected inflation and further hikes in interest rates. Moreover, the Semiconductor Industry Association released figures earlier in the month, which showed global semiconductor sales decreased by 4% (M/M) and by 20.7% (Y/Y) in February

Sector performance (Year to date)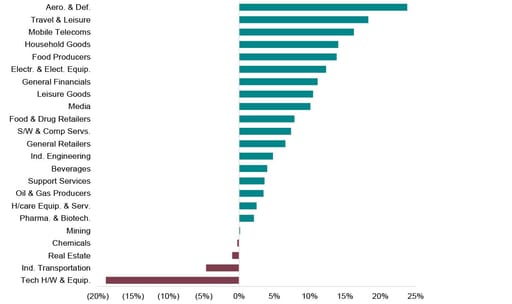 Source: FactSet, Financial Times, Investegate, OPEC, Semiconductor Industry Association, Global Comms
 
Sector performance (April 2023)
Source: FactSet, Financial Times, Investegate, OPEC, Semiconductor Industry Association, Global Comms
UK ECM activity remains stable in April
Deal value and number in-line with March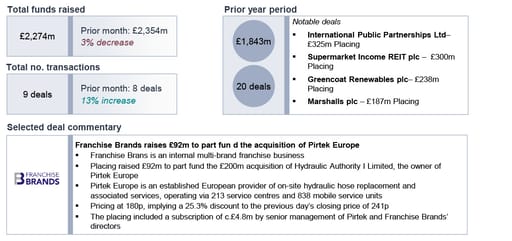 Public equity fund-raises by sector and highlighted deals

Sell-down activity over April

ECM issuance across the deal size spectrum in April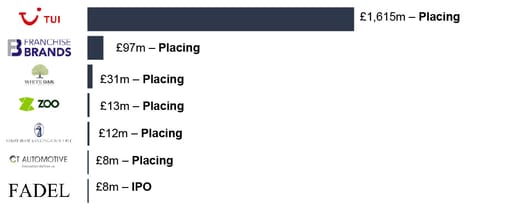 Source: Dealogic. Analysis and commentary only includes transactions greater or equal to £5m, and only includes transactions involving an issue of new shares i.e. primary share issuances
A snapshot of the current UK public M&A market
UK public M&A activity gathered significant pace in April as thirteen new deals were announced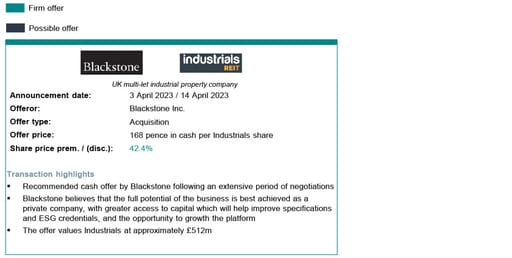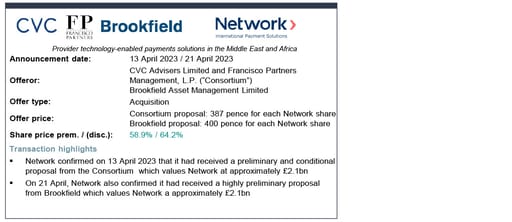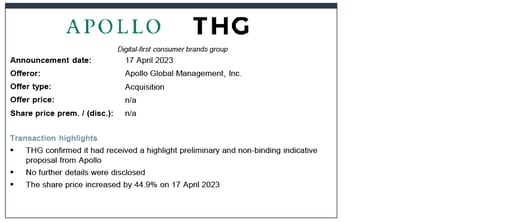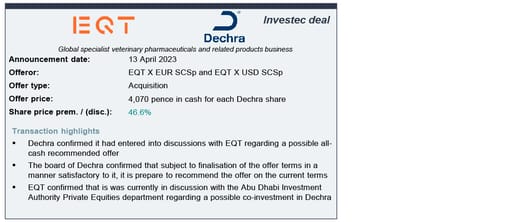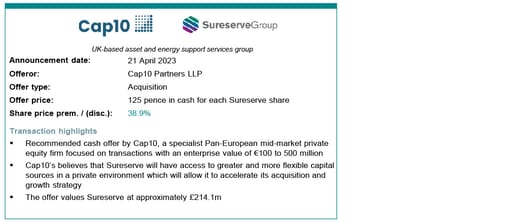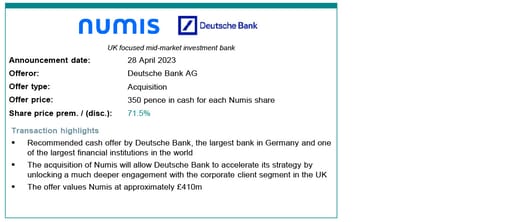 Download the report in PDF
Get the monthly Investec Market Review delivered to your inbox
More insight from Investec