Global indices lost ground in December, particularly in the final week, driven by thin trading.


Overall, in 2022, UK and European markets witnessed mid-single digit to double-digit loses; the US S&P closed the year down by c.20%.


UK ECM activity in December was very low with £53m raised in 6 deals, closing a disappointing year for UK ECM activity, particularly for IPOs. Challenging macro-economic headwinds made for challenging deal-making.


Should the worst now be behind us, we would expect UK ECM activity to ramp-up during 2023.


UK public M&A gathered pace relative to November, with 5 deals announced.


2022 was generally a weak year for M&A activity, especially in H2 when interest rates materially increased debt-financing costs.

December's key market drivers
UK business investment shrank to 2.5%, 0.5% more than estimated
UK GDP contracted by 0.3% compared to the 0.2% initial reading in Q4 2022
Data released showing UK business confidence remains depressed
Halifax predicts UK house prices expected to fall by 8% in 2023
China continues to ease COVID-19 restrictions, however case count remains a concern
Continuation of hawkish central bank messaging, as inflation containment remains a priority
Russia bans supply of oil from 1 February 2023 for five months, in response to Western price cap
Commentators broadly expect mild 2023 Eurozone recession, driven by energy supply challenges
Global equity market performance & equity market volatility

Source: Bloomberg, FactSet, Capital Economics, Oxford Economics
 
Inflation start showing signs of deceleration

Source: Bloomberg, FactSet, Capital Economics, Oxford Economics
UK interest rate projections continue to show signs stabilising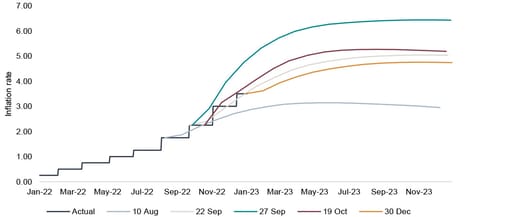 Source: Bloomberg, FactSet, Capital Economics, Oxford Economics

Sector performance drivers and outlook commentary
December saw Leisure Goods stocksbenefit from lower than expected inflation readings out of the US and the UK, however 2022 was challenging for the sector, as it closed the year down by 10.4%
General Retailers experienced a modest gain as consumer confidence and retail sales increased in the UK. According to the CBI, retailers do no expect the recovery to continue into the new year. The sector closed the year unchanged
Overall, 2022 was a year of losses for most sectors. Oil & Gas and Aerospace & Defence in particular, benefited from the current geopolitical situation in Central Europe & Asia; whilst Pharma & Biotech and Healthcare Services rose off of factors such as the impact of COVID-19 on general immunity levels, and the backlog in the provision of healthcare services

Sector performance (since mid-March 2020)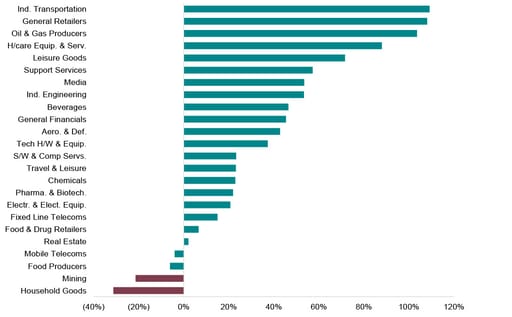 Source: FactSet
 
Sector performance (YTD)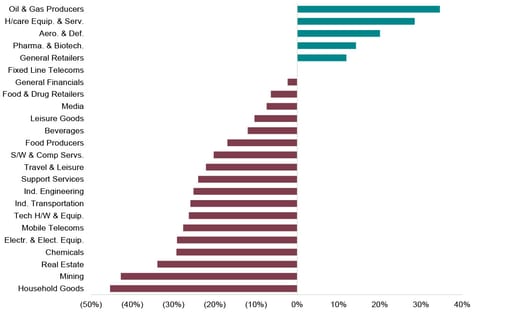 UK ECM activity reaches its lowest level of 2022 in December
Deal numbers remain in-line with previous months but value drops to its lowest level of 2022, closing a challenging year for UK ECM activity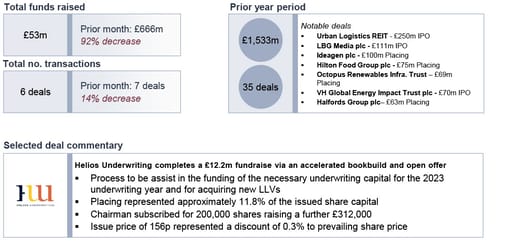 Public equity fund-raises by sector and highlighted deals

Selected Sell-down activity over December

ECM issuance across the deal size spectrum in December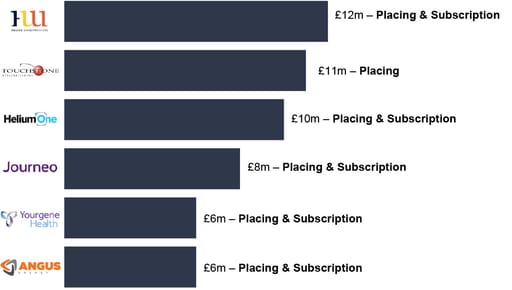 Source: Dealogic. Analysis and commentary only includes transactions greater or equal to £5m, and only includes transactions involving an issue of new shares i.e. primary share issuances
UK Equity Capital Markets 2022 overview
2021 was very much a 'year of recovery' for global equity markets, which was reflected in strong levels of UK ECM activity. 2022on the other hand was one where markets were faced with, significant, persistent macro-economic headwinds which dampened both investor sentiment and corporate performance, and subsequently resulted in significantly reduced ECM activity. In spite of what appears to be a challenging near-term outlook, we remain hopeful that UK ECM activity may regain momentum as we move through 2023.
2022 was a challenging year for global ECM activity, with a generally volatile market back-drop motivated by heightened macro-economic and geo-political making for increasingly difficult deal-making conditions
UK equity market investors 'voted with their feet' as UK-focused equity funds saw record outflows of £8.38bn over the course of the year. Coupled with waning demand for UK public equity, the year saw corporate valuations suffer, causing many companies to put equity issuance plans on-hold
IPO activity in 2022 was significantly subdued with only 16 new companies admitted to trading on the London Stock Exchange versus 94 in 2021 and 30 in 2020. Ithaca's IPO and GDR listing of Ming Yang Smart Energy drove deal value in H2 2022 which doubled the previous half whilst deal count was similar in both halves
Funds raised through follow-ons were down by 59% to £13bn and volumes by 55.6% as 158 deals were completed in 2022 versus 356 in 2021. Activity in the first half of the year accounted for two thirds of 2022's deal value with Q1 driving c.63% of the value in the first half of 2022. Heightened follow-on activity in 2021, also meant that companies entered 2022 with well capitalised balance thus reducing the need for further equity capital for listed groups
The Energy and Natural Resources sector was a relative bright-spot for UK ECM activity; with numerous relevant companies completing transactions in 2022, such as the £263m IPO of Ithaca Energy; the £592m GDR listing of Ming Yang Smart Energy GDRs and Greencore's £789m Placing
As macro-economic conditions continue to persist as we head into the new year, we do not anticipate an immediate recovery in UK ECM. Despite this, indicators would suggest that the worst is now behind us; and so it may be reasonable to expect an up-tickin UK ECM activity later on in the year
We therefore advise companies that are considering an ECM transaction to prepare early, so that they are 'launch ready', whenmarket conditions improve as we move through the year
UK Equity Capital Markets 2022 highlights
A snapshot of UK ECM activity in 2022
UK ECM 2022 at a glance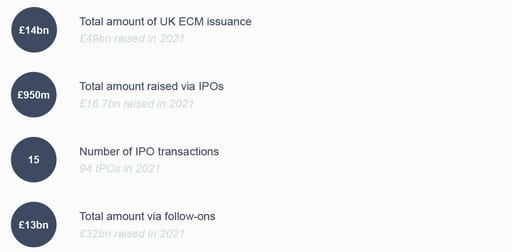 UK IPO after-market performance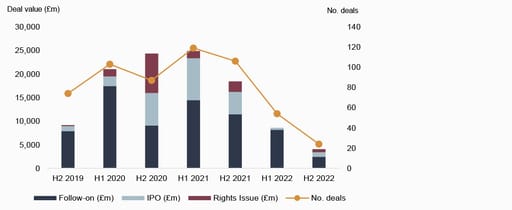 Top 5 largest UK ECM deals

Source: Dealogic as at 31 December 2022. Analysis and commentary only includes transactions greater or equal to £5m. The above analysis includes transactions involving the issue of new shares as well as the sale of existing shares
1. Financial Services
£4.1bn raised, 28 deals
Barclays plc, London Stock Exchange Group plc, Phoenix Group Holdings plc, Beazley plc, International Public Partnerships Ltd, New Energy One Acquisition Corp plc, Financials Acquisition Corp, Gore Street Energy Storage Fund plc, Bluefield Solar Income Fund Ltd, Admiral, IG Group Holdings plc.
2. TMT
£2.3bn raised, 31 deals
Cordiant Digital Infrastructure Ltd, Digital 9 Infrastructure plc, Team17 Group plc, Airtel Africa plc, 888 Holdings plc, Darktrace plc, MoonpigGroup plc, Ocado Group plc, Digital 9 Infrastructure plc, AO World plc, AlphawaveIP Group plc, Flutter Entertainment plc, Telecom Plus plc.
3. Natural Resources
£1.9bn raised, 39 deals
Glencore plc, Ithaca Energy plc, Energeanplc, Atalaya Mining plc, Horizonte Minerals plc, SericaEnergy plc, GreatlandGold plc, First Tin plc, Surface Transforms plc, 88 Energy Ltd, Eco (Atlantic) Oil & Gas Ltd, i3 Energy plc, DelticEnergy plc, Cornish Metals Inc, PetroTalCorp.
Key themes for M&A in 2023
M&A activity across the globe suffered record decline in the second half of 2022 as high interest rates put an end to cheap financing.
Key Themes
Rising interest rates and access to financing look set to be a continuing limiting factors in M&A activity as we move into 2023
The ongoing strategic shift to digital, innovative and new disruptive business models continues to drive M&A for corporates
Inflationary pressures, quantitative tightening, rising interest rates, and depressed valuations and ratings may manifest in a growing appetite among PE for more opportunistic, complex deals
Shareholder activist campaigns, lack of trading liquidity and fund redemptions may force corporate boards to conduct strategic portfolio reviews, and could serve as a driver for future M&A

Global M&A deal-making value in 2022 in-line with COVID-19 stricken 2020 and 31% below 2021

Source: Investec Estimates; FactSet; Dealogic 2022; IMAS Research; KPMG; PwC; Pitchbook, Bloomberg

UK public market M&A activity in 2022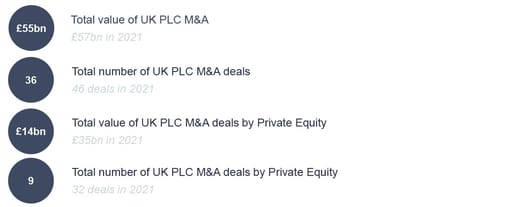 58 announced bids for UK-listed firms in 2022 of which 38 were successful, deploying £54.8bn

Following a record number and value of bids from private equity, higher interest rates and worsening economic outlook reduced private equity activity in UK public markets

Largest public M&A deals announced in 2022

Source: Investec Estimates; FactSet; Dealogic 2022; IMAS Research; KPMG; PwC; Pitchbook
Download the report in PDF
Get the monthly Investec Market Review delivered to your inbox
More insight from Investec