Global indices lost ground over May as investors expectations regarding the economic outlook worsened.


Overall, UK macro-economic data continues to show signs of improvement. UK Consumer confidence rose to its highest level since February 2022 in May and retail sales beats expectation as volumes rose by 0.5% between March and April.


UK ECM activity gathered significant pace in May as c.£3.5bn were raised for selling shareholders.


UK public M&A activity slowed down significantly in May with only five transactions announced.


May's key market drivers
UK inflation decreased from 10.1% (Y/Y) in March  to 8.7% (Y/Y) in April, significantly above BoE's estimate of 8.4%
BoE raised interest rates by 25bps to 4.5%
UK public sector net borrowing rose from £21.5bn in March to £25.6bn
UK consumer confidence rose from -30 in April to -27 in April, reaching the highest level since February 2022
Fed raised its benchmark interest rate by 25bps to a new target range of 5.0%-5.25%
US Congress passed the bill to suspend the US$31.4 trillion debt ceiling
Eurozone composite PMI fell from 54.1 in April to 53.3 in May
The German economy contracted by 0.3% in Q1 23, the second  consecutive quarterly decline since Q3 22
Global equity market performance & equity market volatility

Source: Bloomberg, FactSet, Macrobond
 
Inflation slows down across key geographies

Source: Bloomberg, FactSet, Macrobond
UK interest rate projections show signs of stabilising in the near-term

Source: Bloomberg, FactSet, Macrobond

Sector performance drivers and outlook commentary
General Retailers was the best performing sector in May aided by the improvement in UK consumer confidence and retail sales as they rose from 0.5% between March and April, 0.3% higher than the figure forecasted by economists polled by Reuters
Mobile Telecoms was the worst performing sector in May. Vodaphone was the main decliner in the sector as shares slid by 18.5% over the course of the month as it unveiled plans to cut c.11,000 jobs and its FY23 results were slightly below the guided range
Worth noting that despite a small loss in May, the Travel & Leisure sector has posted strong gains year-to date. The sector benefits from better then expected economic data and UK consumers pending on holidays has increased by 18% (Y/Y)

Sector performance (Year to date)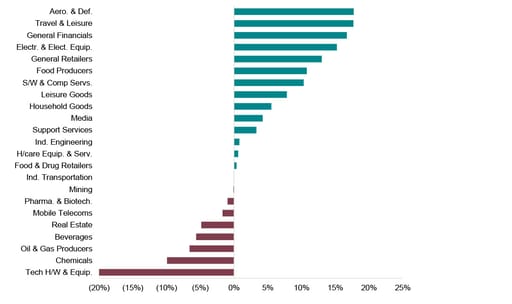 Source: FactSet, Financial Times, Investegate, ONS
 
Sector performance (May 2023)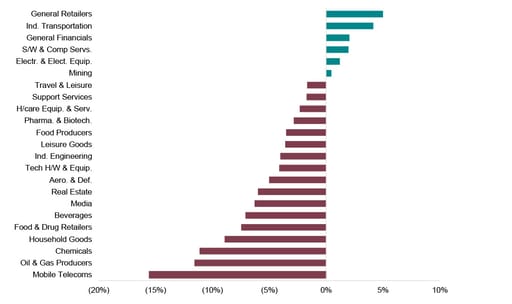 Source: FactSet, Financial Times, Investegate, ONS

UK ECM activity remains stable in May
Deal value improved significantly in May as sell-down activity gathered pace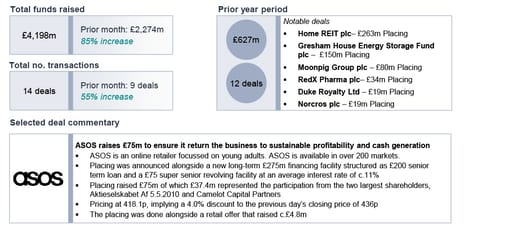 Public equity fund-raises by sector and highlighted deals

Sell-down activity over May

ECM issuance across the deal size spectrum in May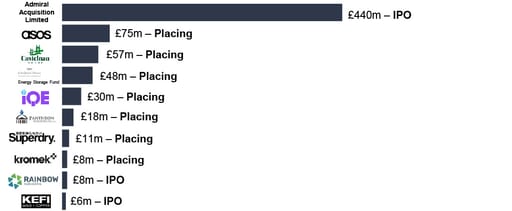 Source: Dealogic. Analysis and commentary only includes transactions greater or equal to £5m, and only includes transactions involving an issue of new shares i.e. primary share issuances

A snapshot of the current UK public M&A market
UK public M&A activity slowed significantly in May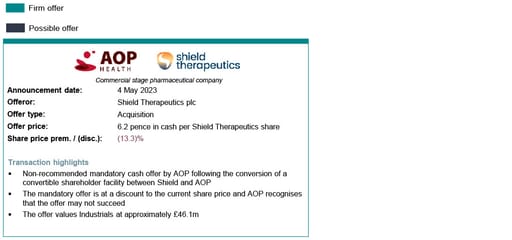 Download the report in PDF
Get the monthly Investec Market Review delivered to your inbox
More insight from Investec