Global indices continued to recover lost ground over November, and market volatility eased throughout the month.


Inflation and a generally downbeat outlook for the global economy continue to drive cautious investor sentiment, though thereare some expectations for a slow-down in the pace of interest rate rises.


UK ECM activity remains sluggish, with the number of deals completing in November dipping relative to the prior month.


Beazley plc completed its £347m Placing, the fourth largest follow-on transaction of 2022 so far.


Investec acted as Sole Financial Adviser, Joint Bookrunner, Joint Underwriter and Nominated Adviser to Eagle Eye on its €38m acquisition of Untie Nots and £7m Placing.


Momentum in UK public M&A gathered pace relative to October, though at low levels.

November's key market drivers
UK inflation accelerated to 41-year high of 11.1%
Meanwhile, US CPI for October came in at 7.7%, down from 8.2% in September
German, French and UK PMI data improved but remain in contraction territory
UK pound continues to climb against the US Dollar
China's zero-COVID protests added uncertainty about China's outlook
Signalling by central banks that pace of interest rate hikes may be slowing
Oil prices exhibit volatility amid reports of a potential output increase by Opec
Mortgage approval rate in UK fall to lowest level since COVID-19 lockdown in June 2020
Global equity market performance & equity market volatility

Source: Bloomberg, FactSet
 
Inflation remains on the rise in the UK and Europe but slows down in the US

Source: Bloomberg, FactSet  
UK interest rate projections show signs of stabilising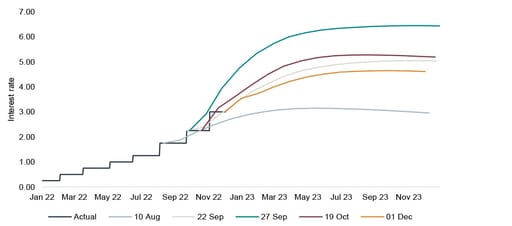 Source: Bloomberg, FactSet

Sector performance drivers and outlook commentary
Mining stocks benefited from a hike in commodity prices towards the end of the month, in-part supported by a drop in COVID-19 cases in China for first time since 19 November, boosting hopes for economic activity in the country

Tech Hardware & Equipment, and some other growth orientatedsectors registered a strong monthofshare price performances, as market expectations around further interest rate hikes cool
Despite the expected slowdown of interest rate hikes, Real Estate stocks ended the month moderately down and continue to be one of the big losers on a year-to-date share price basis given downward pressure on domestic mortgage rate approvals and UK house prices

Sector performance (since mid-March 2020)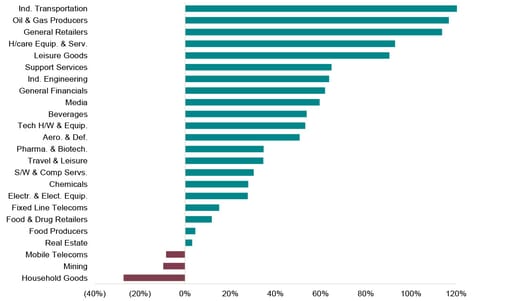 Source: FactSet
 
Sector performance (YTD)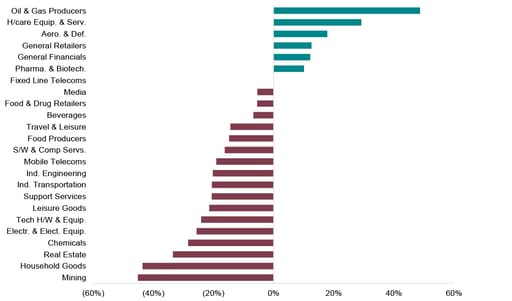 Investec's Economics –Summary of the Autumn Statement
On 18 November, Chancellor Hunt announced details of the Autumn Statement 2022.
Focus of the statement was to help households in the near-term whilst consolidate the public finances via a combination of windfall and stealth taxes, plus spending cuts in the second half of the five-year forecast horizon.
Coming at a time of significant economic challenge for UK and global economy, the statement sought to reverse nearly all of the measures in the government's so-called Growth Plan 2022, also known as the 'mini-Budget'.
Summary of the key measures
Expansionary fiscal measures
Energy subsides
Energy Price Guarantees to stay in place at £3,000 rather than £2,500
Option to reduce the scale of support should energy prices increase further
No clarity provided on energy bill support for businesses past April 2023
Welfare
Cancellation of NIC hike maintained
Pensions 'triple lock' to remain in place
Benefits and benefit cap to be upgradedwith inflation
Additional £900 cost of living payment along with equivalent £300 to pensioners
Other areas of spending
National Living Wage (aged 23+) increaseof 9.7% to £10.42 an hour from 1 April 2023
NHS andSchool budget increased to help absorb the extra burden from inflation
Spending to be restrained by c.£30bn by 2027-28
Contractionary fiscal measures
Energy producers
Temporary 45% levy on "excess returns" on low-carbon electricity producers
Energy Profits Levy on oil and gas producers is raised by 10% to 35% from 2023 to 2028

Stealth taxes
Frozen nominal thresholds for income tax, National Insurance Contributions and Inheritance tax until 2028

Decline in dividend allowances from £2,000 to £1,000 in 2023/24 and then to £500 from 2024

Additional rate of income tax to apply from £125,140 instead of from £150,000

Council tax
Councils in England allowed to raise council tax bills by 5% without needing to hold a local referendum
Source: Investec Research, UK Government website

UK ECM UK ECM activity continues to fall over November
Deal numbers fell relative to October. Aggregate equity-issuance levels rise, but still remain relatively muted when compared to more 'normal' times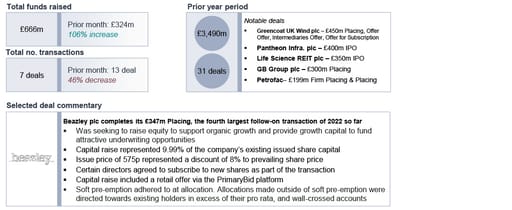 Public equity fund-raises by sector and highlighted deals

Sell-down activity over November

ECM issuance across the deal size spectrum in November

Source: Dealogic. Analysis and commentary only includes transactions greater or equal to £5m, and only includes transactions involving an issue of new shares i.e. primary share issuances

Download the report in PDF
Get the monthly Investec Market Review delivered to your inbox
More insight from Investec