October was an extremely challenging month for equities across the board –FTSE 250 lost (6.5%), S&P (2.6%) and CAC 40 (3.5%) – amid increasing geopolitical tensions and worse than expected economic data.


Only 6 out of 23 sectors ended the month in green. Oil & Gas Producers sector registered its fourth month of gains as it benefited from further rises in oil prices following the escalation of conflict in the Middle East.


Shareholder selldown saved the day once again – UK ECM value and deal count for October were disappointing as Haleon's £886m shareholder selldown made up over 2/3 of the deal value for the month.


UK public M&A remained strong over the course of October as 8 transactions were announced, all of which were firm offers. Investec is pleased to act as broker to Tribal and The Restaurant Group with regards to their respective offers.
Market drivers in October
Market sentiment over the course of the month was dented by disappointing macroeconomic data and growing geopolitical tensions
Economic headlines in October
UK inflation is proving sticky, holding at 6.7% YoY in September and slightly higher than consensus estimates for a 6.6% increase.

UK consumer confidence slipped nine points to -30, taking it to its lowest point since July, whilst retail sales volumes also plunged, falling 0.9% on the month in September.

UK net mortgage borrowing fell by £0.9bn in September – the largest fall since April 2023. Net mortgage approvals were also weak, down to 43.4k.

ECB held key interest rates (deposit rate at 4.0%, main refinancing rate at 4.50% and marginal lending rate at 4.75%) putting an end to a streak of 10 consecutive rate hikes.

US GDP bounced at an annualised rate of 4.9% in Q3, the fastest pace of growth since Q4 2021, thanks to resilient consumer spending trends
US CPI came higher than expected in September at 3.7% YoY in September, raising prospect of further Fed rate hike.
A spooky October for markets as they fall into correction following the summer bonanza

Source: Bloomberg, FactSet, Macrobond, Calastone, Investec Economics
 
UK inflation –a sticky business for now?


Source: Bloomberg, FactSet, Macrobond, Calastone, Investec Economics
Since July economic outlook has brightened for the US but deteriorated for Euro area


Source: Bloomberg, FactSet, Macrobond, Calastone, Investec Economics
Sector performance in October
Oil & Gas stocks register their four month of growth whilst Aero & Defence continues to widen the gap in the race and is set to become 2023's winner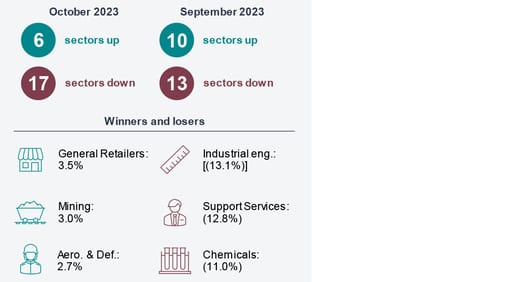 Drivers of sector performance in October
Aero. & Defence stocks also benefited from growing geopolitical tensions. The sector registered a modest growth of 1.3% in October but has increased by almost 41.6%YTD and is set to become the best performing sector in 2023, with BAE System ahead of the pack.
Oil prices continue to be a tailwind for Oil & Gas Producers following escalation of Israel-Hamas conflict and supply challenges in the Mideast.
Support Services stocks retreated significantly in October after disappointing corporate updates from Travis Perkins and Rentokil. Rentokil dropped by over 40% over the course of the last weeks of the month after the group warned of lower US demand.

Sector performance (Year to date)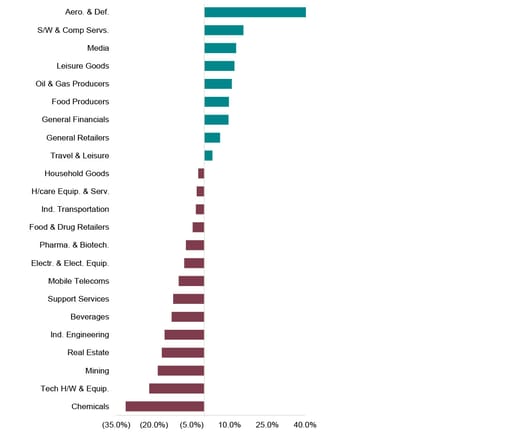 Source: FactSet, Financial Times, Investegate, ONS, Investec Economics
Sector performance (October 2023)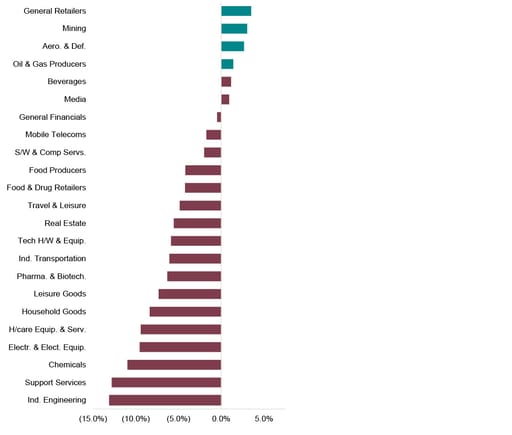 Source: FactSet, Financial Times, Investegate, ONS, Investec Economics

UK ECM activity slows down in October
October was a disappointing month for primary issuance as Haleon's shareholder selldown represented of c.68% of the month's value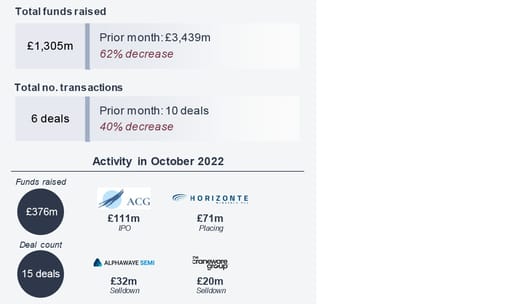 Primary ECM issuance across the deal size spectrum in October


Public equity fund-raises by sector and highlighted deals

Selldowns in October 2023


Announced IPOs in October 2023

Source: Dealogic. Analysis and commentary only includes transactions greater or equal to £5m, and only includes transactions involving an issue of new shares i.e. primary share issuances.
UK Public M&A activity in October
2023's scorecard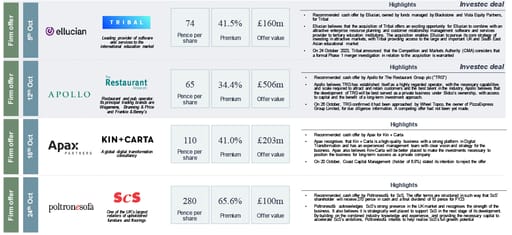 Source: Company announcements, FactSet, Practical Law
Note: Scorecard includes competing offers, withdrawn offers and formal sales processes of companies subject to the Takeover Codequoted on AIM or the Main Market.

Download the report in PDF
Get the monthly Investec Market Review delivered to your inbox
More insight from Investec