UK equities recovered in September some of the lost ground in August as UK inflation dropped unexpectedly in August, retail sales increased in August and the BOE maintained interest rates at 5.25%.


Sector performance was mixed with 11 sectors recovered in-line with wider markets. Chemicals and Industrial Transportation continued to slip whilst Oil & Gas Producers benefited from the sharp increase in oil prices over the course of the month.


ECM activity increased significantly after London Stock Exchange shareholders sold down over £2.2bn worth of existing shares and Severn Trent raised £1bn to fund its AMP8 business plan.


UK public M&A picked up in September as over 11 transactionssubjecttotheTakeoverCode were announced over the month. Investec is pleased to act as financial adviser to DBAY Advisors with regards to the offer to acquire Finsbury Food.
Market drivers in September
Wider markets slid amid disappointing US economic data as UK equities Recovered slightly
Economic headlines in September
UK inflation slipped unexpectedly to 6.7% in August from 6.8% in July, despite upward pressures from petrol and alcohol costs.

Bank of England maintained its bank rate 5.25% but remains the highest rate in 15 years.

UK GDP fell by 0.5% (MoM) due to the unseasonal wet weather and strike actions.

UK retail sales rebounded by 0.4% in August following July's sharp decline of 1.1%.

Eurozone Composite PMI improved marginally from 46.7 in August to 47.1 September due to a steep contraction in the manufacturing sector.

FOMC held rates at 5.25-5.50% but warned rates were likely to stay higher for longer.
UK markets continue to lag behind European and US peers

Source: Bloomberg, FactSet, Macrobond, Calastone, Investec Economics
 
Outflows exacerbated over the summer

Source: Bloomberg, FactSet, Macrobond, Calastone, Investec Economics
Hawkish holds are becoming in vogue

Source: Bloomberg, FactSet, Macrobond, Calastone, Investec Economics
How did UK sectors fared in September
Oil & Gas stocks continue to lead the way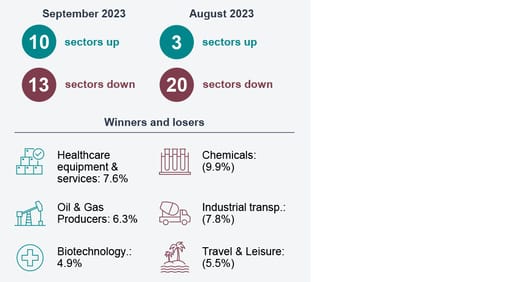 Drivers of sector performance in September
Oil prices continue to be a tailwind for Oil & Gas Producers. US oil supplies pressures drove WTI's price to c.USD93.7 per barrel.
Healthcare Equipment & Services also had strong month following a series of strong trading updates. Spire Healthcare was the winner in the sector as it announced a 24.2% in H1 adjusted EBIT.
Travel & Leisure stocks lost significant ground in September as Leisure stocks took most of the grunt. Entainshares, reached their lowest level since 2020, due to a fall in online gaming revenue and continued pressure on margins due to regulatory headwinds.

Sector performance (Year to date)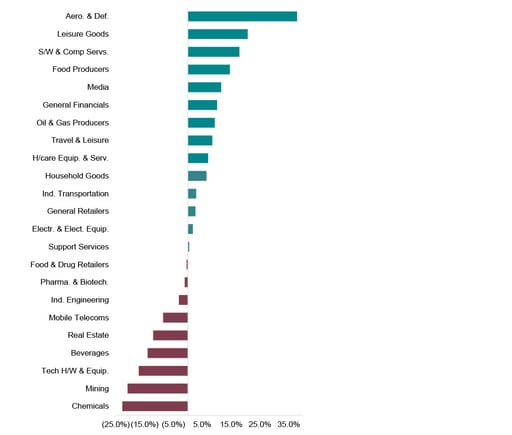 Source: FactSet, Financial Times, Investegate, ONS, Investec Economics
Sector performance (September 2023)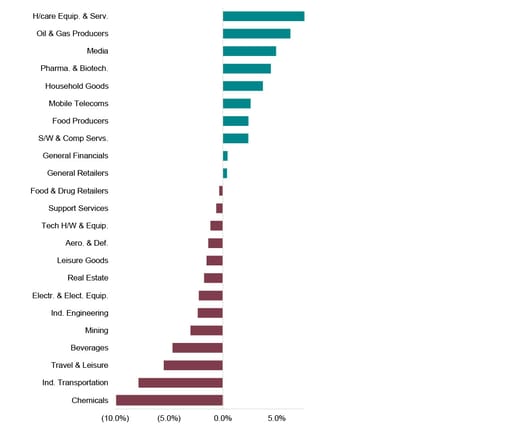 Source: FactSet, Financial Times, Investegate, ONS, Investec Economics

September earnings season snapshot
Technology and Communications stocks generally managed to outperform consensus estimates. Results were less positive for stocks sensitive to current macroeconomic headwinds such as Real Estate & Financial stocks


One day share price reaction (%) vs aggregate sales surprise (%)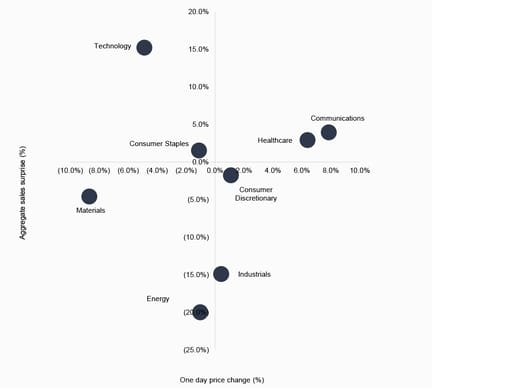 UK ECM activity picks up in September
ECM activity benefited from the "back to school" effect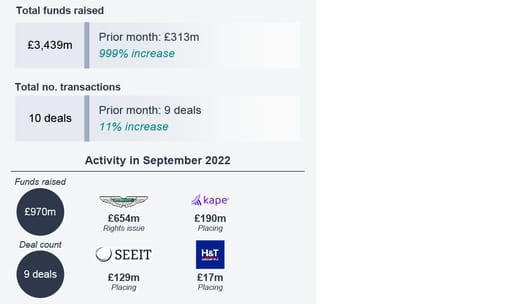 Primary ECM issuance across the deal size spectrum in September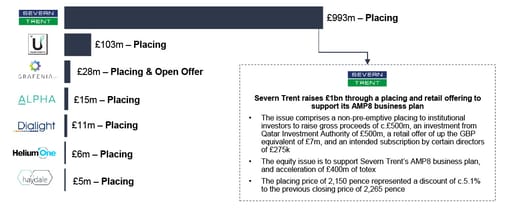 Public equity fund-raises by sector and highlighted deals

Selldowns in September 2023


Announced IPOs in September 2023


Source: Dealogic. Analysis and commentary only includes transactions greater or equal to £5m, and only includes transactions involving an issue of new shares i.e.primary share issuances.
UK Public M&A activity in September
2023's scorecard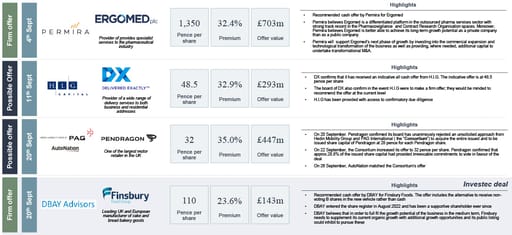 Source: Company announcements, FactSet, Practical Law
Note: Scorecard includes competing offers, withdrawn offers and formal sales processes of companies subject to the Takeover Codequoted on AIM or the Main Market.
Download the report in PDF
Get the monthly Investec Market Review delivered to your inbox
More insight from Investec