"Subdued" is one word that Knight Frank estate agents have used to describe the UK residential property market. 'Slow' would be another appropriate adjective.
In a challenging mortgage climate, the average home sold in the UK in September 2023 was on the market for 57 days, which was the longest duration since 2012, according to research by Hamptons*. Meanwhile, sellers have been accepting an average discount of 4.2 per cent on the original asking price.
To help you move forward in this climate, Investec asked experts how to price and list your home to sell – and for some ways to fund a new property, if you can't.
Getting the price right
Prime central London property prices dropped by 1.7% in the year to September 2023, according to research by Knight Frank, while the average price in prime outer London fell by 1.4%. There was an even bigger drop in the regional market, with prime prices decreasing by 6.1% over the same period, which was the largest annual slide since 2009. The expectation, say Knight Frank, is that UK house prices will decrease by 7% over the course of 2023 with a further fall of 4% forecast for 2024.
"Putting your property on the market with an over-ambitious or unrealistic asking price in the current market is a dangerous tactic and could result in your property being ignored by potential buyers," says Camilla Dell, the Managing Partner and Founder of Black Brick Property Solutions.
Therefore, knowing when to reduce your asking price is key. "Sellers should reduce the price when they are comfortable that their agent has explored all ways to stimulate activity and interest," says James Williams, Head of Sales in Knight Frank's Richmond office. "This process can take several months. Normally after that amount of time, you can make an informed decision around pricing and whether it is accurate in the market." Oliver Rodbourne, Head of South East Team and Channel Islands for Knight Frank, also suggests timing a reduction "after a major event, such as Easter or the school holidays".
Even in a difficult market, some types of property are still sought after. "The demand for period houses in the best locations remains high," James says of the London market, adding that Victorian and Regency villas that have been refurbished and developed to a high standard are even more desirable. Oliver adds: "Now more than ever, properties that are beautifully decorated and presented in the highest order are attracting the most interest and are still selling for high prices."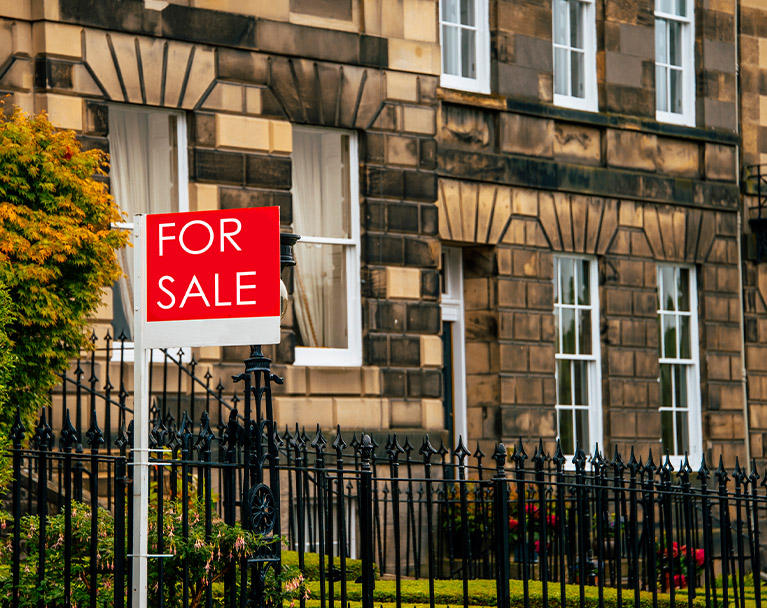 David Knott,

Private Banker, Investec
A Home-link mortgage gives you the flexibility to choose your entry point into the market. If you sell in advance, no early repayment fees are due if the mortgage is on a variable rate.

Listing at the right time with the right agent
When choosing which estate agent to appoint, it's crucial to do your research and consider both local and national agents. "Find out which agents are most active in your area by asking for evidence of sales they have recently done for properties that are similar to yours," says Camilla. "Invite at least three agents in to see your property including a mix of mainstream agents and some more boutique ones. How prepared and enthusiastic they are, will speak volumes about the service they would give if you appointed them."
You might want to consider appointing more than one agent. "We would advise no more than two agents at any one time as this could give buyers the impression that you are a desperate seller, but appointing two different yet complementary agents can work really well for certain properties. Make sure any agent you appoint is willing to share their fee with other agents who may be able to introduce the right buyer."
Alternatively, you might want to consider selling your prime property off market. "Last year, 50% of properties we sourced for clients were not being advertised. This year that proportion has grown to 55%," Camilla says. "In tricky times, remaining 'off market' might enable you to test appetite and protects you from having to publicly reduce the listed price."
Listing in the spring could also be helpful. "Looking forward to 2024, early spring is likely to be busy; properties coming to the market will avoid the distraction of the looming election which is likely to be later in the year," Oliver says.
Meanwhile, decluttering your property will make it more appealing to potential buyers. "Clean both internally and externally, including windows and light fittings, jet-wash paths and clear and tidy any outdoor spaces," Camila says. You could also consider hiring a professional staging company to 'dress' the property for sale. "It's surprising but true that many buyers struggle to visualise how spaces can be used and enjoyed. Staging can be a very effective and successful way of showing your property off to its best potential."
Finding a mortgage that gives you flexibility
If you have already identified your dream home but you are yet to sell your existing property, you may still be able to fund your move with the right mortgage.
One solution is a Home-Link mortgage: a form of lending which is secured against both your existing home and your new target property. "With a Home-Link mortgage, the expectation is that the existing property will be sold within an agreed term to reduce the balance and overall debt servicing requirements," explains Investec Private Banker David Knott. "The time period for the mortgage relating to the existing property is typically up to two years and gives you the flexibility to choose your entry point into the market. If you sell in advance, no early repayment fees are due if the mortgage is on a variable rate."
To be eligible for a Home-Link mortgage, you must be able to prove affordability on the total proposed debt. Investec can consider a variety of income streams, including discretionary and foreign currency income, when determining how much you could borrow.
For example, the private banking team recently found a mortgage solution for a management consultant who was relocating to the UK and who wished to buy a six-bedroom home in Surrey while retaining a five-bedroom property nearby, until he was able to sell for an acceptable price. Investec provided the consultant – who had exposure to Hong Kong dollars – with a 60% LTV Home-Link Mortgage of £2.4m to cover the purchase of the new home and refinance the existing property.
Refinancing with a Home-Link mortgage might not be appropriate for you if you have a historic low mortgage rate on your existing property, as you may not be able to achieve similar rates in today's market and your costs could increase. In that situation, an alternative could be a standalone facility for your new home. "If you could achieve a ten per cent deposit plus the stamp duty, we could look at a high LTV mortgage on the new property with repayments structured around your income pattern, including when the existing home is sold," David says.
David recommends getting in touch to discuss your options early. "The benefit of working with a private bank is that we can look at hypothetical situations and mortgage structures to find a way to help. We take a bespoke approach, and this flexibility is more important than ever at a challenging time."
* The longest duration in the month of September since 2012
Want to discuss our mortgage and borrowing options? Please get in touch today.

Important information:
Your property may be repossessed if you do not keep up repayments on your mortgage. Investec residential mortgages are only available for residential properties in England or Wales and are primarily available to UK residents and subject to eligibility. You should always seek independent professional advice before making any financial or investment decision.
MORE INSIGHTS FROM INVESTEC