Get Focus insights straight to your inbox
"For a country to prosper, effective means of moving people and goods are essential." - Dr Malcolm Mitchell.
I recently travelled out of South Africa for the first time in my adult life, to Europe. One of the highlights of my trip was the transport system from all the countries I visited. Many countries rely heavily on rail transportation for their daily commute. In my ignorance, the itinerary I created before my trip fully relied on using Ubers like I do here in Cape Town, but to my surprise, I never had to use an Uber once during the trip.
Like millions of South Africans, I have had to depend on the taxi industry for most of my life. We rely on minibus taxis because they are easily accessible, convenient and have a high degree of flexibility. However, from the perspective of a mass mover of people, the transport system that has the highest level of reliability and has proven to be safe and equitable from a global perspective is the rail system. In addition, there is a remarkable difference between the carbon footprint involved in taking a train and driving a car or taking a bus.  For medium-length distances, taking a train instead of a car would cut your emissions by about 80%.
Figure 1: Carbon Footprint of travel per kilometre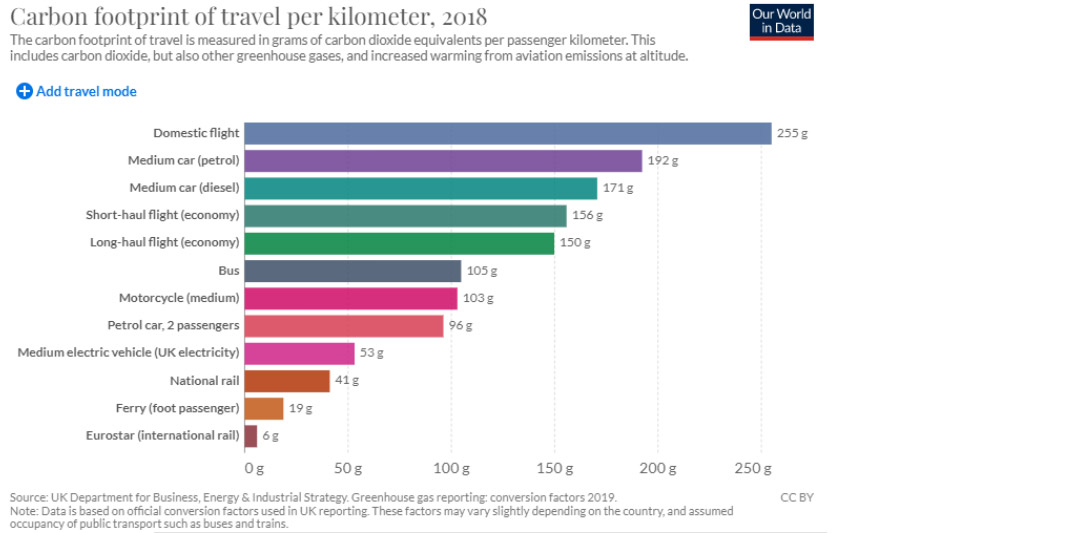 Source: Ourworldindata.org, chart sourced 3/06/2022
 
SDG 9 aims to build resilient infrastructure, promote sustainable industrialisation and foster innovation.
The realities around the South African transport system highlight key opportunities around the ninth United Nations Sustainable Development Goal (SDG 9). SDG 9 is dedicated to "building resilient infrastructure, promoting inclusive and sustainable industrialisation, and fostering innovation. The goal is expansive, nonetheless one of its tenets is around building sustainable cities. The adequacy of a country's transport infrastructure plays a significant role in its social and economic development; some suggest that efficient transport is second only to education as a catalyst for a country's growth". Consequently, SDG 9 seeks to ensure that there is a persistent development of a quality, reliable, sustainable and resilient infrastructure, including regional and cross-border infrastructure, to support economic development and human well-being, with a focus on affordable and equitable access for all.
The importance of good transportation in a country's progress cannot be overstated. This is all the more so in South Africa where the nearest port is around 600km away from the industrial heartland. I recognise that it is inaccurate to try relating South Africa's transport challenges to anywhere in the world given that the country is in a unique position, more so after factoring in the effects of historically unjust laws on transport and its restrictive geographical challenges.  However, the experience of a swift rail system in Europe (notwithstanding the recent rail strikes in the UK) made me hopeful about fixing our railway infrastructure.
Metrorail historically used to operate a high number of weekday trips nationally, but the number of trips has severely shrunk. In a province like the Western Cape, there is already a large and well-established commuter train system that has nonetheless been mismanaged to the point of not having enough operational trains. On a positive note, the National Rail Policy White Paper that has been recently published highlights some noteworthy progress and a level of commitment to start improving the current status quo. If implemented, it will be a major step to providing a reliable, safe and affordable rail network. Furthermore, adding new Gautrain routes and expanding the network in the country's economic hub creates an option for more people to take advantage of a dependable and environmentally friendly mode of transport.
At the moment, most South Africans are finding it increasingly difficult to afford to take a car or bus because of the increasing cost of living. Much like reducing inequality is paramount for the sustainability of our country, so too is building an affordable and reliable transport infrastructure for the prosperity of South Africa.  In the future, our cities will look very different from the present, and our public transport solutions need to keep up with development. An affordable, safe and reliable railway system will give us more efficient alternatives and lower living costs.
Figure 2: Environment for SA Transportation

Source: Transaction Capital, table sourced 3/06/2022
 
Solutions need to be centred on facilitating a sustainable and resilient railway infrastructure. A transport system that's integrated through smart infrastructure can unleash the dynamic and competitive economic forces that drive a growing economy.
The second highlight of my trip was the availability of Wi-Fi in many different spots. Despite the recent growth in internet connectivity, South Africa still lags other regions of the world. SDG 9 is a blueprint for achieving technological progress and is key to finding lasting solutions to both economic and environmental challenges.
"Information and communication technology unlocks the value of time, allowing and enabling multitasking, multi-channels, multi-this, multi-that." – Li Ka Shing
Access to the internet has the potential to improve the quality of information and communications technology (ICT) in South Africa and therefore increase the quality of education. Analysis reveals that SDGs that have the strongest links with ICT are SDG 4- Quality Education, SDG 3- Good Health and Well-being and SGD 9- Industry, Innovation and Infrastructure respectively.  This highlights that the SDGs that most benefit from the improvement in ICT infrastructure are SDG 3,5 and 9. As such, small improvements in certain technology infrastructures, such as broadband and spectrum, can lead to rapid improvements in a country's performance and on other SDGs.
Unfortunately, the statistical relationship between SDG 9 and fixed broadband subscription is not strong in South Africa. The country has a middling level of connectivity but low relative scores in terms of SDG 9 (see Figure 3). South Africa is not fully benefiting from digital dividends in terms of innovation or digitalised industry. Nonetheless, progress is being made and the recent additional telecommunications spectrum infrastructure that will be auctioned is positive and will help lower the cost of data, leading to better access to digital platforms.
Figure 3: Broadband subscriptions per 100 people vs SDG 9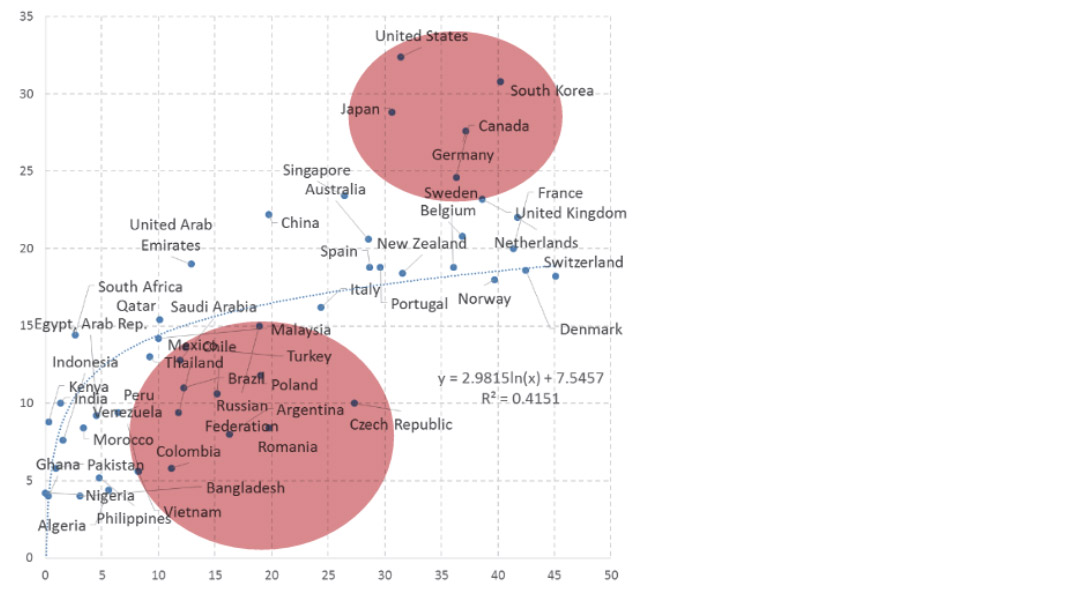 Source: Huawei, chart sourced 17/06/2022
 
I have access to the internet, and I cannot imagine life without it, but despite that, visiting a country that had vast free access to the internet pulled the curtain back for me and revealed what a just and equitable society could look like. The pursuit of the sustainability goals is a goal shared by all and addressing sustainability challenges requires ingenuity, innovation, and partnership.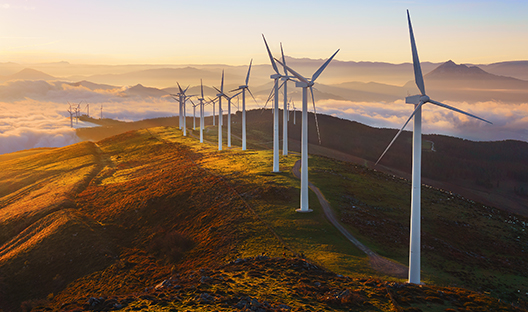 Responsible Investing and Sustainability at Investec Wealth & Investment
As Sustainability is core to our fundamental investment approach, we have integrated ESG considerations into our investment decision making and broader investment process. 
Read more articles from The Road to 2030 series