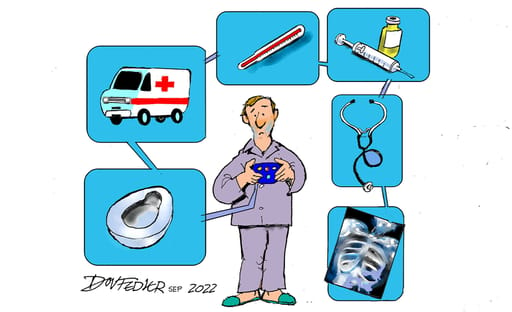 Change happens slowly when getting it wrong might cost lives. In aviation, a fundamental change in aircraft technology will take years of scrutiny, testing and fine-tuning before it is unleashed on passengers. The same is true of healthcare, where technology adoption curves tend to be shallow. Covid-19 accelerated some technologies such as telemedicine and messenger ribonucleic acid (mRNA) vaccines. The next step is building those technologies into the normal course of life, just as smartphones have become ubiquitous.
Historically the barriers to technology adoption in healthcare have been many and complex: funding, public policy, customer scepticism, cost and access, limitations of technology and accountability1. The importance of the various factors varies for different technologies. Nevertheless, over the next decade we see many of these hurdles being cleared, bringing changes to the way consumers buy and use healthcare, new therapies and diagnostics, and modern business models.
The most eye-catching development in late 2021 was Teladoc partnering with Amazon's Alexa to enable voice-assisted access. One can dream of a future where access to hospital-grade medical help is at the touch of a button or a gentle whisper – 'Alexa, call an ambulance.' Teladoc Solo™ Virtual Care Platform is now integrated into Microsoft Teams' workflow, which has over 250 million monthly active users2. In Brazil and Spain, Teladoc is working with Telefonica to bring healthcare services via mobile devices, dramatically improving access to healthcare and speaking to UN Sustainable Development Goal 3: Good Health and Well-being for all, at every stage of life. We see a world where high-quality, relevant, whole-person care is readily accessible day or night.
The most eye-catching development in late 2021 was Teladoc partnering with Amazon's Alexa to enable voice-assisted access. One can dream of a future where access to hospital-grade medical help is at the touch of a button or a gentle whisper – 'Alexa, call an ambulance.'
Access to healthcare will be much improved in poorer economies where healthcare services are sparse. In India, many people have to travel long distances to access care and so Teladoc's initiative to install telemedicine robots is welcome3. These robots can carry out basic healthcare checks such as measuring blood pressure and allows doctors to deliver multi-disciplinary artificial intelligence (AI)-powered treatment regimens remotely. If successful, these innovations will dramatically improve lives in the years to come. Access will also have a significant impact in rich countries, even with high healthcare services density. In the US, two-thirds of people who declare bankruptcy do so partly because of hefty medical costs. Another innovation that we see can tackle medical costs is the use of AI to compare costs among service providers. GoodRx is pioneering that effort by using machine learning to find the lowest priced and most convenient medicines. Given that 20-30% of US prescriptions are not filled, non-adherence costs the US about $300bn a year. We see these price discovery solutions saving lives, preventing unnecessary suffering, reducing waste while cutting costs in a highly complex system4.
Measuring health risk factors
One of the frustrations of Covid-19 was not knowing who was at risk of severe disease or death beyond the basic risk factors of age, obesity, and chronic respiratory disease. If only there had been a biomarker, perhaps a gene or protein that would provide the answer, many lives would have been saved. Predictive diagnostics are a growing technology of the future. Soon, we will know more about the biology of disease thanks to the sequencing of the human proteome, a 50-year-old protein-folding problem that was solved by Google's AI subsidiary DeepMind5 . AI-powered data crunching and pattern-recognition will see genetic variations and other biomarkers picked up and interpreted at speed. Suspicious growths, unwelcome lumps and mysterious rashes can be pictured or biopsied and rapidly diagnosed, or at least flagged for further investigation.
Perhaps the most impactful technology on the horizon is liquid biopsy. For years this was all the rage and indeed the subject of the infamous case of Theranos and Elisabeth Holmes. Could a drop of blood tell everything about one's state of health, past, present and future? While Theranos severely dented the reputation of this technology, it continues to hold promise. The Food and Drug Administration (FDA) has approved companion diagnostics for ovarian, breast and prostate cancer for example6. The underlying technology is the same for liquid biopsy and it works – a blood sample is screened for circulating DNA that marks a particular type of cancer such as the BRCA1 genetic mutation. If present, then one gets a specific treatment.  The next puzzle to solve is creating a menu large enough to capture a range of diseases. Enter Grail, an Illumina company7. Its Galleri® platform is a first-of-its-kind diagnostic test that can detect over 50 cancer types with only a 0.5% false positive rate and an 89% cancer signal origin accuracy. In terms of impact, where implemented this is predicted to prevent one in three cancer deaths over the next five years. Oncology testing is a $75bn market with only 4% penetration at present, and we expect this to rise significantly over the coming years (see chart below).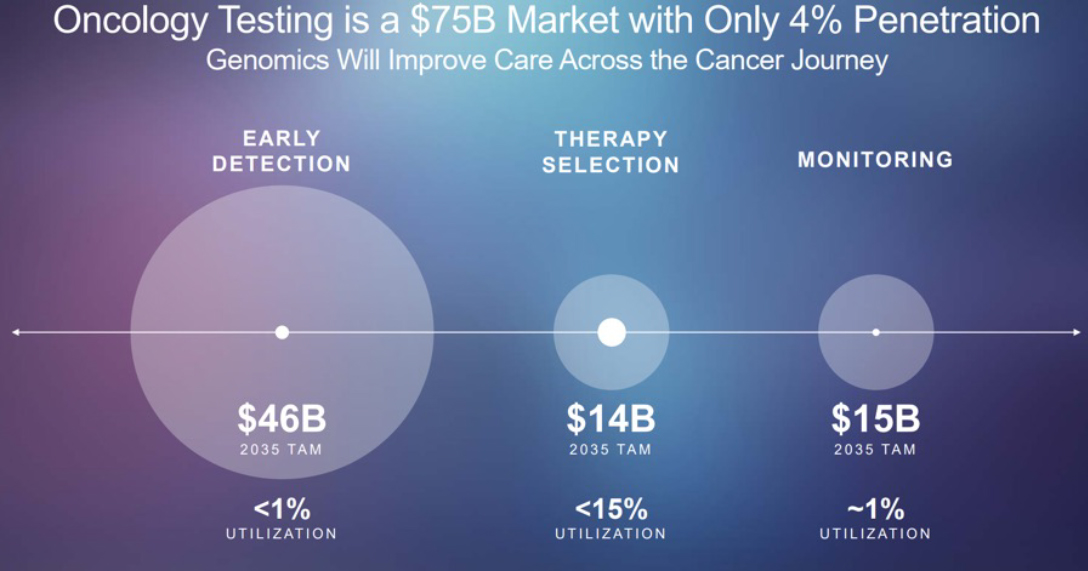 Platform technologies
Platform technologies are everywhere. We think of Amazon, or Airbnb or Adobe as platforms that act as intermediaries between buyers and sellers, or developers and users. In healthcare, platform technologies exist but are few and far between. The most recent one to gain public awareness is messenger RNA (mRNA) technology in Covid-19 vaccines. Prior to Covid-19, it was considered an experimental technology. Now it is being used to solve one of the toughest challenges in medicine: cancer vaccines. Many have tried, and many have failed, but the technology is already showing promise with BioNTech reporting the first positive human data for a CAR-T/cancer vaccine combination8. Should the promise carry through to reality, we see a world where in addition to vaccines for infectious diseases, we will also be looking to prevent or at least take the sting out of some cancers. It also has utility in immunology, heart diseases and cancer therapeutics.
Roche AG pioneered platforms in cancer treatment. The discovery of the HER-2 receptor in 1998, which is abundant on some breast cancer cells, ushered in an era of targeted therapies. HER-2 positive breast cancer is aggressive but treatable when diagnosed early and addressed with targeted therapy. It became a pathway from which many other medicines were developed, becoming the first therapeutic platform.  AstraZeneca boasts three platforms for cancer treatment: DNA damage response, antibody-drug conjugate and immuno-oncology. Consequently, it has a rich pipeline of medicines for lung, renal, blood, prostate and ovarian cancer, to name a few. This is the future of cancer treatment, where a moving and elusive target requires combination therapies attacking the disease from different angles. The advantage of having all the technologies under one roof is that combinations can be tried out in-house efficiently and in a cost-effective manner, and may allow the company to capture most of the economics from the platform. Other emergent platforms include cell therapy, gene therapy, radioligand therapy and gene editing. Although we see the future dominant business model being built on platforms, not all platforms are created equal.9
At Investec, we believe our skill lies not only in identifying the technologies that are most likely to generate the most economic and societal value, but the companies that are best positioned to capture most of that value. This involves forming a view on the total addressable market, and constantly updating that view as we seek out more information. Then we look for disciplined, capable and visionary management teams that have a strong track record and culture of execution, as well as favourable unit economics. As we look to the future, we see that possibilities are everywhere10. Our domain expertise and wealth of experience and knowledge gives us confidence we can continue to identify tomorrow's winners while championing the triple bottom line of people, planet and profits.
Receive Focus insights straight to your inbox
Disclaimer
Although information has been obtained from sources believed to be reliable,  Investec Wealth & Investment International (Pty) Ltd or its affiliates and/or subsidiaries (collectively "W&I") does not warrant its completeness or accuracy. Opinions and estimates represent W&I's view at the time of going to print and are subject to change without notice. Investments in general and, derivatives, in particular, involve numerous risks, including, among others, market risk, counterparty default risk and liquidity risk. The information contained herein is for information purposes only and readers should not rely on such information as advice in relation to a specific issue without taking financial, banking, investment or other professional advice.  W&I and/or its employees may hold a position in any securities or financial instruments mentioned herein. The information contained in this document does not constitute an offer or solicitation of investment, financial or banking services by W&I . W&I accepts no liability for any loss or damage of whatsoever nature including, but not limited to, loss of profits, goodwill or any type of financial or other pecuniary or direct or special indirect or consequential loss howsoever arising whether in negligence or for breach of contract or other duty as a result of use of the or reliance on the information contained in this document, whether authorised or not.  W&I does not make representation that the information provided is appropriate for use in all jurisdictions or by all investors or other potential clients who are therefore responsible for compliance with their applicable local laws and regulations. This document may not be reproduced in whole or in part or copies circulated without the prior written consent of W&I.

Investec Wealth & Investment International (Pty) Ltd, registration number 1972/008905/07. A member of the JSE Equity, Equity Derivatives, Currency Derivatives, Bond Derivatives and Interest Rate Derivatives Markets. An authorised financial services provider, license number 15886. A registered credit provider, registration number NCRCP262.