Receive Focus insights straight to your inbox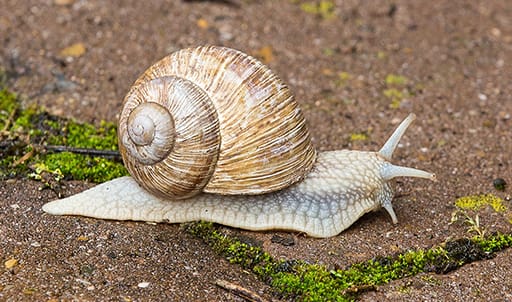 According to studies, a snail can move at one metre an hour. Now if you were to double that, double it again and then double it once more – you'd get a snail moving at 8m an hour, pretty fast for a snail but not that fast that you couldn't catch it easily. 
But if you carried on with the exercise you'd soon start to notice some major increases in speed. Do the exercise a mere 21 times, and you'll have a snail on the verge of breaking the sound barrier (1048km/h vs 1234.8km/h – the speed of sound).
We're not sure the snail would survive all of the speed transitions, but the story is a good example of exponential change and how difficult it is for humans to mentally grasp the full impact of its power. 
Exponential change is all around us – we see it in the growth of influential ideas, in epidemics and, importantly, in technology.
Willem van der Post of xTech Capital, a guest speaker at the launch of Investec for Intermediaries, used the example of the snail to illustrate the influence of exponential change, particularly technologies, in our lives and businesses. 
Exponential change is particularly relevant right now because a number of different technologies are ratcheting through the different exponential levels of change, from artificial intelligence to robotics, to renewable energies, blockchain and many others.
Unfortunately, just as we battle to get our heads around the accelerating snail, so we are unable to grasp just how quickly technologies are changing and just how dramatic an effect they will have on our lives and businesses.
Van der Post highlighted some of the impacts of this exponential world:
Businesses and individuals will need to shift from a linear, incremental change mindset, to embrace exponential thinking
This means rethinking educational models, many of which rigidly stick to curricula and systems from the 19th century
We also need to rethink the way we look at market share. In the new exponential technology world, the market leader typically holds 60% of the market, the next largest firm controls 30% while the rest fight over the remaining 10%
In this exponential world, staying close to one's client is vital if one's business is to thrive. It's a challenge that intermediaries in particular face: technologies are creating new ways of doing business, while volatile markets, uncertainty and regulation are all adding to the complexity. 
Investec for Intermediaries is designed to help intermediaries to tackle these challenges, René Grobler, head of Investec, explained. "By consolidating Investec's specialist banking offerings – Cash Management (CCM), Forex, Structured Products, Specialist Investments, Equities and Prime Services – intermediaries receive service through a single relationship manager, without losing access to the relevant product or services specialists."
This is supported by Intermediaries Online, a single, seamless digital platform to facilitate and manage their client portfolios, along with a single solution and content hub (Toolkit) that gives access to the latest product and system information as well as industry related and thought-leadership content. 
An innovative approach is also required in the products and services offered, said Japie Lubbe of Investec Structured Products. Lubbe explained how structured products can be an effective means for executing an investment strategy within retirement strategies, through retirement annuities, living annuities or preservation funds.
Receive Focus insights straight to your inbox