Current position
Deputy Principal and Teacher at Forest High School, Turffontein

Qualifications
Higher Diploma in Education at Wits 
BSc Honours in Science Education (Wits)

Your top tip to young teaching graduates who are about to start their teaching career?
You have to have a love for teaching, and you also have to understand the social environment the learners are in. You must show them love and respect, but it's important to distinguish between a learner and a teacher relationship, so they know where the boundaries lie.
What inspired you to become a teacher? 
I always wanted to be one, especially for Maths and Science, because as young children we were told that those subjects were difficult and only for the clever children to do. If you were not academic, you were advised to study History and Geography and I felt that needed to change, because it limited students in terms of the careers they could eventually choose one day.
In 2009 they were starting a Promaths programme at the Kutlwanong Centre for Maths, Science and Technology so I went for an interview, and then started teaching Grade 9s there on weekends, while I was still teaching Grade 10s, 11s and 12s at my school.

Part of your bursary programme involved mentoring from other teachers. Was that valuable to you?
Yes it was, very much, because starting off on your own as a teacher is difficult. In fact I'm still being taught by the teachers at Kutlwanong every Wednesday. When I started being a Deputy last year, I had to go back and find out how they're doing things at their school, because they are forever learning and teaching.
It also helped me deal with the challenges that I face here in terms of the social environment, like substance abuse. Learners at the Kutlwanong centre have a very different way of behaving in the classroom, and this influences how teachers greet learners, for example. It's not the same as teaching at a former Model C school, where you always get respect, and they know how to talk to others. In terms of the challenges that you face every day as a teacher where I am, they are not the same.

How does your role as a teacher extend beyond the classroom?
I'm not just a teacher – I'm a social worker, pastor, psychologist and mother too. I even transport some of students home at the end of the day. 
This is because most of our learners come from child-headed families. Their parents are elsewhere working but as long as I have a relationship with both the child and the parent, we can solve problems together. Sometimes this involves making sure the kids have enough to eat, and sometimes it's asking school leavers for their shoes or old shirts so the current students have the right clothes. 
These children also have a lot of anger, and the parenting role is lacking and they are not disciplined. As their teacher you need to know their history, so that you're able to discipline them in the right way.  And this isn't always easy. In Grade 8 I've got about 50 learners per class and managing that is very difficult.
I feel like I'm forever shouting, but my students often come back and thank me for disciplining them. Simple things like being on time for class are important so I make a point of that, in order to win their respect and show them that I appreciate them. It's also about asking them how things are at home: "How are your parents? How is your dog?". They get so excited about these small things, because their well-being is very important. If things are not right at home, they're not going to perform at school.
"Their well-being is very important. If things are not right at home, they're not going to perform at school".
Majabulile Ndhlovu
What are your suggestions to improve the quality of education in South Africa? 
We need more qualified teachers, but the most important thing about teaching is the pedagogical content knowledge (PCK). Knowing the content doesn't mean that learners will understand – you must find ways to make it relevant to them and keep them entertained. I like to make my learners sing and come up with a beat. I let them be creative and enjoy the lesson. 
Those are the things that you don't get taught when you're studying to be a teacher at university. I may not understand hip-hop for example, but I know that my students respond to it, so I end up learning about it in order to catch their attention. Another example is cell phones – I know nothing about them but I know my students are now using apps to help them study, so I need to learn about those in order to keep school relevant and interesting for them.

What are the best parts of your job as a teacher?
When I see somebody that has passed or graduated, and I know that I played a part in it, that's the best big thing. It makes me cry. When I see that they've also made it in life, and they come and thank me and tell me that I contributed to where they are now, I get so excited, and it just makes me humble. God put me in this teaching job for a reason. 
Want to get into teaching? School leavers with a matric exemption and 60% or more in Mathematics, Sciences (Life Science or Physical Sciences) and English can apply for a teaching bursary with Investec. Find out more.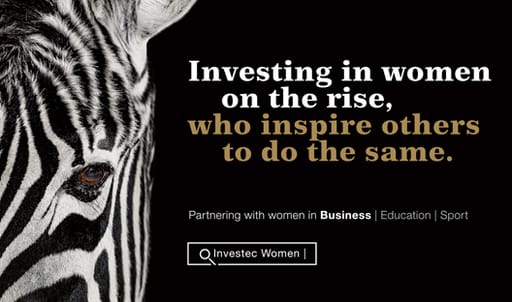 Women on the rise
Read more inspirational stories from Investec women in education.