For over a decade, the Investec International Music Festival (IIMF) has hosted some of the world's finest classical musicians and showcased their incredible gifts to audiences across the Surrey Hills.
Since its inception, the festival has evolved from a series of chamber recitals held over a single weekend into an event spanning a full fortnight each May. It encompasses walks, talks and concerts in special venues throughout the region, from historic houses and vineyards to churches and purpose-built spaces.
Like so many live music events in the UK, the festival had no option but to cancel its 2020 season when Covid-19 struck. Ongoing uncertainty also prevented it from going ahead in its usual May slot this year.
But the festival is thrilled to be returning to the Surrey Hills with rescheduled dates this September, nearly 18 months to the day after lockdown restrictions were first introduced.
For the festival's close-knit community, it's likely to be a cathartic experience.
"I think a lot of people discovered a new connection to music during the pandemic. A new sense that it could bring solace, comfort or joy during difficult times," says Isabel Dawson, IIMF Festival Manager.
"And while you can always enjoy music when you listen to recordings, nothing can replace the frisson of excitement that you get from a live performance."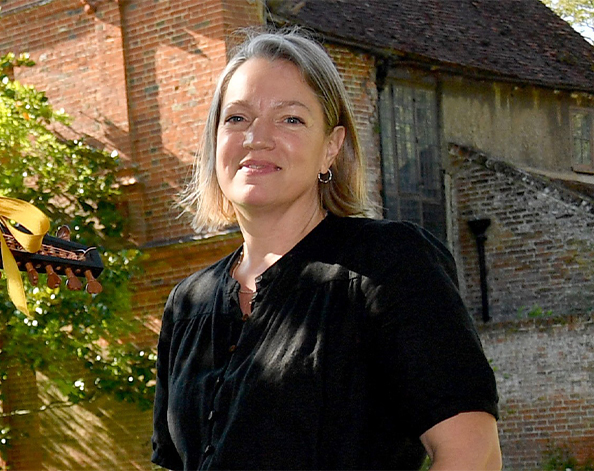 Isabel Dawson,

IIMF Festival Manager
Music is a way of expressing or channelling feelings and emotions that you might not be able to put into words.
Photographer: Alistair Wilson

Festival Co-Founder, Artistic Director and renowned pianist Wu Qian agrees. For her, nothing compares to performing live.
"The electricity you produce every time you're on stage; it's just an entirely different feeling. It's very special," she explains. "My first concert back after restrictions were lifted was emotional."
So, what can audiences look forward to in 2021?
World-class music, intimate settings
The festival's audience has grown significantly over the years as its scope has expanded, but community and intimacy are still at the heart of its identity.
"A more intimate setting creates a much warmer feeling," Qian says. "The artist and audience are creating and building the atmosphere together, rather than the artist simply projecting the performance onto an audience to digest."
Every venue is carefully chosen, not just for its size but also its unique ambience.
This year, the festival will be introducing two striking new venues: the beautifully refurbished Place Farm Barn at West Horsley Place and the stunning Garden Room in RHS Hilltop, a new building within RHS Garden Wisley.
"For musicians, when you're playing in a beautiful venue, you get extra inspiration," Qian adds. "And the audience can also enjoy their love for music in Surrey Hills, at the places they know and treasure most."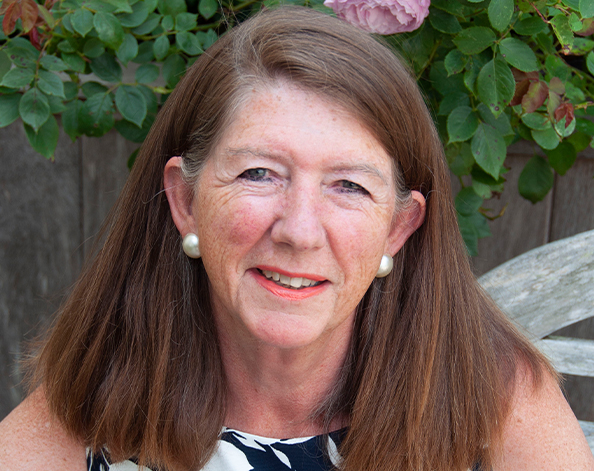 Julia Pearson,

IIMF Chairman
It's that combination of being able to hear such incredible music-making in some really beautiful, smaller-scale settings that gives the festival its unique identity.
Another of those treasured Surrey locations is RHS Hilltop, where the festival's closing concert will take place, with breath-taking views out across its spectacular gardens.
Audiences will get to see saxophonist and BBC Radio 3 presenter Jess Gillam, plus a performance of Piazzolla's tango-inspired 'Four Seasons of Buenos Aires' led by international violinist Alexander Sitkovetsky. 
As a business, since lockdown restrictions have been lifted, Investec is taking a very cautious re-entry to face-to-face activities. Likewise, after such a long wait, the festival is focused on making audiences feel comfortable about their return to live concerts and keeping everyone safe.
With the exception of the festival finale, all of the programmes will be performed twice over. This allows the festival to accommodate close to its normal capacity while still maintaining some social distancing among audience members at each of the two performances. People will also be encouraged to wear masks, with each venue thoroughly cleaned and aired between performances.
Giving music back to the community
The festival's Surrey Hills location has always been central to IIMF's identity. Both Qian and co-founder Tessa Marchington grew up in the county.
Tessa's musical family is local to the area, and Qian travelled to Surrey from her home city of Shanghai aged just 13 to take up a scholarship at the Yehudi Menuhin School, a specialist music school in Cobham.
It was while continuing their piano studies together at the Royal Academy of Music in London that the idea for a Surrey Hills festival was born.
"Surrey is like a second home to me, and we both decided that it was our turn to give back to the community that had given us our education," Qian says.
Introducing their musician friends to this beautiful area and giving them the opportunity to perform to such an appreciative audience was another key idea behind the festival's founding.
The exceptional quality of the music and performances is just one of the many reasons Investec has supported the festival over the last decade. We are also proud to be IIMF's long-term title sponsor and will celebrate the launch of our new Guildford office at this year's festival.
"The first year that I was involved, I was invited to a few of the events, and I was blown away by the sheer musical excellence of the artists," says David Richardson, Divisional Director at Investec Wealth & Investment and head of our Guildford office.
"That ability to deliver a world-class experience in a local area is very similar to the way we bring world-class investment management to the local audience in Surrey."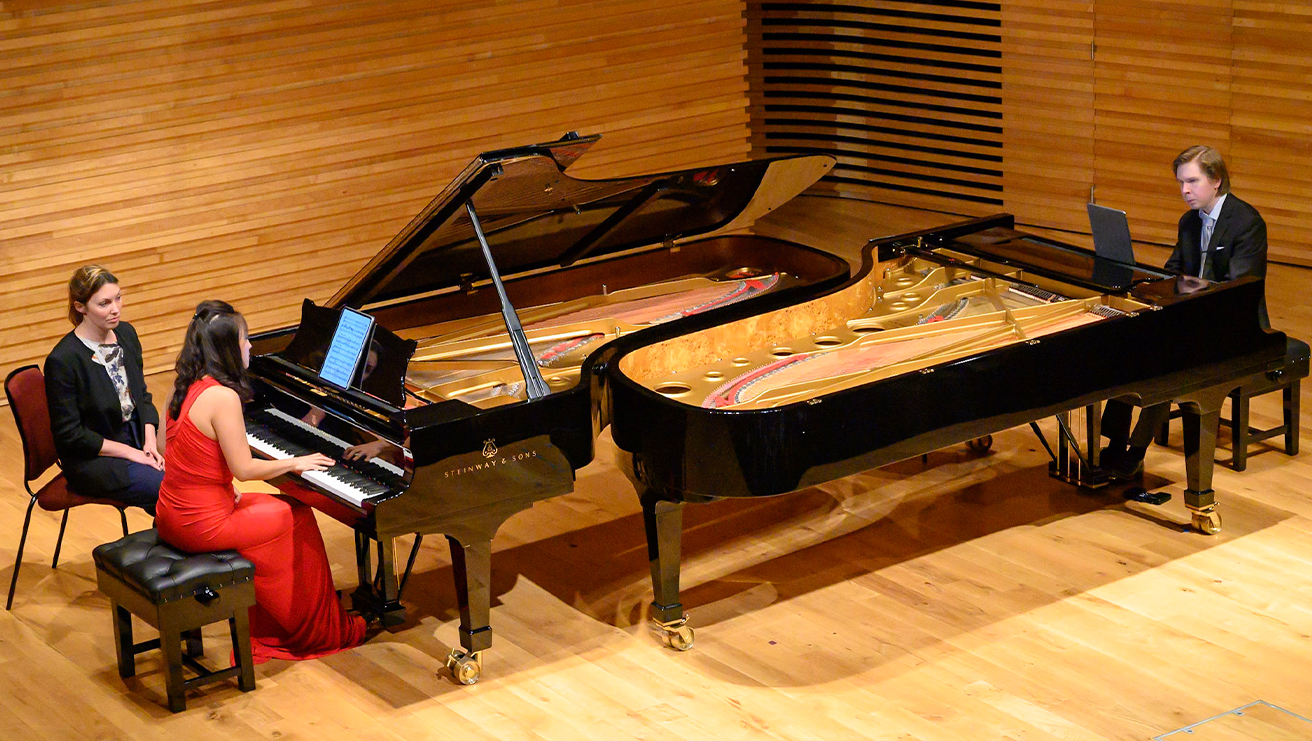 Wu Qian and Juho Pohjonen. Photographer: Glyn Powell-Evans
The importance of local partnerships
Chairman Julia Pearson joined IIMF in 2011, having been asked to set up and chair the Festival Committee. Qian says Julia's professionalism and wealth of experience in the arts has contributed significantly to IIMF's development.
"I've learned so much from Julia," she explains, "She brought a real focus on planning and preparation to the festival, and was instrumental in establishing the relationship with David and Investec, which has been key to our ongoing success."
According to Julia, links with other like-minded organisations such as Surrey Hills Arts, Guildford Book Festival, West Horsley Place and Watts Gallery are also hugely important to IIMF.
"These partnerships help us to expand our reach and enrich our overall planning, of course, but also the whole process of developing ideas together and supporting one another's initiatives all contributes to the wealth of cultural events on offer here in Surrey," she says.
And it's that sense of partnership which also informs the relationship between Investec and the festival. Both Julia and David see it as being an ideal fit based on shared goals and a keen eye for excellence.
"David is such an enthusiastic supporter of what we do. The festival has always aimed to present the highest calibre of music-making," she says. "And that focus on artistic excellence matches up perfectly with what Investec is delivering to its clients."
Inspiring the next generation
Bringing internationally-renowned artists and orchestras to the Surrey Hills isn't the only contribution IIMF makes to the local community.
As part of its charitable ethos, the festival is committed to promoting the learning of music in schools and encouraging the next generation of gifted musicians. Not only does it provide invaluable performance opportunities to young performers but IIMF also supports the local String Scheme.
Launched by the Royal Grammar School in Guildford in 2012, the scheme provides free violin and cello tuition to local Year 4 pupils under the tutelage of professional musicians and encourages the continuation of those studies through the Strictly Strings Orchestra.
IIMF has been involved since 2016, supporting the expansion of the scheme to Sandfield School. In 2018, it also secured funding from the Community Foundation for Surrey for a further expansion to Boxgrove School.
This year also sees the festival launching a new initiative – the Surrey Hills Young Composer Competition. Open to anyone aged 18 or under and living in or attending a school or college in the county, the competition invites budding composers to express what Surrey means to them in a compelling 4 to 8-minute composition scored for any combination of violin, cello and piano. The winning work will be premiered by the Sitkovetsky Trio at next year's festival.
"We really admire and support IIMF's ongoing community outreach work," says David. "It embodies the core Investec principles of creating enduring worth, and living in society, not off it."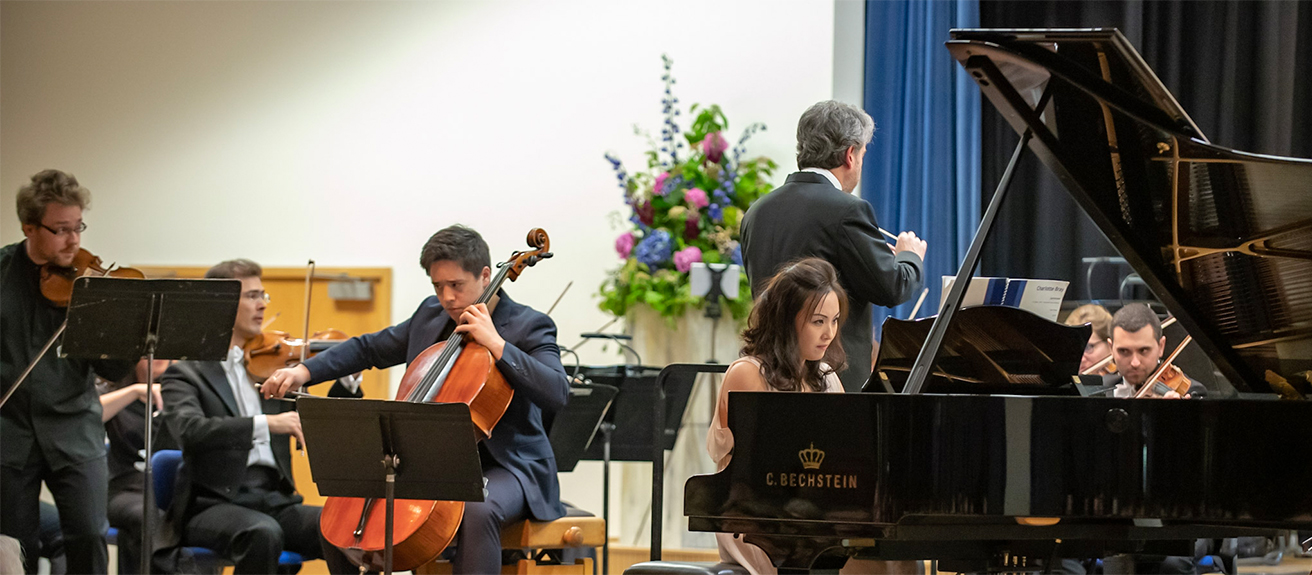 Sitkovetsky Trio, Pierre-André Valade, Philharmonia Orchestra. Photographer: Glyn Powell-Evans
Community, creativity, intimacy - these are all concepts at the heart of the festival. And they were all put to the test during the pandemic.
"The festival has developed a wonderfully loyal following over the years and coming together in the spring for our concerts is a regular feature in many people's diaries," Isabel explains.
"The cancellation of our live concerts in 2020 was of course inevitable, but we were very keen not to leave everyone in the lurch."
Instead, the festival committee decided to create a virtual event available to all via its website.
With much of the preparation already having been done, the festival went ahead with the production of its usual souvenir programme and commissioned musician and broadcaster Sandy Burnett to produce a series of podcasts exploring the music that was due to have been performed during the season.
Playlists were also put together that included all the works in the cancelled concert programmes.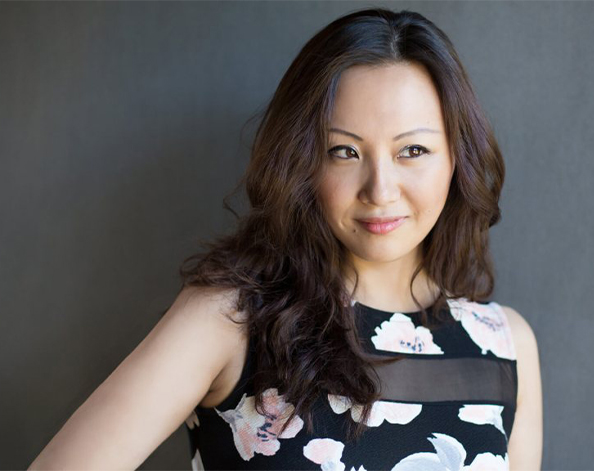 Wu Qian,

Festival Co-Founder, Artistic Director
We were all going through the same journey together. Festivals couldn't take place, but it was still very important and special to see everyone, united on the screen.
"We gave people everything they needed to recreate the concerts at home. On the day each performance was due to have taken place, we sent out links to the playlists and podcasts and said 'sit down in a comfy chair, pour yourself a drink, switch on the playlist, and enjoy your very own virtual festival!'," says Isabel.
"We really hope that it made people feel as though they were still sharing a musical experience together, albeit virtually."
That was in May 2020. But as the lockdown wore on, the festival was keen to do everything possible to maintain the sense of community among Friends of the Festival - a passionate group of supporters who also help the IIMF with its local charitable projects.
So, the festival organised a virtual reunion in the autumn too. Friends logged on, caught up on news and chatted about music, before being treated to online performances by both Qian and her husband Alexander.
"It was very moving," Isabel explains. "There was something particularly poignant about such powerful music streaming out from such a little screen on the computer, performed especially for us, to help keep everyone connected."
As communities, families and businesses emerge from such a challenging period and re-establish routines and relationships, this year's festival is likely to be particularly special.
"We haven't seen our audience for such a long time. It's going to be extremely emotional," Qian says.
Julia is confident this year's event will not only draw the festival's regulars, but also a fresh crowd of concert goers who are curious to explore new musical experiences in some of the Surrey Hills' most beautiful locations.
"I am beyond excited that after all the anguish of Covid, the festival will offer music lovers such a stunning array of concerts this month," Julia adds. "Long live live performance!"
Find out more about Investec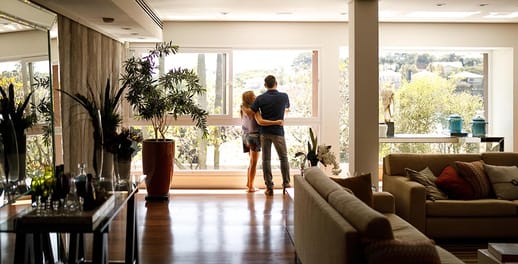 Private clients
From private banking to wealth management and investment services, you can receive tailored financial solutions, whether you are aiming to actively grow your wealth or seek optimal returns on your capital. We can help fuel your success by building a relationship with you for the long term.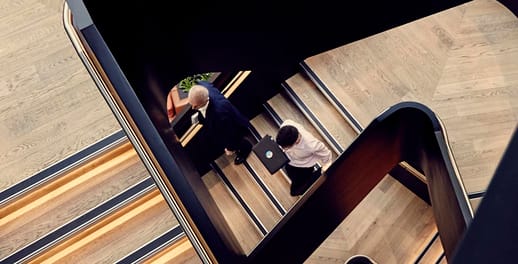 Corporates and businesses
Access a comprehensive range of solutions spanning capital, advice and treasury risk management. As an international corporate and investment banking business, we work with growth-orientated companies, institutions and private equity funds.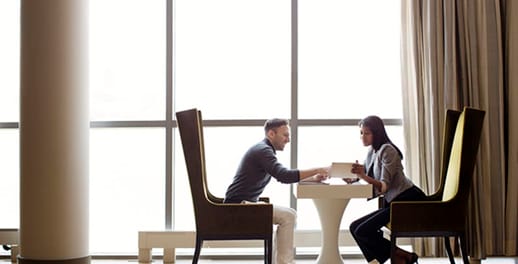 Intermediaries
Whatever your clients' goals and ambitions, our flexible range of intuitive, market-leading products and services help you deliver on their needs, enhance your reputation and reduce your admin burden, freeing up more time for you to focus on financial planning. 

More insights from Investec