Partnerships are powerful. Truly great things can happen when we work together, and at Investec we're so proud of the relationships we've developed with our community partners Arrival Education and the Bromley by Bow Centre over the past 10 years in London. The multiple-award-winning investment education programme Invest for Success and social enterprise incubation programme Beyond Business are just examples of that.
To celebrate this double 10-year anniversary, we invited students from Arrival Education and entrepreneurs from Beyond Business to join Investec colleagues on a hackathon with a difference – focusing on answers to pressing social and environmental issues – which we called the Investec Challenge. 
Over the day, teams were asked to ideate and collaborate on innovative solutions to tackle environmental issues. The three themes for the day were air quality, water usage, and consumerism. These issues were selected not only because of their global importance but also because they lie at the heart of Investec's sustainability ethos.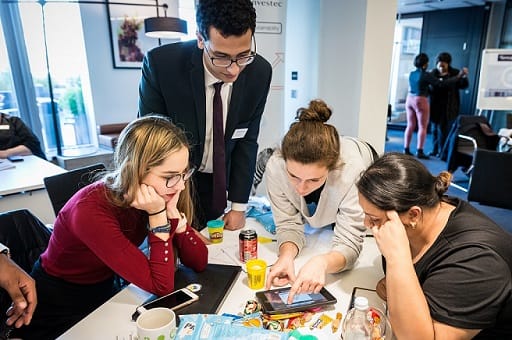 The winning team was Team Fresh, made of Saige Davar (Investec), Yaser El-Ashaal and Priyesh Patel (Arrival Education students), and Joanna Hamer and Sabeha Miah (Juta Shoes co-directors)
The teams were given fact books and some thought-provoking questions to get started, but also came up with their own research of problems and areas that they had identified. 
This was reflected in the diversity of ideas and solutions brought forward by the teams. At the end of the day, each team presented their solution to a panel of judges. I was on the panel alongside Kim from the Bromley by Bow Centre, Daniel from Arrival Education, and Trewin from our environmental partner Hubbub. While identifying the problem and coming up with the solution, the teams also took part in bonding challenges. 
The winning team was Team Fresh, which came up with a thoughtful air quality campaign, #LetUsBreathe. It involved raising awareness of London's worst polluted areas, and the negative effects of air pollution on children. The idea involved a traffic light system in the city, warning pedestrians of particularly polluted hot spots, encouraging them to walk lower polluted routes. 
The campaign also included awareness-raising exercise with primary school children, where they would create gas masks as an arts and crafts project, to wear on their way to and from school. As a team of judges, we particularly liked this 'shock tactic', as it may just take something as bold as that to encourage urgent action and pressure to reduce air pollution and our exposure to it. The team also came up with the idea of an app with tips for people to reduce their contribution to air pollution. 
'It may just take something so bold as a shock tactic to encourage urgent action and pressure to reduce air pollution'
Also concentrating on the issue of air quality, another Investec Challenge team, the 'Aerosmiths', developed a month-long pollution awareness campaign called 'FebuAIRy', which was modelled on Stoptober and Movember. FebruAIRy would dedicate the month of February – the month of love – to promote giving each other the ultimate gift of cleaner air.
The other teams also presented exciting ideas. For example, team H2Low came up with a campaign to raise awareness about water use and the hidden water 'cost' of clothes, using interactive campaigning and advertising. Team 5Stars thought of an interactive labelling certification, similar to 'fairtrade' and 'organic', that would mark products with the highest water-management standards. 
Finally, Team TWP conceptualised an app to encourage upcycling of products within online communities.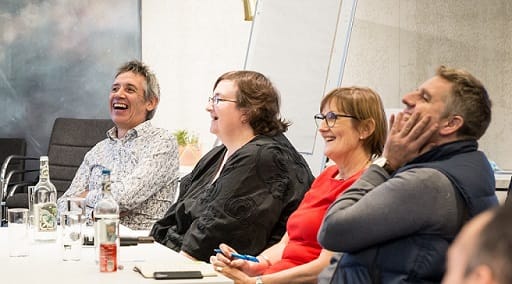 The panel of judges of the Investec Challenge. L-R: Trewin Restorick (Hubbub), Kim Hayman (Bromley by Bow Centre), Teresa O'Brien (Investec) and Daniel Snell (Arrival Education)
All Investec Challenge teams were encouraged to share and draw upon each member's ideas, but the final solution was the product of collaboration. It was fantastic to see students, entrepreneurs and colleagues drawing on their own strengths and working together on such important and urgent topics such as waste, air pollution and the throwaway culture. 

The ideas and points raised are now being considered by Investec's environmental champions, Team Green, to take on board and bring to life within the business in the near future. 
More insights from Investec