Receive Focus insights straight to your inbox
In January 2000, Pets.com paid $1.2 million for a 30-second Super Bowl ad. The business went public the following month. It was liquidated just 268 days later, wiping out $300 million of investor capital. 
Was the business model delusionary? Yes. Did it get caught up in the dot.com bubble hype? Absolutely. Was the idea of using the internet to sell pet food and accessories direct to consumers a bad one? Judging by the number of businesses doing it successfully today, no.

The gap between great ideas and solid business models is widest in the early stages of technological innovation. Hype can make the gap look smaller than it really is, enticing fundamental-lite investment flows.

In many respects, the metaverse finds itself at that juncture. Its possibilities are hype-inducing. Whether they translate into investable business models is the question.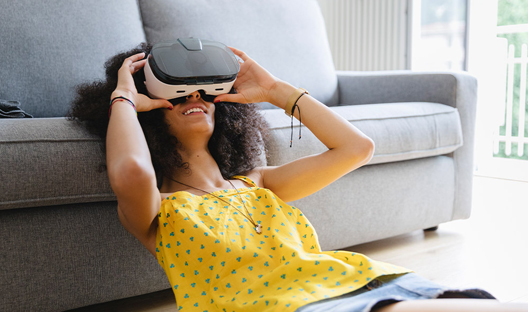 The metaverse can be thought of as an integrated network of 3D virtual worlds that are accessed via virtual/augmented reality headsets where people (or their avatars, to be precise) congregate to have online experiences that are richer and more immersive than those accessed via 2D screens.
Fad or fixture?
For many, the idea that a cryptocurrency or non-fungible token (NFT) can be worth anything is more barking than the Pets.com business model. But just as the latter didn't bring down the internet, scepticism around the former should not be used to discount the staying power and utility of the metaverse.

Why is it likely that the metaverse continues to proliferate? It comes down to the experiences it will allow us to have, with a particular focus on the following areas:

·       Gaming
·       eSports
·       Entertainment
·       Social (both work and recreational)
·       Retail
Note that we already do all the above online. The metaverse will simply offer enriched, more immersive experiences of those same activities, the quality of which will improve as the graphics get sharper.

"When I speak to people who doubt the utility of the metaverse, I ask them to imagine an event they would love to attend but can't. Then I ask them whether they would prefer to watch that event on a 2D screen, or experience it in 3D, alongside friends and other enthusiasts, aka the metaverse. That usually brings them around to the idea," said Simon Lapthorne, Senior Research Analyst at Investec Wealth & Investment UK.

If you're a fan of reality, you might not like the idea or consequences of humans spending more time in virtual spaces. But personal beliefs rarely make for good investments; the zeitgeist matters more: In 2020, over 12 million people attended a virtual concert held by rapper Travis Scott within Fortnite's metaverse.  

Travis not your type? How about experiencing the Ashes or Wimbledon as if you were inside the stadium? Sure, being there in person would be better; but a VR headset and internet connection will be much easier on your pocket and time.       
Read more: The wealth management guide to the metaverse …. and the real world
The metaverse value chain
If the experiences in the metaverse continue to attract more people, those building it stand to make money (that's fiat, not crypto). The underlying value chain is multi-layered and varies in terms of its complexity. It is well illustrated in the below graphic.(thanks to Jon Radoff).

Source: 'The Metaverse Value-Chain' by Jon Radoff, Medium.com, 7 April 2021
When you think about investing in the metaverse theme, it's the companies that operate in the above layers – and not the cryptocurrencies and NFTs – that should come to mind. To be sure, digital currencies and assets will play an integral part in metaverse commerce:
"Despite our lives being increasingly digital, we rent everything. NFTs are a mechanism to register and assign property rights to digital goods where ownership is desirable. I think that's going to be a very interesting and powerful trend," said Chris Becker, Blockchain Technologies Lead at Investec Bank.
Read more: New gold rush: the rise of NFTs in crypto art
That said, the higher levels of subjectivity around the worth of a Bitcoin or CryptoPunk, for example, make them moody and sentimental, not traits suited to most investor portfolios.

Given the shininess of the metaverse, you might expect the companies in its value chain to be unheard-ofs. You'd be surprised how many blue chips there are in the mix.

Source: Building the Metaverse, Jon Radoff, 3 June 2021
The metaverse is an insignificant contributor to revenue and bottom line for the recognisable names in the above graphic. And it will likely remain that way for years to come. Investors who want to take a wait-and-see approach as to the legitimacy of the metaverse investment case can do so by simply holding the blue-chip tech names. 
"For investors who hold stronger conviction around the pulling power of metaverse experiences, there is a long tail of companies more geared to the proliferation and success of virtual realities. Some are racy, like a digital clothing retailer for your metaverse avatar, and some are more fundamental, like game creation platforms," continued Lapthorne.   

In scouring the metaverse value chain for investment opportunities, it pays to remember an age-old investing axiom: Invest in what you know and understand.

For example, your author can get his head around the semiconductors needed to power the devices that will transport people into the metaverse. He is less surefooted around – and therefore unqualified to invest in – geospatial mapping and edge computing. 

The railway caveat
In the mid-1800s there was, believe it or not, a railway bubble in the UK. A lack of regulation, favourable economic conditions and high historic returns incited wild, speculative investment. Sound familiar?

UK railway stocks lost nearly 70% of their value between 1845 and 1850 as the bubble deflated. Many didn't survive the rout, but the rail infrastructure they had built did. And huge economic value was later derived from those networks of sleepers and steel.

In other words, it's often the users of infrastructure, rather than its builders, that benefit the most. The same could be true for the metaverse. What does that mean for investors?

1. Just because a company is integral in building the metaverse, doesn't make it a slam-dunk investment

2. Companies building services on top of the metaverse infrastructure may have more to gain at lower risk

If knowing where to invest in the metaverse ecosystem is important, so is when to invest. 

A tech truism
"In economics, things take longer to happen than you think they will, and then they happen faster than you thought they could." – Rudiger Dornbusch

Nowhere is that truism more applicable than in the realm of tech. Our imaginations run wild as the possibilities of some new technology become clear. And we shoo away real-world limitations that might bring our enthusiasm (read hype) into disrepute. That human tick causes FOMO and bubbles.

Somehow, when the technology catches up, we underestimate the speed at which it'll be adopted. Consider, for example, that it took just a decade for smartphone penetration in South Africa to exceed 90%.

The potential corollary to this too early, too late tendency is to be sceptical of hype, but not to dismiss it entirely, a polar reaction that's become all too common in our increasingly tribalistic psyche.

Are there a few Pets.com business models floating around the metaverse. Yes. Is there a gap between the possibilities of the tech and actual tech? Absolutely. Does that mean the idea of virtual world experiences has no merit? Seems unlikely.

This Focus article also forms part of the Business Class series. For more insights into other Business Class content, click the image below:

Get more Investec Focus insights into innovation