Receive Focus insights straight to your inbox
South Africa is ranked 116 in a group of 140 countries for digital skills among the population, according to a 2018 World Economic Forum (WEF) Global Competitiveness report. And consequently, in a country with an unemployment rate of 29%, many local companies are struggling to find digitally proficient candidates.
When it comes to digitally upskilling those who are most in need of jobs, it is not a case of simply introducing tablets and computers to schools where even the most basic infrastructure and skills are lacking. A more sustainable approach is to bend the culture in rural communities so that all stakeholders value and have access to the type of learning that the future requires.

This is the belief of the Good Work Foundation (GWF), an organisation bringing world-class digital education to rural Mpumalanga in five digital learning campuses for nearly 8,000 learners every week.    
Investec has a commitment to the UN Sustainable Development Goals. In an exploration to possible solutions, we are highlighting the complexity of the issues and curating a series of expert speakers who address the role technology can play in scaling solutions. In addition to this we are showcasing innovative business and funding models that help address the social and environmental challenges in new ways.    
"We're not looking to use technology to reach mass quickly. A model that is sustainable must be about bending the culture and it must be about an approach where it's slow, it involves everyone in the community and then tech can be used to complement that," says Ryan James, GWF's Head of Development.

He was one of five panelists who spoke in the second instalment of Investec's Tech4Good event series that was focused on "access to equitable and quality education."    

Gamification of education
The centres offer youngsters lessons in English, Maths, digital, and conservation literacy and life skills. The lessons form part of their school timetable. With the help of facilitators, who are trained community members, the children spend 90 minutes at the centres every week.
"The model was born out of a desire to create wonder and joy in the learning process.  Tech was used because if you have something that's gamified - apps that a child can play over and over again and develop those deep neural pathways in the brain through repetition and deep learning, then naturally your . Maths and your English results are going to improve," explains James.

And the proof of this approach is in the results. "We saw improvements of over 50% in the first Grade 4 cohort that came to the Hazyview Digital Learning Campus," says James.

"Putting a laptop or a tablet or any technology in front of a child doesn't do anything.  Putting an environment around a child that promotes curiosity and is first and foremost about the joy of learning does a lot. Once curiosity is nurtured and harnessed a young person starts to understand that they're not reliant on another person for knowledge."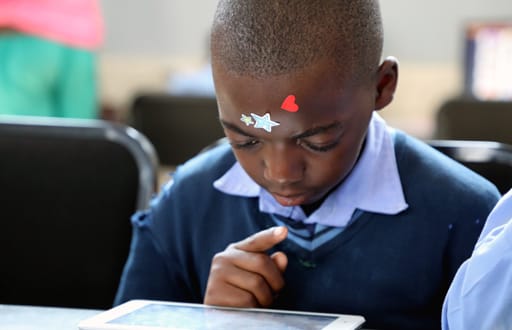 Building a digital ecosystem
The buzz around the centre has caught the attention of both parents and teachers who also want to learn digital skills. It's opened up a network of rural schools who want to participate in GWF's Open Learning programme. Over and above the intervention in primary school, GWF also has learning programmes and career academies for adults in computer skills, work readiness, media and information
technology.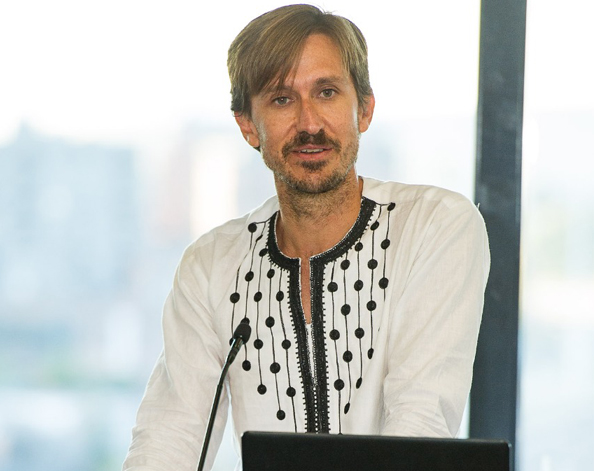 Ryan James, Head of Development, Good Work Foundation
Once the adults in the community are given skills to join the digital marketplace, we have the opportunity to develop the digital marketplace in that rural area.
GWF also created an IT service desk to employ some of the young adults who have gone through their IT Academy. This services customers like Consol and Fiat Chrysler. All profits go back into GWF which allows them to expand their offering.
"We were able to go beyond Maths and English and look at coding, robotics, planetary health and conservation," says James who explains that the creation of a social enterprise has meant community members now value this way of learning."

"All of a sudden there's an enterprise, a profitable business in a rural

village of Mpumalanga where young people are engaged in a job that requires technical skills and skills that are plugged into the technology economy and they are producing value for their community."

The network effect
One of the biggest perpetuators of poverty is a lack of supportive networks in rural areas that give learners opportunities to improve their lives. For the 55% of South Africans who are living in poverty, mainly in outlying areas, there are not enough local businesses to absorb that poverty.
GWF seeks to be the network that people never had. "We have developed networks around our campuses where we've identified the needs of employers and of the main industry [in the area], travel and tourism and IT, and we're starting to connect our alumni to opportunities in those industries," says James.

This partnership has allowed hundreds of youth to enter the jobs market in the crucialn wildlife economy surrounding the Kruger National Park. GWF is also catering to aspiring entrepreneurs, by creating programmes that give them the tools to start their own businesses and partnering with companies who specialise in entrepreneurship to support them on their journey.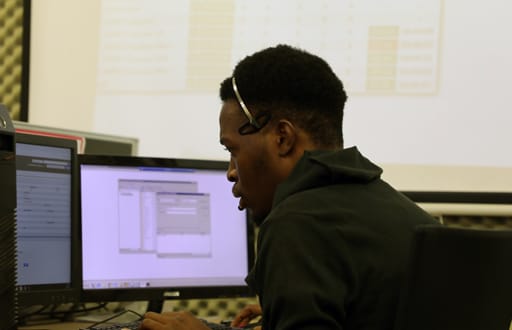 Building strong relationships across the board has given GWF the freedom to grow its impact without a lot of restriction. "We're actually quite agile in rural South Africa, we don't have as much red tape, and therefore we've got a lot more space to be creative in developing new solutions in the education and social enterprise space," concludes James.

About the author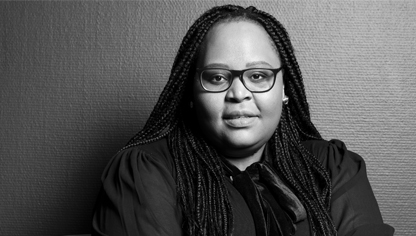 Lenyaro Sello
Digital content specialist
Lenyaro is a key member of Investec's Global Content team, based in Johannesburg, who focuses on relevant and topical issues for internal and external audiences including clients. She is a well-travelled multi-skilled multimedia journalist who previously held roles within eNews Channel Africa (eNCA) and Eyewitness News (EWN).