Winning a gold medal at the Olympics is a dream of almost every professional athlete. Standing at the top of that podium is a testament to all the hard work, dedication and sacrifices made over the course of a career.
Half the world's population tuned in to the Olympic Games Rio 2016. In the Netherlands, nearly two-thirds of the entire country's TV viewers watched their international team attempt to defend their Women's Hockey London 2012 crown.
However, it was Great Britain who clinched the gold in a thrilling penalty shoot-out after a 3-3 stalemate in normal time. The Brits would go on to win 2-0 on penalties, with GB goalkeeper Maddie Hinch making a string of heroic saves.
What's next for the GB squad? How do players who have reached the very peak of the sport find the motivation to do it again? Opponents can train harder to try and become stronger and faster opponents, but how can a more intelligent approach help the GB squad stay one step ahead?
Alex Danson talks to Clare Balding about the team's 'winning after winning' mentality, and what makes good players great players.
Alex Danson talks to Clare Balding about the team's 'winning after winning' mentality, and what makes good players great players.
How can Rio's Olympic gold be repeated in Tokyo?
Of GB's current squad, Alex Danson (who is currently recovering from an injury), Hollie Pearne-Webb and Giselle Ansley know first-hand the challenges of maintaining the winning momentum after a life-changing sporting accomplishment.
While many of the Rio 2016 gold medallists have since retired, these three remained in the squad and continue to be an inspiration for future generations of hockey stars.
"Going forward, there's always more work to do; that's the beauty of sport. Without question, that's what keeps an old girl like me keep coming back and back and back. You have to recreate your identity, you have to try and recreate success, you have to welcome in the old and the new in equal measures and be brilliant together," Alex explains.
'Winning after winning' isn't just a vague aspiration for the team; it's an oft-repeated motto that is firmly embedded in the squad's ethos. They were confident of reaching the same level of physical fitness but knew other teams were just as capable. It was the mental attributes that could give them the edge, using a more intelligent approach that didn't just rely on being stronger or faster.
Giselle remembers how quickly the team was expected to start thinking about and training towards the next victory.
"Two days after we won gold at the Olympics our then coach (Danny Kerry) said he was already plotting and planning our 'winning after winning' strategy. As he put it: 'You've reached the moon, and now you've got to go even further and do it again'. It's all about finding the motivation, determination and drive to do that all over again," she adds.
Hollie scored the winning penalty in the Rio 2016 final, so she is uniquely placed to discuss what success feels like at the very highest levels. She immediately knew she wanted to remain in the squad, setting her sights on qualifying for Tokyo 2020 and defending GB's Olympic gold.
"I knew it would be a more difficult task to retain the gold. It's one thing winning it for the first time, but it's another thing entirely trying to replicate it all over again with a brand-new squad and teammates. I instantly knew that was the goal."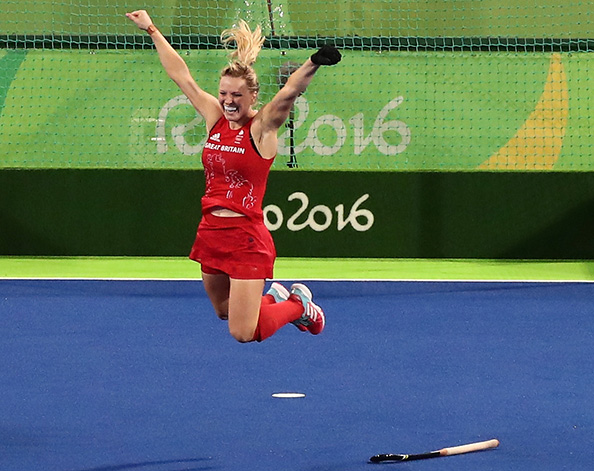 Hollie Pearne-Webb, on how it feels to win Olympic gold
I remember being on the pitch in Rio and talking to my parents on the phone after the game. I remember thinking – 'okay, this is amazing. It's the best feeling ever and I want to do it all over again'
Defender Anna Toman and forward Hannah Martin weren't part of the Rio squad, but the 'winning after winning' mentality fostered by their gold medallist teammates has clearly had an impact on their ambitions.
"The Rio girls were the first gold medallists ever, but it now needs to be done twice. There are always going to be records to beat and, thankfully, they're the ones that really set the tone in training every day," Anna says.
Hannah has a similar outlook. She and Anna were called up to the squad at the same time, and while they may not yet have gold or silver medals in their trophy cabinets, both have won bronze medals (at the 2018 Commonwealth Games, 2017 World League and 2017 EuroHockey) and know the elation of winning.
Leading up to Rio, the mantra was 'create history, inspire the future and be the difference'.
"There's nothing better. There's literally nothing better than that winning feeling and looking beside you and just looking at your teammates and knowing that you've all put in everything you can to achieve," Hannah states. "But it's that next step of achieving the hockey player I can be, and doing that through pushing myself both on and off the pitch in everything I do."
It's no accident the newer players have such a pragmatic attitude towards success. They are well aware of the importance of how they approach games mentally – and why it's not just their physical conditioning that can help them succeed. According to Giselle, the squad is always tailoring its vision to create a set of values and behaviours that propel the team to the next level. Leading up to Rio, the mantra was 'create history, inspire the future and be the difference'.
"For us, it was important to continue with that vision and it allows people who weren't selected for the Olympics to feel they had a connection with something far greater than a gold medal," Giselle explains. "It's so special that we can continue to grow our sport, and
whether you've been to the Olympics or not, you're still massively important in that journey."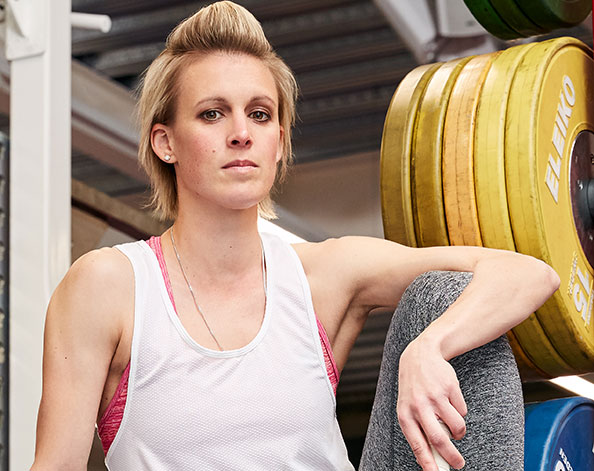 Alex Danson, on maintaining a winning mentality
We talk in our environment about winning after winning. It is the greatest challenge, but it will be the greatest privilege.
A positive, yet down-to-earth culture is clearly at the heart of the GB squad's winning mentality, but what motivates the players on a personal level? The answer is almost unanimous: team spirit.
"What keeps me going? First and foremost, my teammates. Being in a competitive high-performing environment where people are trying to give their best every day," Alex says.
Hollie echoes these sentiments. She's always looking at the bigger picture and trying to pinpoint exactly where and how the squad can improve, but this is only possible because of the level of talent around her. But she stresses that it stretches far beyond spending longer in the gym or doing sprint training.
"I think that positive mental attitude for me is easy to have, purely because I have belief in this squad and my teammates, and what we can achieve. I can see it in individuals, and I'm 100% confident we can achieve what we want to," she adds.
Giselle believes the mind is a crucial aspect of winning after winning. After getting a taste of standing on the Olympic podium, all the Rio gold medallists who stayed in the squad want a repeat performance. This means encouraging your teammates to reach their full potential, using their knowledge of the game to outwit opponents, not just their physical prowess.
"The drive to always be better is huge. To make every single session count. You also want your teammates to be better. You want to help your teammates, because - ultimately - once you step on the field, you're not going to win the game on your own. You're relying on the 17 other people who are going to step onto that pitch with you."
After getting a taste of standing on the Olympic podium, all the Rio gold medallists who stayed in the squad want a repeat performance. 

Anna says she has no desire to play a sport by herself. The shared experiences of competing, winning and continuing to succeed are intrinsic to her love for the sport.
"I want to celebrate with my teammates. You've seen all the hours they've dedicated, and you've had really tough times together. So, if you get to celebrate your success at the end of it, that's why we're here and why we do what we do," she says.
Hannah agrees. The joy of winning is a feeling she says is indescribable, but those moments are the ones every athlete remembers.
"We'll always look back and have such fond memories of winning alongside our teammates. But, ultimately, they are also your really good friends."
Investec is the principal partner of the England and Great Britain women's hockey teams, and the title sponsor of the Investec Women's Hockey League and women's knockout competitions.
Winners act fast, but think faster
More insights from Investec