You'd be forgiven for glancing at the sports pages and presuming that international sport is solely about elite physical specimens competing to become the fastest, the strongest or the biggest.
While physical attributes play a role, such is the competition at the highest level it can only take you so far; it's the intelligent approach, lessons learned from those who have been there before that give the very best players that crucial edge.
Key to success in any sport is how performers draw knowledge from talented, like-minded individuals who can help them reach their potential - and hockey is no exception. But who do those international stars turn to for advice when they are at the pinnacle of their game? In other words, who inspires the inspirational? 
Choosing the right role models
England and Great Britain (GB) defender Anna Toman doesn't have to look far for an uplifting role model. She is fortunate enough to play alongside Olympic gold medal winner Alex Danson, who is currently recovering from an injury.
"Alex is someone I've always looked up to from a young age. She was a player that I've always admired," Anna explains. "She's an absolute inspiration to all of us. She lives by our values, day in, day out, and I couldn't imagine a better person to be my captain. I learn from her every day."
Theirs is not just a traditional mentor-mentee relationship, however. Anna is quick to point out that Alex welcomes everyone into the squad like family and is always keen to learn from her teammates.
"She seeks advice from us in certain situations, and I love that about her. Alex continuously wants to learn, even from us, and I'm so honoured to be in that situation," Anna adds.
It's no surprise Alex sees learning as a two-way street. When she first joined the GB squad, she was surrounded by childhood heroes such as Tina Cullen and Mel Clewlow. It was their knowledge of the game that gave her the competitive edge to compete against bigger, more experienced opponents. They quickly welcomed Alex into the fold and fostered a supportive environment that she would later recreate herself as captain.
"I looked up to them, and I wanted to learn everything I possibly could. They taught me how important it is that you feel part of a team, whether you are the youngest or the eldest player. I was made to feel like that very very early on," Alex says. 

Anna Toman, on the role of role models
Alex (Danson) is an absolute inspiration. She lives by our values, day in, day out. I learn from her every day.
Hockey is a team sport, and Alex is a firm believer in checking your ego at the door. The squads that win tournaments may not always contain the greatest individuals, the fastest sprinters or strongest hitters, but collectively they are the group of players that approach the game or tournament most intelligently.
"Every single time we step on the field, it's an opportunity. The key values of this group of women is we are tight, we are together and everything we do as an individual is for the good of the team. We don't have superstars," she explains.
'Everything we do as an individual is for the good of the team. We don't have superstars.'
For Anna, the partnerships forged with her GB teammates are just as important for helping her through the difficult times as they are when the squad is flying high. She credits the team's close-knit nature for helping her rediscover her composure and form. It is this
understanding that allows them to act instinctively and outperform teams that act as a collection of individuals.
"You have to look towards your teammates, and we're always there for each other. We have a great support staff, so we can look to them as well, but your teammates are the ones that have probably been through it themselves," she adds.
Anna is no stranger to having her confidence knocked. Before her eventual call up to the GB squad, she had previously trialled for the team and failed to secure a spot. She now knows players who are in a similar position and has some sage advice.
"I say to them: 'Look what's happened to me. I've gone away, I've had new life experiences and I've come back and got in. Absolutely never give up. You're young and you've got so much to give'."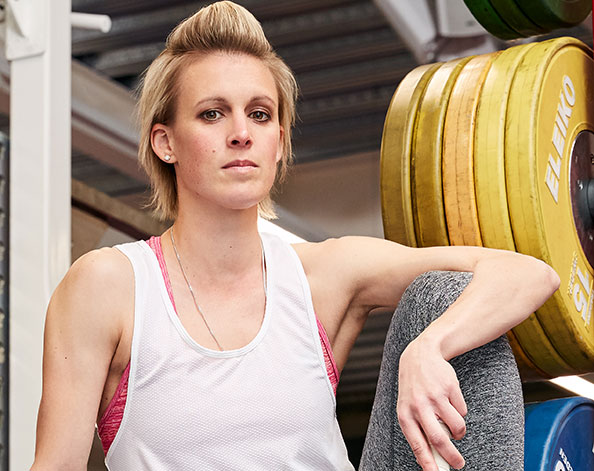 Alex Danson, on the importance of building team spirit
When we have new members in our squad, I hope they are instantly welcomed in, and they instantly understand how equally important they are. Every single one of us has a job to play. I believe that's what creates success.
Mentoring the next generation
Alex may have more years under her belt than Anna when it comes to being a role model to the next generation of budding hockey stars, but she takes the responsibility just as seriously as ever. When she was 14, she saw Tina Cullen play for England in a World Cup qualifier at her local stadium in Milton Keynes.
The experience inspired Alex not just to play hockey professionally, but also to emulate Cullen's approach to the game: intelligent, determined, skilful and team-oriented. Now, she's the one inspiring youngsters to pick up a stick and pursue their dreams, using not only their physical attributes, but also helping them understand how the right mental approach can give them the edge.
"Being told that you've potentially had an impact on a young person wanting to take up the game or play for GB is probably up there as one of the greatest things you can be told as any sportsperson," she says.
So, what key qualities does Alex want to see from hopeful up-and-comers? Her answer may come as a surprise.
"I would have character over talent any day, and I know that's controversial. You can learn the skills; you can learn how to do things. But players who just want it more than the next person? That's the teammate you want standing next to you every day."
With the ongoing success the GB squad continues to achieve under Alex's leadership, who can argue with that?

Investec is the principal partner of the England and Great Britain women's hockey teams, and the title sponsor of the Investec Women's Hockey League and women's knockout competitions.
Winners act fast, but think faster
More insights from Investec