Sporting achievements across the world are littered with family successes – think Venus and Serena Williams in tennis, Steve and Mark Waugh in cricket and Jack and Bobby Charlton in football, to name just a few. While most people can recall their favourite winning combinations, rarely do a parent and child share such success in the same event. It took until the 233rd running of the Derby for a father and son combination to ride to victory, with trainer Aidan O'Brien and jockey Joseph.
Aidan O'Brien looks back with fondness to 2 June 2012, when Camelot passed the finishing post ahead of the field with his son Joseph at the reins: "It was very special, it's one of those days we'll never forget. It was 10 years since we won it and Joseph was very young, he was only 19 at the time."
When the pair speak, their softly spoken voices punctuated with flickers of pride and mutual admiration as they remember their winning partnership,it is hard to imagine either being fazed ahead of the day's racing.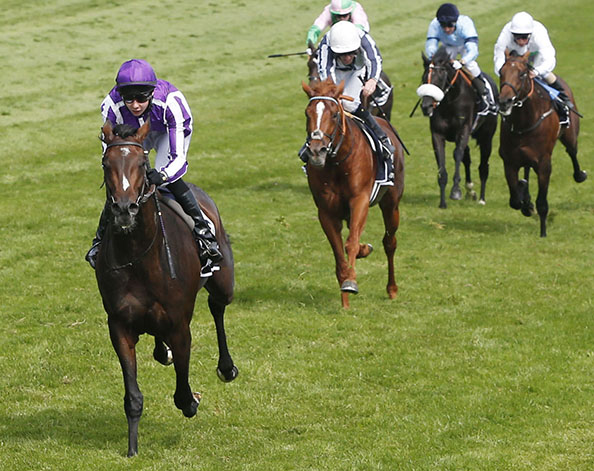 Aidan O'Brien, Investec Derby winning trainer, whose son (pictured) rode Camelot to victory in 2012
He came with this sail down the outside and his rhythm carried him straight through. It was one of the greatest days of all.
Aidan added: "If he was good enough Joseph was going to win on him. He had his homework done, he knew the horse inside out. He did everything with him. He'd given an incredible ride to win the Guineas and we felt that was going to be the tough one. If Joseph was able to get him to win the Guineas there was a really good chance that he was going to win the Derby."
Given the 10-year gap since his previous success in the race, he could be forgiven for feeling the pressure, but Aidan remained unbowed: "We had a lot of seconds and thirds, so we were very happy with the way they were running. It takes a unique horse to win the Derby, we weren't under any illusion about that. Galileo and High Chapperal [winners for Aidan in 2001 and 2002, respectively] were two unbelievable horses."
5
Lengths - Camelot's winning margin in 2012
10
Years since Aidan O'Brien's previous Investec Derby win
19
Joseph's age at the time of his win
Dealing with the pressure
At such a young age, in his second Derby and with 8 Group One winners behind him, Aidan's son found himself on an odds-on favourite for the greatest flat race in the world. Was it just a case of tackling it like any other race?
Joseph recalls: "You do feel the pressure a little bit on the days like that, but once you get into the parade ring and you're getting ready to get up on the horse then you step into a different kind of zone. It's about getting to the start in as relaxed a manner as possible and all the different targets that you have to hit along the way."
Aidan adds: "Obviously the Derby is a tough race but I remember Joseph saying to me in the Guineas that when he walked the track that he could be last at half way, but not to worry about it, and it was the same in the Derby.
"He put him asleep at the first half of the race, he was well out of it. But he came with this sail down the outside and his rhythm carried him straight through. It was incredible, one of the greatest days of all."
Like his father, Joseph is happy to step out of the limelight, passing praise on to the wider team involved during the day: "[Camelot] coped with it extremely well. He was a horse you could race a little bit free and he was obviously by Montjeu, so you're always worried that there is a little streak in him, but he was a very talented horse. He had an awful lot of class and an awful lot of speed.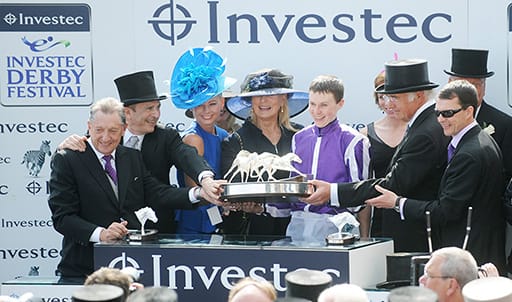 Joseph O'Brien, centre, flanked by owners Derrick Smith, Mrs John Magnier and Michael B Tabor, and Aidan O'Brien, celebrate with the trophy after winning the 2012 Investec Derby with Camelot
"Once he got to the start as relaxed as he did, I remember cantering and the reigns were looped on his neck. Once we'd got to the end of the straight, I knew then that the occasion wasn't getting to him. That is great staff, great lads with him in the parade ring, and all those things made a big difference."
'When Joseph was riding him I didn't have any worries. He knew and thought more about it than we did.'
Aidan observes: "When Joseph was riding him I didn't have any worries. He knew and thought more about it than we did,he was fully focused from the time he was a two-year-old so we knew he was going to get every chance. Joseph rode him very cool. It's a very hard thing to do on a very short priced favourite. When he came with one run and his run carried straight through to the line, so it was just an incredible day."

Running in the family
Joseph isn't the only one in the family with eyes on rewriting history. Aidan's daughter Ana rode 66-1 outsider The Anvil in 2017, becoming the third female jockey to run in the Derby. Her career suffered a setback when she suffered a horrific fall in July 2017, in which she fractured vertebrae in her neck and back and also fractures to her cheekbones, but after spending months in a neck brace, she has made a return to riding out.
More recently, Aidan's youngest son Donnacha enjoyed his first Classic success in early May, riding Derby favourite Saxon Warrior to victory in the 2,000 Guineas at Newmarket. While Ryan Moore is expected to ride the colt in next month's Derby,who's to say another family first isn't on the horizon?