Get Focus insights straight to your inbox
South Africa's creaking healthcare system is beset with challenges: an inability to deliver primary care to outlying communities, failures in governance and management and a severe shortage of skilled healthcare workers. Throw a pandemic like Covid-19 into this mix, along with South Africa's high incidence of HIV, diabetes, high blood pressure and TB, and these challenges suddenly appear to go from daunting to insurmountable.
With the country rolling back lockdown restrictions to level 3 – part of the phased, risk-adjusted approach to reopening the economy – a lot more people have begun circulating in society. The resultant spike in infections could prove to be the most severe test to our health system since the height of the HIV pandemic in the early 2000s. 
According to the SA Covid-19 Modelling Consortium (SACMC), Covid-19 cases are expected to peak somewhere between July and August – respectively the consortium's best- and worst-case scenarios. Led by National Institute of Communicable Diseases (NICD) doctor Harry Moultrie, this group of experts has estimated that over 48,000 people could die from Covid-19 by November.
In this Investec Focus special report we look at whether the public and private healthcare sectors used the lockdown optimally to stock up on personal protective equipment (PPE), procure medical equipment, organise wards and facilities, and prepare staff. 

40,000
deaths by November - SACMC optimistic scenario
48,000
deaths by November - SACMC pessimistic scenario
1 million
estimated Covid-19 infections by November
Lockdown has slowed the virus progression
In a government briefing, the Health Department's Dr Yogan Pillay insisted that the lockdown had served its intended purpose. "The lockdown has done two things; it has helped us by decreasing the peak of infections by about 2 million and moving the peak of infections by about 6 weeks."
This message was echoed in President Ramaphosa's address of 24 May, when he said that the lockdown has "managed to slow the rate of infection and prevent our health facilities from being overwhelmed... We have used the time during the lockdown to build up an extensive public health response and prepare our health system for the anticipated surge in infections." 
But have we done enough?
From a containment standpoint, the lockdown measures seemed to have worked. In the initial stages of the lockdown, the virus's reproduction rate (R0, or R-naught) remained low (1.1 to 1.2) relative to the international average of 2.5.
This means that each existing infection causes 1.1 to 1.2 new infections. However, some specialists question this figure's validity on grounds that it's impossible to gauge accurately due to inadequate screening and testing.
According to the SACMC, the lockdown has also been effective in reducing the transmissibility of Covid-19 by up to 60%. In other words, it has significantly curtailed the virus's ability to spread from one person to another.
Dr Tshidi Gule, founder of MediSpace Lifestyle Institute, who is treating Covid-19-positive patients in isolation hotels, agrees that lockdown regulations helped to curb the virus's spread. "Without the restrictions over the last several weeks, we would be in a lot of trouble. Essentially, the government's lockdown worked to curb the first wave of infections."
"The lockdown gave us a head start to plan and prepare, unlike Italy, Spain and the UK, which were more reactionary and a bit too late to curb the spread," adds Craig Comrie, CEO of Profmed Medical Scheme. "Our curve is totally different from the rest of the world and you have to ascribe that to real tangible leadership coming from the presidency. That is a positive outcome."
Based on statistics from a Health Department media briefing on 16 May, South Africa's 1.8% mortality rate remains well below the 6.6% global average. Dr Gule attributes this to the reduction in mobility during the lockdown. "This is the most effective way to reduce the impact of a virus on society." As of May 16, the country's recovery rate, at 42.4%, is also above the global average of 38%.
1.8%
Covid-19 mortality rate in SA
6.6%
average Covid-19 mortality rate globally
42.4%
SA's Covid-19 recovery rate
38%
average Covid-19 recovery rate globally
An additional 17,000 tests needed per day
Gearing up screening and testing resources remains vital to the country's response. But figures show that our testing is not where it should be, particularly at a time when testing needs to ramp up as more people resume economic activity amid eased lockdown restrictions.
In his 24 May speech, President Ramaphosa announced that over 580,000 coronavirus tests have been conducted. On the same day, only 19,485 tests had been conducted in the past 24 hours – falling short of the 36,000 tests per day the National Health Laboratory Service earlier indicated it would have capacity to do by the end of April.
22.9 tests per 1,000 people
average Covid-19 testing rate in OECD countries
1 test per 1,000 people
average Covid-19 testing rate in South Africa
It remains unlikely that South Africa will have the capacity to significantly increase testing going forward due to the high global demand for kits, supply chain issues at ports of entry, and days-long backlogs in delivering test results. On 25 May a total of 96,480 specimens were unprocessed, according to the National Health Minister Zweli Mkhize. This will add to the challenges and complexities of identifying and containing hotspots through targeted testing and isolation.
While testing is a challenge, South Africa's screening programme has been heralded as one of the more "progressive" campaigns in the world, according to Professor Abdool Salim Karim, the head of Health Minister Zweli Mkhize's ministerial advisory committee.
Drawing on the country's experience with testing for HIV and TB, over 60,000 community health workers are going door-to-door to screen people in rural areas. This has resulted in over 12 million screenings, said President Ramaphosa, or around 21% of the population.
READ MORE: How South Korea contained Covid-19 without a lockdown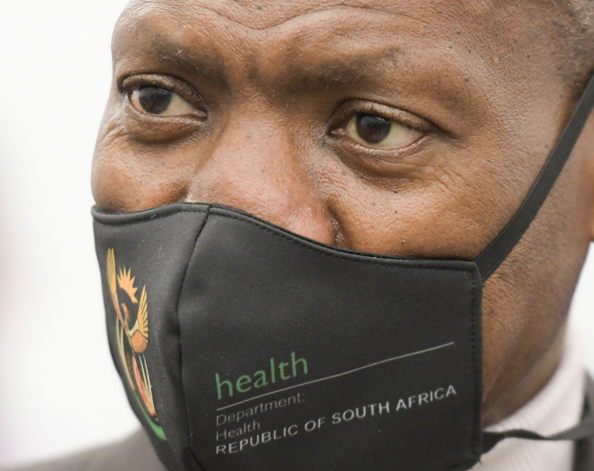 Zweli Mkhize, National Health Minister
As a country we are now facing a challenge with the global shortage of testing reagents. We understand it is becoming a challenge to many other countries. We are, however, continuing our efforts to secure these reagents from different suppliers all over the world.
We will run out of ICU beds by July
On the "optimistic" scenario modelled by the SACMC, the country will struggle to meet the demand for hospital beds. Projections on this scenario predict a need for between 20,000 and 35,000 ICU beds between June and November. But with just 3,300 ICU beds available in total across the country, even the best-case scenario would overwhelm South Africa's intensive care units.
Consortium member Dr Gesine Meyer-Rath, from the Health Economics and Epidemiology Research Office at Wits University, told a media briefing on 19 May that the country could run out of ICU beds by July. "We need an increase in ICU beds by a factor of 10… moving public sector patients into private hospitals will solve the problem for about two weeks in June, and then we will exceed the threshold."
3,300
existing ICU beds in SA
20,000
minimum number of ICU beds needed during the peak
There are 125,390 general hospital beds currently available for all patients in South Africa, and the SACMC expects that, over and above the ICU beds, up to 70% of these beds will be needed for Covid-19 patients.
Their models show that anywhere between 75,000 and 90,000 general ward beds will be required by Covid-19 patients between June and November. Which begs the question, what happens to patients with all the other illnesses that are prevalent in SA?
If these projections play out, there simply won't be enough capacity in the healthcare system to meet the demand. To avoid this dire outcome, the government has allocated R20 billion to equip public hospitals for the expected increase in infections, with plans to deploy various field hospitals to ramp up bed numbers.
Minister Mkhize told parliament on 16 May that the government has identified 376 sites for quarantine nationally with 30,823 additional quarantine beds, which will mainly host mild or asymptomatic patients who cannot self-isolate.
But time is running out for this additional capacity to come online. In the Western Cape, which has the most Covid-19 cases by far, Cape Town is already running out of hospital beds. According to media reports, the number of Covid-19 patients at Groote Schuur Hospital is doubling about every five days, and the intensive care units at Mitchells Plain Hospital and Tygerberg Hospital are already full.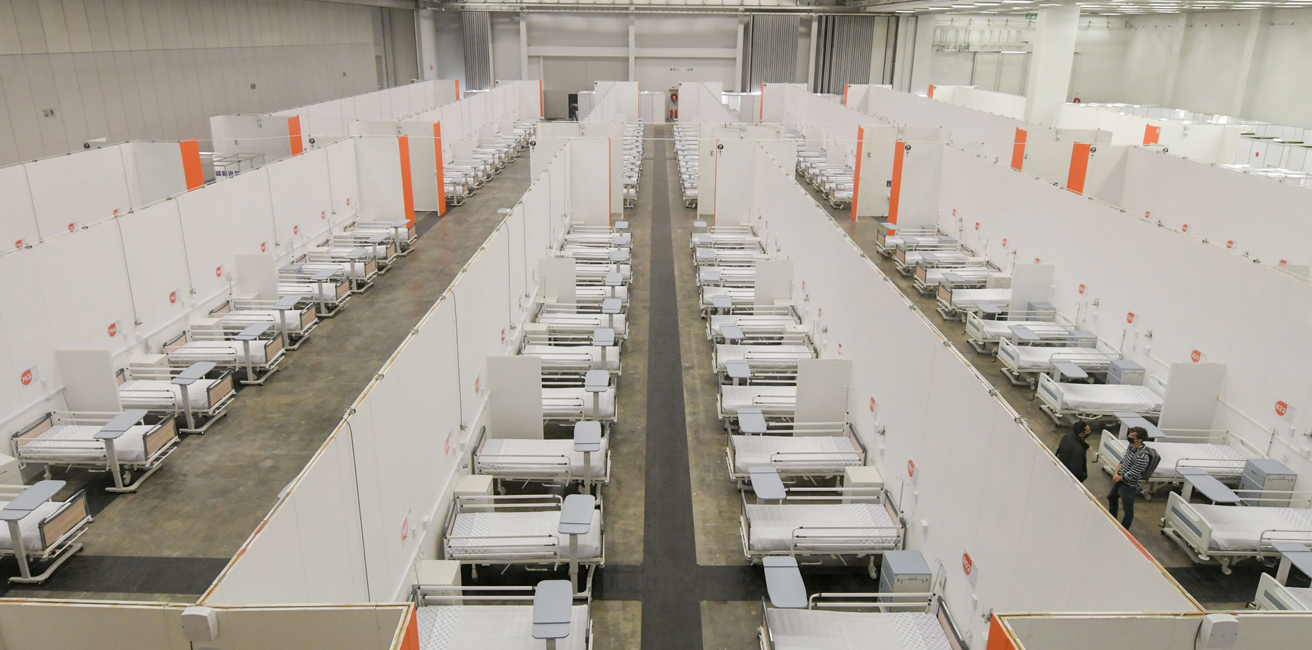 The Cape Town International Convention Centre (CTICC) has been converted into the country's largest field hospital, "The Hospital of Hope" , and has welcomed its first patient. It is estimated that the hospital's 862 beds will be full by the end of June.
Ventilator shortage
Ramping up hospital capacity must also address the sector's ability to treat the respiratory complications associated with the virus. Generally, each ICU bed requires a ventilator. With the government projecting a need for at least 20,000 ICU beds between June and November, a severe shortage of ventilators seems inevitable.
While Minister Mkhize has been guarded in revealing exact figures on South Africa's ventilator capacity, ostensibly to minimise the risk of miscommunication or panic, figures presented to parliament by his department suggest that the country has 3,216 ventilators – 17,000 fewer than it's estimated we will need at the peak of the virus.
The National Ventilator Project, a Department of Trade and Industry (DTI) initiative, aims to locally produce a minimum of 10,000 ventilators by the end of June to help close the gap, but production has not yet begun.
3,216
ventilators currently in SA
20,000
estimated ventilators needed between June and November
Various local private sector companies, particularly in the automotive sector, have retooled manufacturing lines to produce ventilators, and the US Agency for International Development (USAID) has also donated 1,000 ventilators to South Africa to assist with its national Covid-19 response., the first 20 of which have been installed at Chris Hani Baragwanath Academic Hospital.
Comrie adds that as infection rates around the world recede, there will be more opportunities for South Africa to procure PPE and ventilators.
Dr Max Rath, a frontline doctor at Helen Joseph Hospital in Johannesburg, adds that equipment shortages have always existed. "The pandemic is forcing us to innovate and is changing the way we view ventilators and intubation. We're benefiting from global innovation, as institutions like MIT make innovative ventilator designs open source."
And with the world acutely focused on the healthcare sector due to the pandemic, it is helping everyone look at legacy problems differently. "Hopefully, this will provide an opportunity for South Africa to create beneficial long-term solutions that help us beyond the pandemic," Dr Rath adds.
A chronic human resources shortage
Another vital element in the healthcare response relates to human resources. Even before Covid-19 exponentially increased the demands on South Africa's healthcare system, the country faced a severe shortage of healthcare workers, particularly in the public sector.
Based on an Africa Check report, there are 165,371 qualified health practitioners in South Africa, of whom 38,236 are doctors. Data from the Health System's Trust estimates that South Africa has 3.2 medical practitioners per 10,000 citizens. This falls woefully short of the WHO's recommendation of 30 per 10,000.
"We don't have sufficient healthcare workers, so we need to do everything we can to protect and preserve their lives. The stress and risks they will experience will be immense," states Comrie.
The package of support measures announced by the Presidency aims to ensure that the healthcare sector has sufficient medical supplies, equipment and staff to cope as the pandemic peaks.
Among other measures, the government undertook to employ registered healthcare workers and doctors who were unemployed or experienced difficulties in the private sector due to the lockdown. Retired and non-practicing health professionals have also been called upon to take up short-term employment during the pandemic. In addition, government secured the services of 217 Cuban doctors to bolster the public sector.
Rural communities present a particularly vexing problem. While 42% of SA's public health system operates in rural areas, only 15% of doctors and 20% of nurses are based there. This is according to a Spotlight interview with Dr Lungile Hobe-Nxumalo, Chair of the Rural Doctors Association of Southern Africa (RudaSA). This challenge is seemingly being overcome by the use of an army of community health workers who carry out screenings in the most vulnerable areas.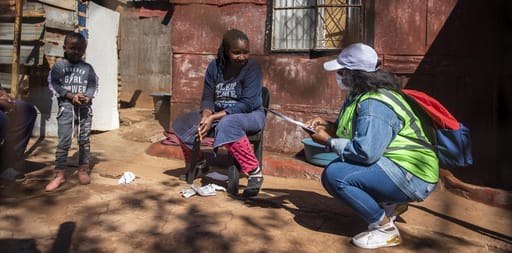 Over 60,000 community healthcare workers are going house to house to assist with tracking and tracing potential COVID-19 cases.

3.2 per 10,000
medical practitioners to citizens in SA
30 per 10,000
WHO's recommendation of medical practitioners to citizens
Protecting the medical staff we do have
Given the country's severe shortage of healthcare workers, we need to protect our existing medical staff as much as possible; first and foremost through stringent PPE measures, but also by offering psychological and financial support.
"We need to look at how to support healthcare workers at all levels and offer access to mental health services," said Dr Gule. "Various organisations already do so and I think corporate SA should equip them with funding or access to this care. Post-traumatic stress disorder is a reality that many healthcare workers will struggle with."
While less tangible than PPE and other gear, sustaining the mental health of frontline workers is perhaps one of the most critical challenges facing the healthcare sector. 
When Investec, a bank that services a significant proportion of SA's medical professionals, sought to assist with Covid-19 response and relief efforts, this need stood out.
"We recognise the stress and anxiety that exists in this space, particularly among frontline workers who are placing themselves and their families at risk," explains Julia Taylor, Investec's head of Medical.
"We launched a series of counselling videos compiled by qualified psychiatrists and psychologists that offers tips and provides information and insights from South Africa and various regions that have already experienced this crisis. Clients can opt in to receive this content on a weekly basis."
Investec is also assisting medical professionals by offering its medical client base a safe place to self-isolate should they need to spend time away from families to reduce infection risk. Investec partnered with the Capital and will cover 100% of the costs for the first seven nights.
And just like many other South Africans and local businesses, medical practitioners have felt the lockdown's economic impact.
Taylor says that some doctors have experienced business interruptions due to the need to give up their space in medical facilities to accommodate Intensive Care Units for Covid-19 patients. Others experienced a loss of income as elective procedures were cancelled and patient volumes dwindled.
"Some clients also require financial support to step away from their practices to work on the front line. We've worked with each case on an individual basis to provide financial solutions and practical relief measures wherever possible in the form of payment deferments, or loans."
Over and above that, bank staff have helped facilitate applications to relief schemes on behalf of medical clients.
Procuring PPE – "a moving target"
Amid a global procurement war for items such as masks, face shields, hand sanitisers, infrared thermometers and gloves, local healthcare workers are facing a PPE shortage.
While a ministerial media briefing released on 28 April 2020 affirmed that South Africa had adequate PPE stock for about 6-8 weeks, supplies vary between locations, with some already experiencing inadequate PPE levels for daily use.
And as the DTI works towards ramping up the government's manufacturing capabilities, meeting PPE requirements remains "a moving target" for the government due to global shortages and supply chain disruptions.
The Business for South Africa (B4SA) portal was able to acquire 41 million pieces of PPE, while myriad small and medium-sized enterprises have donated PPE stock and offered to assist with manufacturing. Various corporates also made significant PPE donations, along with the People's Republic of China, the WHO and the Solidarity Fund.
Investec also sourced and distributed N95 masks nationally to clients who sent requests, and is in the process of sourcing additional PPE to provide medical clients and the medical sector at large with resources where needs arise.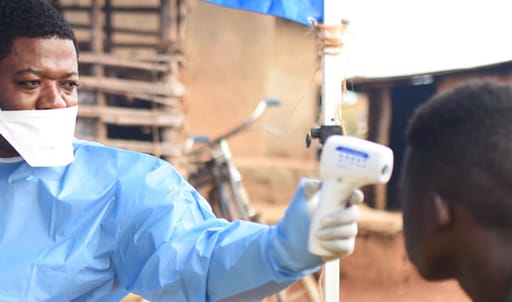 Covid-19: Is Africa on a different path?
Investec Focus asks the World Health Organization why mortality and case rates on the continent are relatively less than Europe and the US.
However, the government must continue to address other pressing issues that threaten to throttle supply. Open and clear communication between frontline workers and the administrators ordering PPE or other requirements is vital, says Dr Rath.
Better top-down communication will also ensure a coordinated effort across the private and public healthcare sectors, and across provinces.

"While communications channels have improved, they still aren't up to standard. While some information is filtering down from the government, more can and must be done because being kept in the dark creates anxiety," explains Dr Rath.

Shiraaz Joosub, Healthcare Sales Executive at information and communications technology (ICT) services provider T-Systems South Africa, also highlights the need for the Competition Commission to control PPE prices. "Lax controls have resulted in variable costs for face masks. Government must regulate pricing to ensure costs don't spiral out of control."

"And officials must make every effort to streamline logistics," he continues. "Costs have risen due to a lack of capacity on flights, and processing at ports of entry remains slow due to high demand, backlogs and under-staffed or under-resourced customs teams."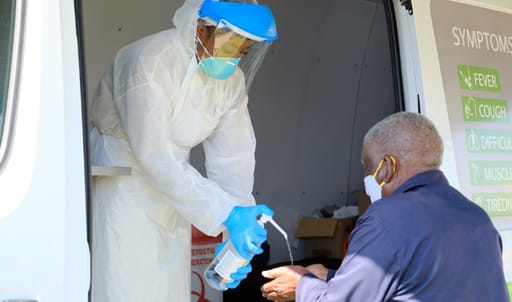 As of May 26, 170 health workers (in both public and private hospitals) tested positive for Covid-19.

Insights from the frontline
Dr Rath admits that when the pandemic spread globally, there was a general sense of trepidation among healthcare workers. "I've never experienced anything like this before. The novelty of the virus created fear, even among experienced public sector doctors."
At the time, the virus hit Italy hard and fear was growing within the sector that South Africa's already overwhelmed healthcare system would not cope if the country experienced a similar scenario. 

"The consequences of the fear were almost as damaging as the pandemic itself. Initially, that fear caused some paralysis, which resulted in a lack of preparedness." However, Dr Rath believes the lockdown has benefited the sector and most facilities are now better prepared.

"The support from the government and private sector has been amazing from every respect. Healthcare providers now have access to accommodation, PPE donations and counselling." 

But healthcare workers will need continued support for as long as the virus persists in the country.
"As the hype dies down following the first major wave and we move to a maintenance phase, it will be important to sustain this goodwill and support for frontline healthcare workers, especially junior doctors."
Overall, Dr Rath says the experience to date has been a lesson in how to respond to systemic shocks. "And there is certainly room for improvement. Our country needs to become better at scaling to meet specific needs because this going to be a long-term game – the virus won't hit us and then go away."
So, does he feel South Africa is ready?
"Lockdown bought us time and helped to improve our preparedness. But there is always room for improvement. We can all do more, and healthcare workers will need all the help they can get when the pandemic peaks."
For more Quick Update insights, click on the image below: