Marius Roberts, respected motoring expert, shares what cars South Africans are buying now.
He starts by saying that he is not a fan of the craze for crossovers and SUVs. "It's just a marketing exercise as often these cars don't look too different to the hatchbacks they are replacing and, most of the time, the ground clearance advantage is 5 mm over a hatchback."
The cross-over SUV segment is also so broad because it goes from entry-level cars, around a R250 000 price point, right the way through to R3 million plus. Despite this, he doesn't see the SUV crossover craze slowing down.
"What is interesting though, is that manufacturers are simply splitting their market share by adding all these cross-over vehicles to their line-up. A prime example would be Volkswagen – their Polo and Vivo aren't the top sellers in the passenger car segment anymore. That doesn't mean people have moved to other hatchbacks, but rather moved into other models within the marque, such as the T-cross and the Tiago."
He also remarks that a lot of people buy SUVs and crossovers thinking they're getting space, which is not the case. "Your sedan will still give you a bigger boot and it gives you a better ride quality than the 'luxury' compact SUV in my opinion. There's always going to be a compromise when you raise a car higher off the ground in terms of the driving dynamics and how it feels. So that's something to consider."
 
Affordability and buying second hand
Another trend is downsizing. And, downsizing happens purely from an affordability perspective. "I think people can't afford a new car and are now downsizing into something else. People are more flexible, they look for the same type of car with the same specifications, but they'll be going second-hand."
He adds that Suzuki is a perfect example because they've been very strategic in what they offer and they realise that there's a big market in South Africa that is buying based on price. "They do very much play in that downsizing segment with the cars that they offer, generating big bang for buck. They're also probably one of the only manufacturers where their claimed fuel consumption figures get pretty close to what they promise."
He observes that people aren't only downsizing in terms of space, but also downsizing in terms of output and performance. With increasing fuel prices, it has to remain affordable too.


Are electric cars really the future?
Marius says that in some European markets, there's a full ban on internal combustion engines from as early as 2025. "That's a big, big problem for us in South Africa. We manufacture cars here and export them to Europe, but we will no longer export certain vehicles like the VW Polo because they need electric vehicles (EV)."
He states that if we want to maintain the jobs in manufacturing segments, South Africa must look at producing electric vehicles for export.
"Otherwise, we're going to lose 50% of our production value in the motoring industry. So it's really concerning."
Electric car range anxiety and cost
The average commuter in South Africa does 50 km a day and your range on electric vehicles is now easily 250 to 300 km, so there is no need for charging-related range anxiety.
His concern is that we do spend more time driving on motorways and that is not really what the electric vehicles were designed for. "It's designed for stop-start traffic congestion, that's where it's going to return its best figures. If you drive to Cape Town or Durban that is not going to be an easy thing to do in your electric vehicle. You will have to stop and you will have to charge."
The high price of electric vehicles in South Africa is another challenge, starting just shy of the R2 million mark. "If you really want to convince me that electric vehicles are the future, we should be seeing small compact cars like Suzuki that are easy to run around the town and affordable to the average person out there."
He adds that he would still love to see a manufacturer do a proper case study, calculating the cost to produce that electric vehicle from beginning to end. "What is the battery replacement cost for the consumer? And what happens to that lithium-ion battery once you're done with it? If we are serious about saving the world with electric vehicles, then we should be producing little cars with small batteries."
Marius comments that he has seen more hybrid cars coming into market that are more affordable, such as the latest Toyota Corolla Cross. "These have a normally aspirated engine and the little battery is just supplementing it to ensure that it is a little bit more efficient and gives you better performance. I think the hybrid electric vehicle works better in our scenario."
VW and Ford have both just launched their latest bakkie offerings – the Amarok and the Ranger – both built right here in South Africa and somewhat controversially, both built by Ford.
Marius observes that he still doesn't quite understand the love for bakkies, because people are buying these vehicles and not using them for what they were intended for. The once humble workhorse has evolved into a show pony and it is priced to match.
"I would much rather see people buy a vehicle that suits their day-to-day drive. Buy the workhorse, the stripped-down bakkie, if you want to load motorbikes or put the dogs in the back or whatever it might be. But I don't see anything changing from a bakkie craze perspective. All that's going to be happening is that you will be paying a hell of a lot more money for it."
"These lifestyle vehicles with 4x4 and low range, but they've got 21-inch wheels… You don't want to be scratching the rims and you certainly don't want to be getting muddy boots in your leather-clad interior."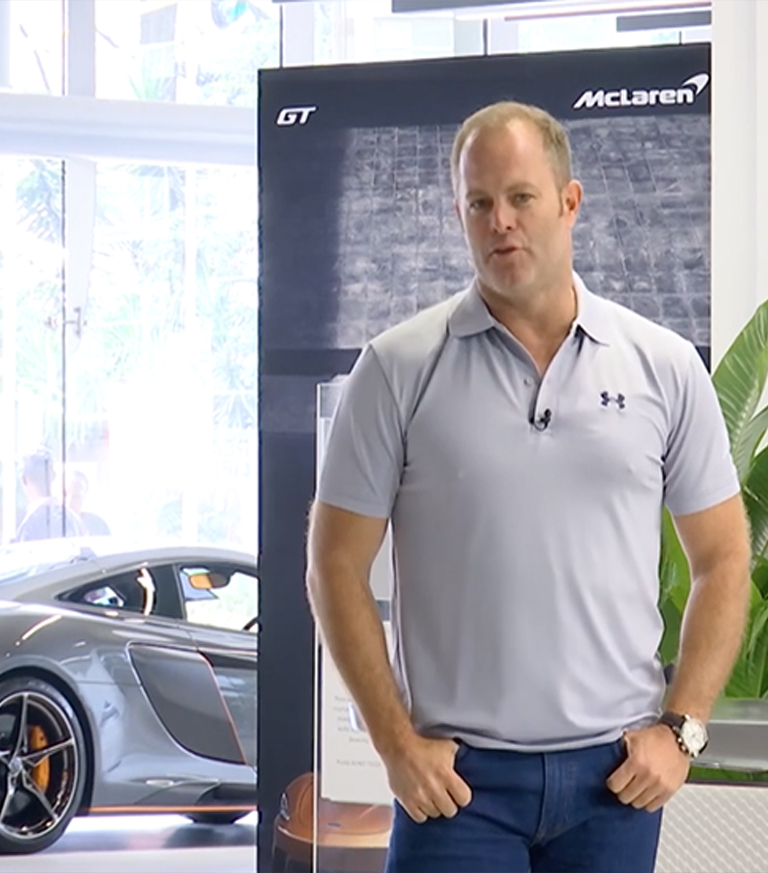 Marius Roberts,

Motoring expert
For the last 15 years, I've had the best job in the world. I get to drive all the new cars that come to market. What is cool about that is it puts me in a pretty unique position to provide some advice to you when it comes to your purchasing decisions.
Get more insights from Investec Focus
PRIVATE BANKING
Private Banking for you
Partner with an award-winning international Private Bank that sees you, the individual.
BORROW
Vehicle finance
Finance your new or pre-owned vehicle at up to prime minus 1%.
GET MORE
Earn Rewards
Earn 1 Rewards point for every R5 on a new, demo, or pre-owned vehicle purchased through Bidvest McCarthy, financed through Investec, or paid for by EFT.
WHAT WE OFFER
You may be interested in
Get Focus insights straight to your inbox