Receive Focus insights straight to your inbox

Headline producer price inflation (PPI) for final manufactured goods climbed to 8.1% y/y in September, from 7.8% y/y in September 2021. The increase, slightly ahead of consensus expectations (Bloomberg) of 8.0% y/y, was underpinned by inflation within the coke, petroleum, chemical, rubber and plastic products grouping, in which fuel price dynamics are captured.
Specifically, inflation within the coke, petroleum, chemical, rubber and plastic products category, which comprises just under 20.0% of the PPI basket, increased to 17.5% y/y in October, from 15.3% y/y in September, and accordingly added 3.4% points to the headline outcome, versus 3.0% points previously.
Moreover, the high oil price, combined with domestic currency weakness, drove up fuel prices in November, which will have a material effect on headline inflation. Petrol and diesel prices increased by R1.21/litre and R1.48c/litre respectively at the beginning of November.  
Manufactured food price inflation eased slightly from September's reading of 6.7% y/y but remained elevated at 6.5% y/y. The food products, beverages and tobacco products category added a further 2.0% points to the headline reading.
Meat and meat products inflation diminished for the 5th consecutive month (measured on an annual basis) to 6.6% y/y, from 7.9% y/y and 10.7% y/y recorded in September and August respectively, as did producer price inflation within the starches, starch products and animal feeds sub-category and dairy products grouping. Meat prices could, however, experience some upward pressure in the near term.
According to Agbiz, "Cattle and sheep slaughtering activity remains at relatively lower levels compared to 2020." But oil and fats' prices ticked up to a notable 26.7% y/y in September. South Africa is a net importer of oils and fats and these product prices have remained elevated in the global market.
Inflation within the metals, machinery, equipment and computing equipment segment moderated to 10.1% y/y in October from 10.8% y/y in September, largely on the back of the easing in structural and fabricated metal products prices, but still added 1.4% points (1.5% previously) to the annual headline reading.
Persistent supply chain constraints triggered by the pandemic saw producer price inflation for intermediate manufactured goods continue its upward trajectory in October, reaching a marked 20.4% y/y following readings of 19.5% and 17.7% y/y in September and August respectively.

Retail sales grew by 2.1% y/y in September

17 November 2021
Retail trade sales grew by 2.1% y/y in real terms in September, following August's -1.5% y/y (revised) contraction, buoyed by the textile and pharmaceutical categories.


The result, which was notably stronger than consensus expectations (Bloomberg) of a 0.7% y/y lift, was largely underpinned by robust annual growth from the textiles, clothing, footwear and leather goods category and the pharmaceuticals and medical goods, cosmetics and toiletries grouping.
Specifically, combined they contributed 2.3% points to the top line outcome, on the back of growth of 11.3% y/y and 10.4% y/y respectively.
However, when measured on a quarter on quarter seasonally adjusted basis, the measure used to calculate GDP retail sales fell by -5.4%, dragged down by July's marked decline, triggered by the riots and unrest in parts of the country in July. Accordingly, it is expected to detract from Q3.21's GDP reading.  
Consumers have not yet recovered fully from the effects of the pandemic. Indeed, household debt is still elevated, above 66.0% of disposable income, according to data from the SARB while rising administered prices, particularly electricity and fuel costs continue to further dilute limited disposable income. Furthermore, consumer confidence remains subdued especially pertaining to the economic outlook.
According to an online survey conducted by TransUnion between the 10th and 16th of August (the survey included 1,100 adults in South Africa) over 60% of respondents "(i)ndicated their household income was currently negatively impacted due to COVID-19". Although the survey took place soon after the damaging looting and unrest, which led to job losses, lost earnings and dampened confidence, the proportion of those citing the negative effects of COVID-19 on household income remained largely unchanged from responses collated earlier on in the year. Indeed, a substantial number of consumers remain unable to meet debt obligations. Specifically, according to the survey "forty-one percent reported they've been in arrears for a bill or loan in the past three months". 
Moreover, according to the results of the BankservAfrica Economic Transactions Index (BETI) for September, which "measures economic transactions processed by BankservAfrica via the National Payments System (NPS)" the index logged a quarterly decline of 0.6% in September 2021, the first quarterly BETI decrease since July 2020.
Although conditions have improved from those experienced in the second quarter of last year, retailers continue to face a myriad of challenges. Persistent global supply chain constraints have resulted in longer lead times and stock shortages which have driven up input costs. Moreover, rising administered prices continue to weigh on profits.
The country's improved vaccination rate accompanied by the easing of stringent lockdown restrictions, however, should benefit retailers during Q4.21 as the holiday season approaches.

Election Update: the coalitions the ANC forms could be key for its policies

5 November 2021
The 1st of November 2021's municipal elections outcome was similar to survey polls for the DA and EFF, but quite divergent for the ANC, with a very low voter turnout.


Of the 26 million registered voters only 12million voted (46%). Small, localised parties did well at the municipal level, as voters turned to those they trusted in their councils, resulting in a 22% vote for other parties, on over 300 parties/individual candidates.
The growth of ActionSA was rapid, and is seen to provide non radicals an alternative to the EFF, for those who chose to vote. Potentially providing a cross over party, ActionSA could see further rapid growth in 2024's general election. In this year's (municipal) elections it gained a cross racial support base. Much will depend however on the ability of the party to gain traction ahead of 2024.
High voter apathy (46% turnout) shows the ANC was particularly afflicted, with survey polls expecting it to get around 56% on a 45% turnout of eligible voters instead of its actual 46%. The vote has been split amongst small parties more than expected and shows the high ability of voters now to identify with a small party's interests, but with these gaining less than 1% nationally. However, the fall in voter numbers also signifies growing belief that voting does not matter as the vast disillusionment the Zuma Presidency's years of state capture and corruption has hit deeper than may have been anticipated.
This does not mean Ramaphosa is not trusted overall but instead that individuals are voting for their metros and councils, and not Ramaphosa himself, and this showed in the results. With a massive decline in ANC popularity overall, the party needs to take care not to lose him in its party election next year as likely only he can boost the ANC vote overall in 2024's general election, which is essentially a presidential election. 
Investors are likely happy with the poll results themselves, but not with a coalition prospect of the ANC and EFF as this would herald a swing towards the extreme left, with the EFF already stating it requires the ANC to join on it on its extreme total land confiscation aims.
Left to extreme left politics are typically anti-business either in a mild form through a high government command of the economy, high degree of regulation (of the private sector) and extreme state intervention in the economy and so of the private sector, or in more extreme destructive forms for economic growth and private sector job creation on the extreme left. Voters have shown they would strongly prefer the opposite.   
The ANC should take note of the voter swing away from left-wing, old style heavily socialist dogma, with most preferring social democracy, as shown by the strong rise in ActionSA and many smaller parties. Delving deeper instead into control, micro-management and regulation of the economy, such as many policies from  the DTI department, will slow economic growth and job creation and will most likely just see further vote slippage for the ANC, as support dwindles nationally towards 40% and below.
The ANC obtaining below 50% is a clear indication of high dissatisfaction from the electorate on the way it has been perceived to conduct itself over the past decade, as voter support has declined over the 2010s decade compared to when the ANC obtained 70% of the vote in 2004. The 2004 outcome was an endorsement of the good policies, strengthening economic growth and declining unemployment engineered under the Mbeki Presidency, from 1999 to 2008 as the private business sector expanded rapidly.
The 2009 general election saw the ANC lose ground on the ousting of Mbeki and incoming President Zuma, with support dropping to 66%, and then to 62% by 2014, and in 2016's municipal election seeing national support for the ANC decline to 54%, rescued by new President Ramaphosa in 2019 with a rise to 58%.
Another two successive months of mining production growth

15 September 2021
Elevated commodity prices and buoyant global demand continue to gavanise the industry despite logistics constraints.


The mining production update for July also includes June's outcome, owing to system issues at the Department of Mineral Resources and Energy which prevented them from providing the June data timeously. 
Mining production rose by 19.1% y/y and 10.3% y/y in June and July respectively, following May's 21.9% y/y climb. Elevated commodity prices and buoyant global demand continued to support mining activity. However, the unrest that took place in Kwa-Zulu Natal and other parts of the country during July, which also affected key transportation routes, led to a number of commodity producers reporting being unable to obtain key inputs required for production (such as gases and explosives).
Annual growth in production in June and July was underpinned primarily by iron ore and PGMs. Specifically in June production of PGMs and iron ore climbed by 59.6% y/y and 34.9% respectively adding a combined 14.1% points to the topline reading. In July production of PGMs decreased substantially but owing to its marked weighting in the index it still added favourably to the headline outcome. Concerns around the impact of the semi-conductor shortages on the global automative sector and thus PGM demand remains. Iron ore production grew by a further 42.9% y/y contributing 3.9% points to July's result.
A robust rebound in global trade and growth, following the fallout from COVID-19, has led to a sharp increase in industrial demand, with the World Bank's metals and minerals index up 21% between January and July 2021. However, rates of growth in manufacturing activity have begun to ease. According to the latest JP Morgan Global Manufacturing PMI survey results the "upturn in the global manufacturing sector lost further momentum during August, as rates of output growth decelerated in several major markets". Supply side constraints remain a key impediment.
Rising Covid-19 cases globally, with the risk of further lockdowns, remains a downside risk to the global growth outcome and SA's own growth trajectory, which is heavily reliant on exports of commodities. SA's pace of vaccinations has gained momentum, but the implementation of structural reforms needs to be hastened to improve SA's competitiveness and attract foreign direct investment.  "Logistics remains one of the main constraints", for the mining sector and indeed the South African economy and "it is one of the main infrastructural reforms government has committed to undertaking," according to the Minerals Council South Africa.

SA bond note: foreigners return to South Africa's bond market

1 September 2021
SA bond yields and the rand strengthen post Jackson Hole, on improved global financial market risk taking.

SA's ten-year bond yield has dropped to 9.15%, from near 9.34% earlier in August, with the rand reaching R14.39/USD today, supported by improved global financial market sentiment. Foreign appetite for SA bonds deteriorated sharply over August with a -27.7bn net sell-off.
Investor concerns persist on the sustainability of government finances, the once-off boost to revenues from the commodity boom which has already weakened, is not a sustainable financing mechanism to deliver fiscal consolidation, and state expenditure has increased.
SA's fiscal deficit to date at -R155.9bn (first four months of 2021/22) shows that it may come out lower than the -R482.6bn in the budget (potentially closer to -R460/470bn), but will be substantially larger than the -R209bn of the full 2017/18 year, and the -R231bn of 2018/19.
That is, the state's finances have not improved that much at all, still worse than the pre-pandemic levels, although 2019/20's three quarters' of recession yielding a deficit of -R345bn would be closer to what is likely achieved this 2021/22 year (all main budget figures).
Unsurprisingly, the 5-year yields are still elevated, boosted also by the aggressive pricing in the FRA curve which shows accelerated interest rate hikes and so negatively impacts the shorter end of the yield curve, along with the high maturity load in the period as well. 
While repo rate hikes are unlikely this year, projected debt and deficit ratios lower on GDP revisions, and weekly debt issuance down, there is still no recovery yet in sight for public finances from the harsh impact of COVID-19 lockdowns following on from 2019's recession.
Domestic holding of debt are high, foreigners disinvested -R109.3bn this year, aware of the lack of material improvement on SA's fiscal story to levels back to before 2019/20. Deficit projections for 2022/23 and 2023/24 of around -R400bn are still removed from pre 2019.
The flip flop in the state pension et al fund proposal does not obscure the fact that doing away with private pensions risks eradicating a key source of funding for state debt, still necessary given rollovers, if the state delves into the fund to pay for infrastructure expenditure.
Confusion over Social Development Departments green paper persists
Consequently, perceived high country risks remain for SA, and it is unclear whether the Social Development Departments green paper has been wholly withdrawn, partially withdrawn and will resurface with clarifications, or whether in spirit, as markets suspect, it persists.
What is clear is that it has caused market confusion, with expectations that the green paper should not have been published if it was not government policy, as some senior ANC officials have said it is not. Its publication highlights that it certainly is some factions intentions.
This is very negative for markets, due to the policy uncertainty and outright confusion created, with government having said in the past it wishes to reduce policy uncertainty not increase it, and the social development department stating it does not need approval for proposals.
Apparently, the green paper will be reissued and so the damage to business confidence, and policy uncertainty persists in what has already been a weak confidence period with the July riots which are seen to have been sparked by the anti-Ramaphosa pro Zuma/RET faction.
The state pension fund proposal has been viewed as having its origin with the RET faction and so the publication of the green paper doubtless was also from this perspective a further negative for business and investor confidence.
The green paper caused damage to labour relations with government as well, and worried employed South Africans in general given fears of the loss of their pension contributions through corruption and looting, among other malfeasance.
Damage to business confidence damages investment prosects, and so future job creation and GDP growth. If the Social Development Departments paper is not government policy it should not be published if government really is sincere about bolstering business confidence.
The ruling party and allies in the tri-partite alliance need to let go of disincentivising, if not prohibitive policies, including ones to the rapid expansion of its mining sector by private investment, so much to be gained on the fiscal revenue side, as well as jobs.
This is a particular worrying given the waning of the commodity boom and the fact that SA is not seeing an efficient usage of its mineral endowment as state regulations continue to trip up the necessary exploration and development of new mines.

Election note: voters are increasingly disillusioned with politics

26 August 2021
SA's October municipal elections are not only at risk from the pandemic but also widespread public distrust of elected officials.


The municipal elections are potentially set for 27th October this year. 
The polls come at a turbulet time for the country, following violent unrest in July and a harsh year and a half of Covid-19, which shows no immediate sign of abating.
Indeed, while the fourth wave of Covid-19 infections in SA was expected to start as early as October this year, the recent sharp about-turn in the previous decline in Covid-19 infections is concerning. With only 10million vaccines administered, and only 11.4% of the eligible poluation fully vaccinated, there is a risk that a municipal election in October could contribute to higher infections and deaths. The IEC has consequently sought to delay elections until February and a final decision is expected by 31st August. 
July's riots were followed by a lift in infections in KZN in particular, and there is no certainty that September will see a marld drop. October could therefore start off on a relatively high base, with vaccinations likely still well below 30%.
Surveys have shown willingness to delay elections and electioneering in the pandemic, even amongst most members of political parties, despite noises to the contrary by the parties' leadership. 
Afrobarometer shows a high two thirds of respondents feel elections should be delayed, with the survey taking place May to June (a 2.5% margin of error is noted).
However, trust in political parties and in institutions has diminished since the 2000s of the Mbeki government, which was characterised by strong delivery a drop in unemployment to 21%. Afrobarometer further finds that 67% of South Africans would be willing to forego elections even if a non-elected government could provide substantially better security and services, including housing and jobs -- the sobering result of state capture and corruption, combined with the apparent inability of the current government to address poor service delivery and rampant unemployment.

Gauteng announced a raft of plans to boost economic activity

5 August 2021
In May 2021, the capacity utilisation of manufacturing production rose to 78.6% of total capacity, from 76.3% in February, and 59.8% in May 2020.


In May 2021, the capacity utilisation of manufacturing production (the data is collected once every three months) rose to 78.6% of total capacity, from 76.3% in February, and 59.8% in May 2020. However, this reading is still well below the 83.4% average during the Thabo Mbeki period of good governance of SA in the bulk of the 2000s, which saw the fastest sustained period of growth.
The second and third quarters' of the year typically see improvement in manufacturing utilisation, while the first dips - the month of January sees both a slow return to work and start to production for the year after the festive spend while retailers and wholesalers build up inventory before the holidays, then run it down in the January/February sales. However, South Africa's third quarter will see substantial damage to its manufacturing capacity from July's violent riots, and this will have a lengthy effect over 2022 as well, with rebuilding of infrastructure yet to commence generally.
Other countries which have seen severe damage to their economies from riot action have brought in a wide range of fiscal measures, including tax exemptions in distressed sectors, VAT exemptions on construction goods and services to assist in rebuilding infrastructure, VAT rebates to reduce food poverty, job creation initiatives, grants and cash transfers to afflicted small businesses and the poor.
Gauteng's economic recovery plan includes some focus on these as well as identifying the need to bolster business confidence and funding for re-building, allocating R100million to rebuilding township development, including township industrialisation, special economic zones as well as backyard shack upgrades to create thousands of commercial and residential units in townships.
Up to a billion rand of blended finance is eventually envisioned to be matched rand for rand by private sector contributors and include 50% grant/50% loans for businesses in distress from the riots.

SA records a budget surplus of R63.1bn in June

2 August 2021
Improved revenue receipts will help to fund extended Covid grants and relief for businesses disrupted by looting and unrest.


South Africa's total tax collections rose by a marked 87.8% y/y in June, partly on statistical base factors as the economy recovers from last year's Covid-induced contraction. Personal income tax receipts grew by 23.8% y/y as people returned to their jobs following the stringent lockdowns. According to BankservAfrica data, aggregate take-home pay for all employees was up by 11% year-on-year. However, levels are still below those logged pre-pandemic with unemployment sitting at an elevated 32.6%.

Corporate tax receipts increased significantly on a year-on-year basis and by a notable 69.1% m/m, as June is an important month for provisional tax payments. However, businesses in certain sectors of the economy have been heavily affected by the pandemic, especially those in the tourism and hospitality related industries. According to Stats SA data, a further 217 businesses within the trade, catering and accommodation sector were placed into liquidation between January and June 2021.     
Excise tax revenue has been severely constrained by the numerous alcohol bans instituted by government to free up beds in hospitals (usually occupied by alcohol related accidents) when Covid-19 infection rates spike. The latest ban (which has been subsequently lifted) will see excise tax revenue from this source dwindle in July. 
On the expenditure side, debt service costs increased by 18.9% on a year-on-year basis and continue to crowd out social and investment spending.
As a result of the extended, stringent lockdown restrictions to curb the third wave and the significant economic consequences of the looting and unrest in parts of the country earlier this month, Treasury has committed additional relief funding, which according to Treasury will be covered largely by improved revenue receipts. However, that additional revenue could have helped hasten the path of fiscal consolidation and reduced some of the pressure on the severely constrained fiscus. Additionally, we have lowered our growth forecast for the year to 3.9% y/y from 4.5% y/y previously as a result of the unrest. A lower nominal GDP outcome for 2021 would accordingly have a dampening effect on currently projected 2021/22 fiscal metrics, a concern for ratings agencies.

Manufacturing operating conditions deteriorated significantly in July on restrictions and protest action

2 August 2021
The manufacturing PMI dropped substantially to 43.5 in July from 57.4 in June.


This decline in July reflects the effects of the tightening of domestic restrictions as well as of the protest action in Kwa-Zulu Natal (KZN) and parts of the Gauteng province. The Covid-19 linked restrictions will have hampered production linked to the alcohol and hospitality sectors in particular. The protest action resulted in the closure of some manufacturing plants. This, coupled with interruptions to transport, resulted in supply difficulties that will have affected production at a range of other manufacturers.
According to the survey "the manufacturing sector may also have been negatively impacted by the recent cyber-attack on Transnet, which saw operations at SA's major ports temporarily grind to a halt."
August should see a meaningful recovery in production and demand as the domestic situation has stabilised and the government eased lockdown restrictions. Indeed, the business expectations sub-index lifted in July on improving expectations of business conditions in six-months' time.

Fiscal riot relief lifts market sentiment

28 July 2021
Joint briefing by Dept of Finance, National Treasury and others gives clarity on where the money will come from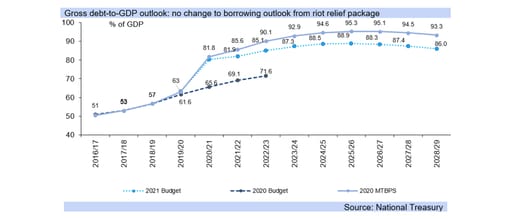 The violence earlier this month will likely cost South Africa's GDP about R49bn in real terms. But this blow will likely be softened by global macro-economic factors, including commodity prices and the pace of Covid recovery, that are working in the country's favour. Increased tax revenue receipts as a result of these factors will help to fund relief efforts that are desperately needed in the wake of the carnage.
The second quarter saw significant growth in commodity prices, which benefited both exports and tax revenues. Commodity prices were up 14.8% q/q overall (as per the Economist Commodities price index), bouyed by a substantial 19.2% lift in metals prices. Both of these upticks exceeded the respective increases of 14.7% q/q and 15.4% q/q in Q1.21. 
Revenue collections for Q2.21 to date are up on estimates, with SARS stating today that tax revenue collections were very strong in the first (fiscal) quarter, exceeding those of the prior two fiscal year's first quarters. The revenue boon came from a number of sources, including VAT and the mining sector.
Additionally, corporate tax revenue from the financial sector was higher than expected, while SARS has also had a better than anticipated performance in revenue recovery (well above that estimated) from compliance activities, also boosting the overall outcome. 
SARS added that this greater than expected revenue collection, compared to that budgeted for in February 2021, is expected to adequately cover the cost of a number of measures announced today to provide R36.2bn in fiscal assistance to lessen the impact of the riots and looting.
In particular, the R350 social relief of distress grant is extended until end March 2022, which will cost R27bn, while the cost to Sasria from the riots damage is estimated at R15bn to R20bn (the Sasria balance sheet has R9.7bn, while R6.5bn is to come from reinsurance).
The police will be allocated an additional R250m, SANDF R750m. National Treasury highlights there will be no additional borrowing to fund this fiscal package (allaying rating concerns), with reprioritisations and revenue collections better than expected in February.
However, prior to the riots a better than expected economic outcome for 2021 of 4.5% was likely, and government's fiscal position was expected to improve by R50bn to R100bn on the strong tax ensuing from the robust growth environment and strong commodity price effect .
With the damage to the economy and tax base from the violent riots, and consolidating commodity prices, the revenue collection overrun is now likely to be closer to R50bn, while the fiscal package announced today will not fully cover the losses faced by businesses.

Retail environment improved in May

14 July 2021
Recent lockdown restrictions and riots will weigh on Q3.21 confidence


Retail trade sales rose by 15.8% y/y in May, ahead of consensus expectations of 12.3% y/y (Bloomberg). The lift was largely underpinned by base effects following May 2020's -11.9% y/y decline when lockdown restrictions were heightened, albeit less severe than April 2020.        
Measured on a month-on-month seasonally adjusted (mmsa) basis retail trade sales increased by 2.1%, following contractions of -0.6% and -4.4% mmsa in April and March, respectively.     
According to the BER's retail trade survey for Q2.21 which reports on consumer expectations and activity, confidence amongst retailers climbed markedly in Q2.21, to a six year high, on "improved sales volumes and strengthened pricing power" leading to higher profitability. Specifically, retailers selling semi-durable and durable goods benefitted from expenditure by higher income segments of the market, who used accumulated savings (not used on leisure and transport during lockdown) to improve their work-from-home experience. The survey was however conducted between the 12 and 31 May, before lockdown restrictions were tightened.
Lockdown restrictions, in response to spikes in infection rates and the subsequent loosening of measures when cases recede, have a direct impact on consumption patterns as evinced by BankservAfrica's Economic Transaction Index (BETI), which tracks the volume and value of South Africa's electronic payments interbank transactions routed through BankservAfrica. Specifically, the index which exhibited significant declines in Q2.20 when the most severe constraints were in place gradually improved in line with the easing of lockdown restrictions.
The BETI for May indicates that the number of "actual transactions was 108.2 million, an improvement of 17.2% on a year ago". Moreover, the total number of estimated monthly payments have risen by 13.1% between May 2021 and May 2020, as a number of workers have returned to their jobs over the year.
While the marked recovery in the salary base is positive for HCE, uncertainty around the current situation playing out in the country will weigh heavily on confidence, hindering the growth trajectory. 

Annual mining production buoyed by base effects

13 July 2021
Mining production rose by a further 21.9% y/y in May, buoyed by base effects.


Specifically, production fell by -21.7% y/y in May 2020 when restrictions on production (although to a notably lesser degree than April 2020) were still in place and global growth concerns were heightened. May's outcome was below consensus expectations of 31.5% y/y (Bloomberg).
The lift in production was largely broad based, with all minerals and mineral groups except coal and nickel experiencing some level of growth. The largest positive contributors were PGMs, iron ore and gold. The production of PGMs rose by a further 27% y/y in May, adding 6.1% points to the top line reading, on a robust recovery in the automative market. 
Similarly, iron ore output increased by 48.4% y/y, adding a further 4.0% points, assisted by the rebound in global trade and growth following the fallout from Covid-19, which has led in turn to a sharp increase in industrial demand. Constrained seaborne supply has also aided the iron ore market, with prices up over 26.0% since January 2021.
Base metals in general are up notably, boosted by the pick-up in global manufacturing activity and new order growth. This is evidenced by the results of JP Morgan's latest global PMI manufacturing survey for June which indicates that "global manufacturing remained in a strong growth phase in June, with output, new orders and employment all rising and business optimism at robust levels", according to Markit.
SA's mining sector, a key commodity exporter continues to benefit from the strong rise in demand for commodities as global growth rebounds and has played a key role in SA's growth momentum as some other sectors of the economy continue to flounder. Notwithstanding this, the domestic mining sector continues to face numerous challenges hindering its ability to take full advantage of the current surge in demand.  Key amongst these are electricity supply limitations, although announcements pertaining to increased generation are positive for the energy intensive sector. Furthermore, logistical constraints, especially rail and port issues continue to impede activity and export potential.  
Further stringent lockdown restrictions (although not our expected case) coupled with the civil unrest currently playing out in the country remain downside risks to the country's growth trajectory.

New vehicle sales up 20.2% in June

1 July 2021
New vehicle sales rose by 6 387 units or 20.2% y/y in June as exports benefit from the global economic rebound.

Aggregate new vehicle sales rose by 6,387 units or 20.2% y/y in June. The reading, while positive, is largely buoyed by statistical base factors. Specifically, new vehicle sales plummeted by around -31.0% y/y in June 2020, when restrictions were placed on economic activity. When measured on a month-on-month basis, however, sales fell by -0.8% in June.
New passenger car sales, which make up over 60% of total sales, grew by 28% y/y in June and by a modest 1.7% m/m. While the economy is recovering from lows experienced in Q2.20, with Q1.21's GDP reading higher than anticipated, many consumers still remain financially constrained. Consumer confidence is subdued, having faltered in Q2.21, with respondents in the FNB/BER consumer confidence survey less confident about the economic outlook as the third wave takes hold. Additionally, fewer respondents deem it an appropriate time to purchase big ticket, non-durable items (like vehicles).   
The light commercial vehicle category (incl. bakkies and mini-buses) which makes up a further 30% of domestic sales rose by 9.6% when compared to June 2020, but declined, albeit marginally on a m/m basis. Small and medium sized businesses have been particularly hard hit by the pandemic, with a number having shut their doors permanently.  Medim commercial vehicle sales are up moderately m/m, however the heavy commercial category (which includes extra-heavy and buses) is down -7.0% m/m. A rebound in fixed investment should support growth in these categories.    
Moreover, export sales, which are crucial to South Africa's automotive sector, are up 65.8% y/y year-to-date. The pick-up in global growth, which is forecast to grow by 6.0% this year, according to the IMF should continue to support SA's export market.

SA's trade account surplus beats expectations

30 June 2021
The surplus on the merchandise trade account widened to R54.6bn in May, from R51.25bn in April.

Supported by a 1.5% m/m lift in exports, SA's May trade surplus beat Bloomberg consensus expectations of a R49.6bn. Exports totalled R163.51bn, outpacing imports of R108.91bn (-0.9% m/m) .
A review of the trade highlights released by SARS suggests that the modest monthly pick-up in exports was buoyed by vegetable products as well as a recovery in global demand for vehicles and transport equipment. While some key import categories grew over the period, there was a notable decline in precious metals and stones.     
May's favourable reading is consistent with the results of JP Morgan's global manufacturing PMI survey, which revealed that "new order growth accelerated to an 11-year high" in May. This despite persistent supply side constraints and accelerating input costs. Furthermore, the outlook for the sector remains favourable, "with manufacturers forecasting further increases in output over the next 12 months." 
Indeed, global growth is forecast to rise by 6.0% this year, according to the IMF, supported in part by widespread vaccination drives and extensive fiscal support measures in advanced economies. Robust commodity prices and increasing global demand should continue to buoy export growth
However, while imports have been propped up by the rand and US dollar-denominated oil price, domestic consumption and investment activity remain relatively subdued. Furthermore, according to results from the May ABSA purchasing managers index, domestic purchasing managers "turned slightly less optimistic about the trading environment going forward." This is possibly driven by heightened concerns over the third wave. A rapid, efficient vaccination rollout is imperative to boost confidence and place SA on a sustainable growth path.

CPI inflation accelerated to 5.2% y/y

23 June 2021
CPI inflation increased to 5.2% y/y in May from 4.4% y/y previously on fuel price base effects and the higher oil price this year

The surplus on the merchandise trade account widened moderately to R54.6bn in May, from R51.25bn (revised) in April. The outcome was notably above Bloomberg consensus expectations of a R49.6bn surplus, supported by a 1.5% m/m lift in exports to R163.51bn, which outpaced imports of R108.91bn   (-0.9%m/m) .
A review of the trade highlights released by SARS, suggests that the modest monthly pick-up in exports was largely buoyed by vegetable products and vehicles and transport equipment as global auto demand continues to recover. On the import side, while some categories of key imports grew over the period, a notable decline in precious metals and stones largely drove the contraction on the import side.     
May's favourable reading is supported by the results from JP Morgan's global manufacturing PMI survey, which revealed that "new order growth accelerated to an 11-year high" in May. This despite persistent supply side constraints and accelerating input costs. Furthermore, the outlook for the sector remains favourable, "with manufacturers forecasting further increases in output over the next 12 months".   
Indeed, global growth is forecast to rise by 6.0% this year, according to the IMF supported in part by the widespread vaccination drive and extensive fiscal support measures in advanced economies. Robust commodity prices and increasing global demand should continue to buoy export growth
However, while imports have been propped up by the rand and US dollar denominated oil price, domestic consumption and investment activity remain relatively subdued. Moreover, according to results from the May ABSA purchasing managers index, domestic purchasing managers "turned slightly less optimistic about the trading environment going forward", according to the BER. Heightened concerns over the third wave could be driving this. A rapid, efficient vaccination rollout is imperative to boost confidence and place SA on a sustainable growth path.

Commodity prices consolidate slightly after a heady run

15 June 2021
Commodity prices remain robust in June despite a slight weakening in industrials and metals

Commodity prices essentially retained their levels overall in June. On a disaggregated basis, however, some weakness in industrials and metals was counteracted by slightly higher agricultural food prices, with the result that commidities overall consolidated following a heady run that has lasted almost twelve months.
Commodity prices reached ten-year highs this year, very close to the 2011 peak of the 2000s commodity boom. This earlier commodity super cycle was driven by both accelerating demand from the rapidly growing emerging market economies (particularly the BRIC nations) and supply side constrains in the face of protracted growth in demand.
The Economist commodities price index shows a rise in 2000 from close to 60 index points to 189.7 in 2011. By comparison, the the index since April rose from 100.7 to 188.8. While currently not a super cycle, the acceleration since last year has been rapid.
Year on year, the index shows commodity prices are currently up 76% overall, while metals prices are up 93% y/y and industrials are 78% higher than a year ago. Non-food agricultural prices are 81% higher y/y.
Food commodity prices are only up a relatively modest 41% y/y, but it's a strong showing for a category which experienced deflation in many periods since 2011, driven higher over the last twelve months by growing global demand, along with the other commodities.
Indeed, the global PMI reached a fifteen year high in May, with demand for new orders and production output at the fastest pace since 2006, led by the US, the Euro area and the UK (as measured by the J.P. Morgan Global Composite Output Index).
International trade has strengthened materially, with new export business at a peak in the global composite J.P. Morgan PMI's series, evidencing strong demand pressures persist, although supply shortages remain, and that price inflation is at its quickest pace since 2008.
With the FOMC meeting tomorrow evening, SA time, market expectations are for the Fed to potentially provide some deeper insight on its inflation views, which could feed market concerns on the timing of future QE tapering, although the Fed is likely to be judicious in this.

Annual manufacturing production rose sharply on base effects

10 June 2021
Manufacturing production climbed by an unprecedented 87.9% y/y in April, following March's 5.2% y/y lift

Manufacturing production climbed by an unprecedented 87.9% y/y in April, following March's 5.2% y/y (revised) lift, on the low statistical base effect produced in April 2020, triggered by Covid-19 related restrictions.
Specifically, manufacturing production plummeted by -48.7% y/y in April 2020 when rigorous level 5 measures were imposed to curb the infection rate, leading to a widespread halt in economic activity, except for those companies involved in the production and provision of essential goods and services.  
Seasonal factors, with numerous public holidays falling within the month of April likely, largely underpinned the month-on-month decline in output.  However, on a quarter on quarter seasonally adjusted basis (qqsa), which is the measure used to calculate GDP, manufacturing output was still up by 0.9%.
A disaggregation of the manufacturing data indicates that the food and beverage sector, as well as the motor vehicle and parts category, were primarily responsible for the quarter-on-quarter seasonally adjusted lift. Combined they added 2.0% points, on the back of growth of 3.4% qqsa and 11.1% qqsa respectively. Conversely petroleum and chemical products' output fell by -4.0% qqsa and based on its significant weighting in the manufacturing basket, detracted -0.8% points from the outcome.
Advance indications provided by the Absa PMI manufacturing survey for May indicate that business activity picked up again in May, boosted by new sales orders, recovering April's losses. However, worryingly prospects with respect to future business conditions declined, despite circumstances improving. Concerns around a "renewed virus-induced change in spending behaviour by consumers and firms" hindering demand as the third wave builds, was cited as a probable explanation by the BER. Additionally, rotational load shedding continues to cloud sentiment.
Eskom's Energy Availability Factor which shows the utility's available output to the grid for consumption versus its total potential capacity has been below 70% since Q3.20, with Q2.21 showing plant performance at an EAF of closer to 64% (data to early June). Indeed, unreliable electricity supply remains one of the biggest downside risks to economic growth domestically.

Electricity supply constraints remain a downside risk to growth

3 June 2021
Production and consumption of electricity rose by 25.6% y/y and 25.7% y/y respectively in April, but this is compared to harsh lockdown conditions last year.  

April's significant y/y increase in electricity demand and supply comes off a low base. In April of last year, generation and distribution of electricity plunged by -22.8% y/y and -23.3% y/y respectively as economic actvity contracted under the harsh lockdown imposed in late March. Measured on a month-on-month basis, April 2021 production was down -1.8%, while consumption slid by -2.4%.
The Energy Availability Factor (EAF) -- the percentage of SA's total theoretical generation capacity available to the grid -- did improve somewhat in May and June of last year, but has been below the 70% mark since the start of Q3.20 and is averaging just 60.90% year-to-date. Electricity shortages are expected to continue, with Eskom's CEO reiterating at March's State of the System briefing that, "there will continue to be an electricity supply shortfall of approximately 4,000MW over the next five years." The high demand winter period will see further supply disruptions, according to Eskom. The latest bout of load shedding is a case in point, caused by the depletion of emergency generation reserves and breakdowns at several generation units.
Unreliable electricity supply remains one of the biggest downside risks to domestic economic growth. It continues to hinder businesses (especially smaller players), already struggling to stay afloat after the devastating financial effects of the pandemic.
The cash-strapped power utility did reduce its debt burden by R83bn in the 2020/2021 financial year, "due to the repayment of the maturing debt and changes in the exchange rate," according to Minister Pravin Gordhan. However, Eskom's R410bn debt continues to be a huge strain on the country's fiscus and a key concern for credit rating agencies.

The PMI gauge rose by 1.6 index points in May

1 June 2021
Headline Purchasing Managers' index (PMI) moving further into positive territory, with a reading of 57.8  

The seasonally adjusted (SA) headline Purchasing Managers' index (PMI) increased by 1.6% points to 57.8 in May 2021. Four of the five sub-indices remained above the neutral 50-point mark, barring the employment index which fell back into negative territory. Q2.21's performance thus far, which is 3.2 points up on Q4.20's outcome, "suggests that the sector is on track to record another quarterly expansion".   
Business activity recovered its April losses, rising by 8 points to 58.8 in May 2021, largely on the back of a notable pick up in new sales orders. Specifically, the new sales index climbed to 60.5 from 58.7 recorded in April, likely buoyed by domestic demand as survey respondents reported a decline in export activity. Despite the pick-up in business activity the employment index fell back into negative territory with a reading of 49.6. Joblessness continues to aggravate the financial pressure many households are already experiencing, against a muted economic background. Indeed, the official unemployment rate reached 32.6% in Q1.21.
Manufacturing cost pressures as measured by the purchasing price index declined slightly in May, but remained elevated at 87.1, markedly above last year's average of 73 points. Specifically, the "recent high readings of the price index correspond to the official producer price index (PPI) data published by Stats SA," which saw annual PPI for final manufactured goods climb to 6.7% y/y in April, from 5.2% y/y previously.
Prospects with respect to future business conditions declined in May, despite circumstances improving, with the index tracking expected business conditions in six months' time falling from 67.9 in April to 63.5 in May. Concerns around a "renewed virus-induced change in spending behaviour by consumers and firms" hindering demand as the third wave builds, was cited as a probable explanation by the BER. Additionally, rotational load shedding continues to cloud sentiment.

Tourism industry still reeling despite domestic recovery

26 May 2021
Sector will struggle until international travel restrictions ease

A buoyant tourism sector is essential to South Africa's economic recovery. While the easing of restrictions on domestic travel has been a lifeline for many in the industry, the dearth of international tourists continues to weigh heavily.
The number of travellers (both South African residents and foreign travellers) passing through SA's ports of entry/exit in March declined by a substantial -73.5% when compared to the same period last year. However, when measured on a month-on-month basis, numbers rose by 64.8%, likely aided by the move back to level 1 at the beginning of March.
Specifically, the number of foreign tourists fell by a marked -70.5% y/y in March, following February's -88.7% y/y decline. The vast majority, over 85% or 136 506 of foreign overnight visitors travelled from the SADC regions, with the largest number coming from Mozambique, Zimbabwe and Lesotho, with road transport the dominant means of travel.  
Travel from the rest of the world (excl. Africa) continues to be limited, with most commercial passenger flights to and from South Africa still suspended. Indeed, domestic, leisure travel has largely helped keep SA's tourism industry afloat, although a number of businesses have succumbed to the financial effects of the pandemic. 
Income from accommodation eased to -35.9% y/y in March 2021, from -74.1% y/y in February. The drop was underpinned by a -16.5% y/y decline in the number of stay unit nights sold, coupled with -23.2% y/y slide in the average income per stay unit. The Hotels category, which nakes up 60% of the reading, was down -39.7% y/y, with occupancy rates still at a depressed level of 23.5% in March, according to Stats SA. 
The monthly lift of 44.0% is positive, although down on December's result, which was boosted by pent-up demand during the festive season. 
As the third wave persists, further, tighter lockdown restrictions remain a risk to the pace of recovery, although we do not foresee the country moving back to the harsh levels experienced in Q2.20. The second phase of the vaccine rollout is gaining momentum but SA is still in the early stages and far behind many other nations. 


Surplus on the trade account widened notably

30 April 2021
Trade surplus increased to R52.8bn in March, supported by a 28.9% m/m increase in exports.

The surplus on South Africa's merchandise trade account increased markedly to R52.77bn in March, from R31.22bn (revised) in February. The outcome was well above Bloomberg consensus expectations of a R23.6bn surplus and was underpinned by a 28.9% m/m increase in exports to R168.29bn, ahead of the 16.3% m/m lift in imports to R115.52bn.
March's outcome is supported by results from the JP Morgan global manufacturing PMI for March which indicated that international trade flows "(p)icked up pace, with growth of new export business the steepest since January 2018".
Measured on an annual basis, March's R52.77bn surplus is a notable improvement from the R21.41bn trade balance surplus logged last year.
A review of the trade highlights released by SARS, suggests that the lift in exports was broad based, with all key categories increasing on a month-on-month basis. Notably Precious metals and stones exports grew by 41.0% m/m. Similarly, all major import segments rose, when compared to the previous month.  
Estimates by the World Trade Organisation (WTO), suggest that the volume of world merchandise trade could grow by "8.0% in 2021 after having fallen 5.3% in 2020" and thereafter decelerate to 4.0%. However, they do caution that the "relatively positive short-term outlook for global trade is marred by regional disparities, continued weakness in services trade, and lagging vaccination timetables, particularly in poor countries".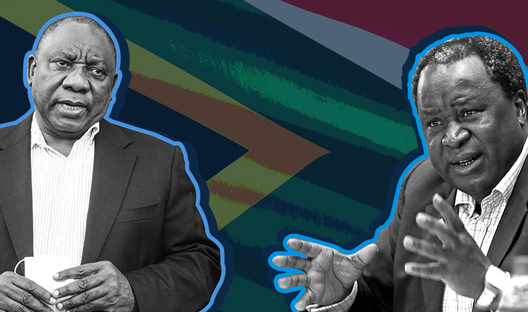 Get all Investec's insights on the latest Budget Speech and SONA
Our economists, tax experts, personal finance and investment experts unpack what the latest fiscal measures mean for income, savings and daily expenses of individuals and businesses.
About the author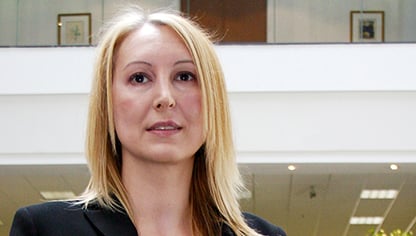 Annabel Bishop
Chief Economist of Investec Ltd
Annabel holds an MCom Cum Laude (Economics and econometrics) and has worked in the macroeconomic, risk, financial market and econometric fields, among others, for around 25 years. Working in the economic field at Investec, Annabel heads up a team, which focusses on the macroeconomic, financial market and global impact on the domestic environment. She authors a wide range of in-house and external articles published both abroad and in South Africa.